Fast Facts
Date of Birth: December 25, 1925
Place of Birth: Jhelum, Punjab, British India
Professions: Painter, muralist, sculptor, architect, graphic designer and writer 
Spouse: Kiran
Child: Mohit Gujral
Father: Avtar Narain Gujral
Mother: Pushpa Gujral
Sibling: Inder Kumar Gujral (former Prime Minister of India)
Awards: Padma Vibhushan (1999), NDTV Indian of the Year (2014)
Over the last six decades, Indian art and architecture has been greatly benefited, thanks to the fickle-minded nature of Satish Gujral. Because of his ability to get bored of things easily, he kept changing his profession, but perfected each one of them. At the end of it all, the man turned into one of the most brilliant multi-faceted personalities India has ever seen. Though he wouldn't agree to it, art has remained his constant love, even as he experimented with it like no other lover would. Over the years, he has constantly changed his medium and materials in order to differentiate his art from that of his previous creation. Known for creating some of the most exquisite paintings, murals and sculptures, Satish Gujral is one of the greatest as well as the most versatile artists of India. He also ventured into architecture, even as people criticized him for doing so since he was already successful as an artist. Had he not ventured into architecture fearing failure, India wouldn't have got one of the finest buildings of the 20th century – the Belgium Embassy, situated in New Delhi.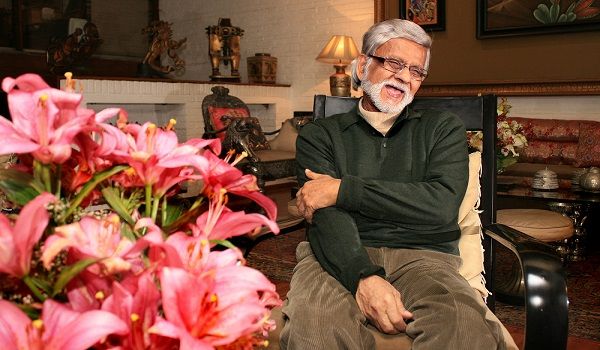 Image Credit:
https://nkhayi.wordpress.com/2011/04/09/the-art-of-life/
Childhood & Early Life
Satish Gujral was born in the year 1925 in the pre-partition Punjab, British India. He grew up along with his elder brother Inder Kumar Gujral, who would later go on to become the Prime Minister of India. At the tender age of 10, he suffered an illness which fatally impaired his hearing. He developed an interest towards painting and started portraying his own thoughts when he was only 14. He spent most of his childhood in Lahore, and thus had to witness the gruesome partition at a very young age. In one of his later interviews, he has said that he witnessed killings almost daily. The impact the partition had on him was so strong that it would later form the basis of his art in the initial stages of his career.
Education
Satish joined the Mayo School of Arts in Lahore in the year 1939 in order to study applied arts. After graduating from the Mayo School of Arts, he moved to Bombay (now Mumbai) in 1944 and took admission at the Sir JJ School of Art. During his stay at the college, which lasted from 1944 to 1947, he came into contact with the famous Progressive Artists' Group of Bombay. However, he found it difficult to agree with their techniques and started looking for modernism in art, with its roots belonging to the Indian tradition. In 1947, a recurring sickness forced Satish to drop out of JJ School of Art and eventually completed his education in the year 1949. He left for Mexico in the year 1952 after he was granted a scholarship from the Mexican embassy. He served his apprenticeship under well-known artists Diego Rivera and David Alfaro Siqueiros. 
Career
In the initial stages of his career, his work was heavily influenced by the suffering of people who lost their homes and families because of the partition of the country. Since he had witnessed the cruel act first-hand, he couldn't help but to incorporate his personal experience in his creations. Later on, he realized that people would not appreciate the same kind of art over and over again and hence started to change his style of work. Slowly, Satish started diversifying his sculptural materials with machined industrialized objects made up of steel, copper, glass, etc., and even gave life to sculptures by using junk materials. 
The period of 1952 to 1974 saw Satish Gujral organizing solo shows all over the world. The shows featured his sculptures, paintings and graphics. The cities in which he organized his shows include Mexico City, New York, New Delhi, Bombay, Calcutta, Montreal, Rome, Berlin, Tokyo, Buenos Aires and Stockholm. Since the late 1980s, paintings and sculptures of Satish Gujral have shown a greater expansion, both in terms of materials as well as content. He started making large murals, mostly in mosaic and ceramic tiles. Later, machined steel elements overtook the tiles. Satish Gujral's sculptures, made out of burnt wood, come across as visceral exposure of human and other forms.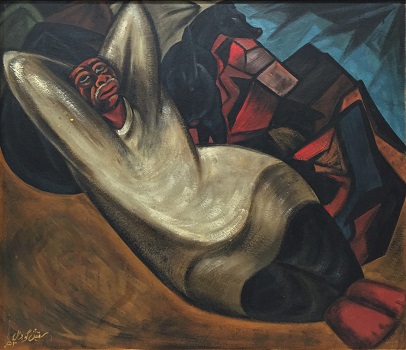 Satish Gujral's Stint as an Architect
In one of his interviews he has mentioned about him being bored with art as he felt that he had done everything that he could do with art. Thus in 1968, he ventured into architecture despite the fact that many considered him a fool for doing so, for he hadn't even studied architecture. But soon, he proved his critics wrong when the Belgium diplomats approached him, requesting him to come up with an edifice that would serve as their embassy in India. In 1984, he completed his project and took his critics by surprise, for the building looked astonishing. So much so, that it was later termed as one of the finest buildings of the 20th century in a forum held by international architects. He then went on to build magnificent edifices like the summer palace of Saudi Arabia in Riyadh, CMC research center in Hyderabad and the Goa University. The summer palace of Saudi Arabia was asked to build by the prince of Saudi Arabia after he was highly impressed with the Belgium embassy. Though he had a rollicking start to his architectural career, Satish shifted his focus back to painting as he got bored of architecture. 
Style
No matter what the subject matter is, Satish Gujral creates his works after understanding their nuances and the history behind them. This gives his works depth and sets them apart from the works of his contemporaries. Like many great artists, Satish too, is a master of creating modern art without disturbing its tradition, for there lingers the real beauty of any art.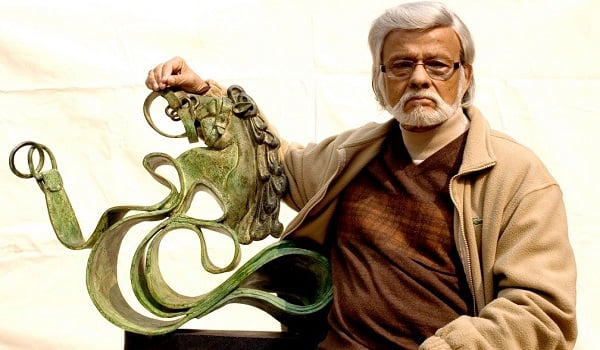 Image source: YouTube.com
Exhibition at the India Art Fair
In 2014, Satish Gujral decided to display some of his creations at the India Art Fair. This provided a unique opportunity to many art lovers who hadn't had the honor of witnessing his art before this. The artworks displayed were from his personal collection, created between the 1950s up until 2013. A total of 26 paintings and sculptures were put up for sale, out of which five belonged to the famous partition-inspired works. 
Awards and Recognition
Satish Gujral has received the following awards in recognition of his vital contribution to the field of art:
National Award for Painting - The National Award in the field of painting is considered as one of the most prestigious awards. He has bagged this award twice in his illustrious career so far.
National Award for Sculpture - He managed to bag the National Award for sculpting as well.
State Honor - He was honored by the State Government of Punjab for his impeccable contribution towards art and architecture.
Order of the Crown –The government of Belgium honored him with this prestigious award for his contribution towards architecture.
Padma Vibhushan – In the year 1999, the government of India honored him with the country's second highest civilian award.
Leonardo Da Vinci Award – This prestigious award was presented to him by the World Cultural Council for his impressive contribution towards offering positive messages to the world through various expressions of art.
International Award for Life Time Achievement – The government of Mexico honored him with this award.
NDTV Indian of the Year – In 2014, he was selected as the Indian of the Year by NDTV, a national media.
Personal Life
Throughout his life, Satish Gujral has had several health issues, but he maintains that his health issues have helped him significantly in giving a totally different perception on life. He says that after each and every recovery, he was forced to make the best out of his life, which translates into his works. His health issues began when he was just 10, affecting his hearing ability. It was only in 1998 he recovered completely and regained his ability to hear after undergoing a surgery. 
Satish Gujral is married to Kiran and currently lives at his New Delhi residence. Their son Mohit Gujral, who is a prominent architect himself, married Feroze Gujral, a former model and together they founded Gujral Foundation in the year 2008, which is a non-profit trust. Satish Gujral has two granddaughters – Alpana and Raseel Gujral Ansal. While Alpana is a jewellery designer, Raseel Gujral Ansal is an interior designer, who established Casa Paradox & Casa Pop.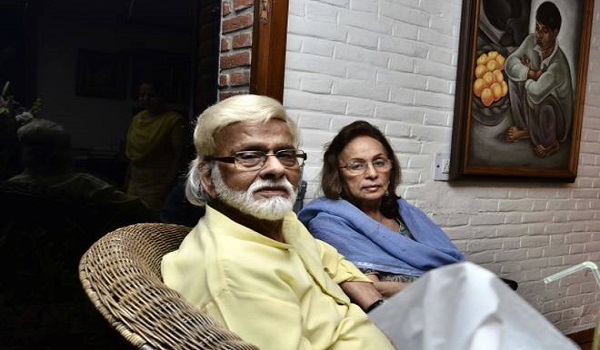 Image Credit:
http://www.thehindu.com/news/cities/Delhi/delhi-hasnt-learnt-to-respect-its-artists-yet-satish-gujral/article6518393.ece
Legacy
Several documentaries have been made on his life. He was part of the tele film 'Partition: The Day India Burned', released by BBC. Based on his autobiography 'A Brush with Life', a wonderful documentary was made and released on 15 February 2012. Apart from all these, his legacy will live on forever through his wonderful creations.