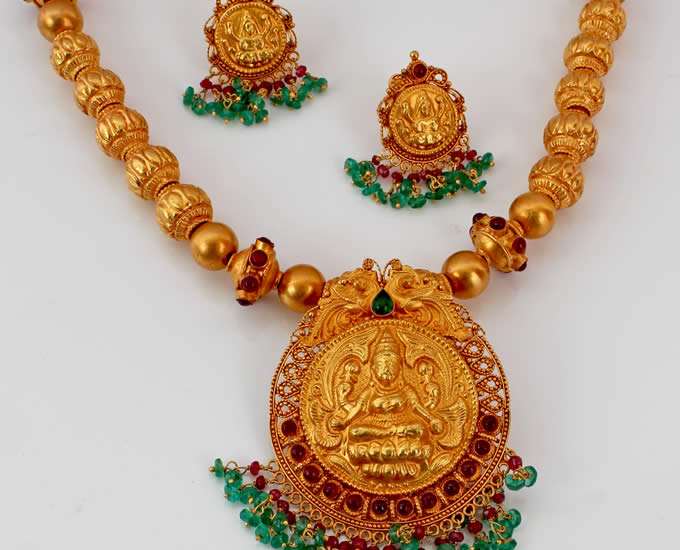 Image Credit: http://www.pngadgiljewellers.com/images/collections/temple/7.jpg
Indian jewelry art is at times divided into three kinds - temple jewelry, spiritual jewelry and bridal jewelry. Temple jewelry was the jewelry used to adorn the idols of Gods and Goddesses. The statues In India were ornamented with chunky necklaces that were either strung with beads or crafted with intricate filigree. Amongst the other ornaments that adorned statues of deities were large chunky bangles, usually studded with gems. In addition, earrings, nose rings and anklets were also used.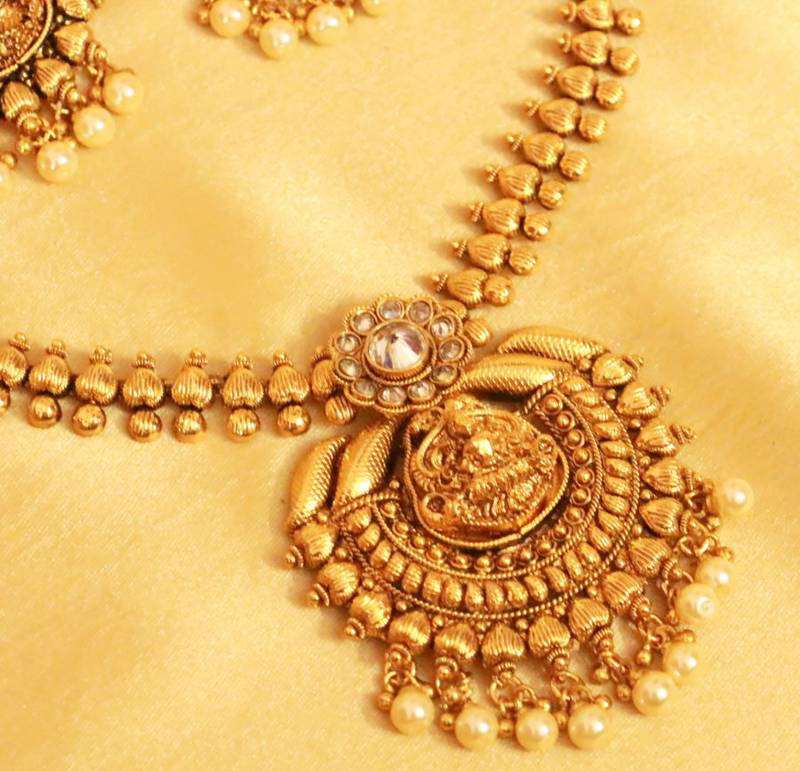 The regal look of the temple jewelry which originated in the 9th century forms a valuable part of South India's cultural heritage. It has gained a lot of popularity among women and is used by classical dancers to add divinity and uniqueness to their look. Women wear it for attaining a graceful appearance at bridal functions or other traditional occasions. However, nowadays the craze for temple jewelry is heightened as it is made available in various forms according to the requirements of the buyers.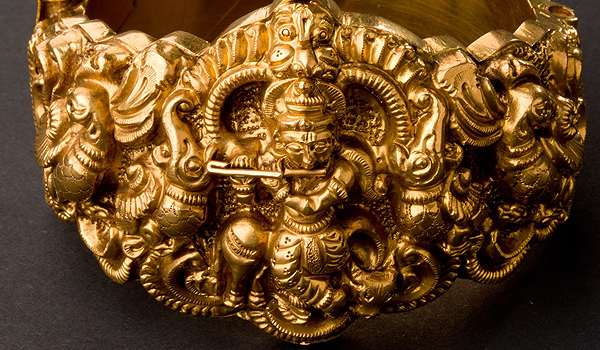 Image Credit: http://www.cosecosigioielli.com/en/ethnic-jewelry/212-bracciale-tamil-nadu-sud-india.html/
Temple jewelry ruled the South Indian jewelry box up until the 16th century during the reigns of great monarchs which included the Pandya dynasty, the Chola dynasty and the Krishnadeva Raya rule. Experienced and talented goldsmiths and craftsmen were employed to craft temple jewelry accessories for kings, queens and people holding other important positions during these rules. It's called temple jewelry as it was given as offerings in the temple by the royal people. Gifting these jewelry pieces to temples helped in preserving them more carefully by the immense protective measures taken by the temple authorities for numerous years.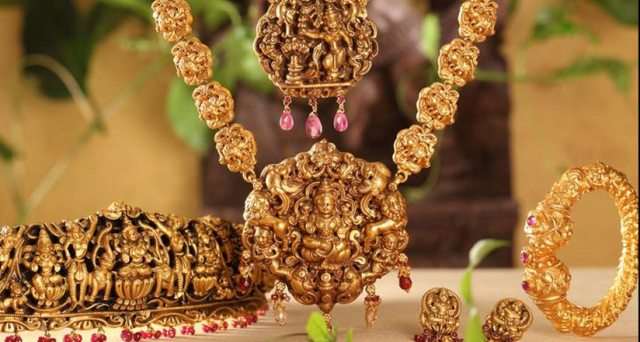 Image Credit:
youngisthan.in
How is Temple Jewelry different from Ordinary Jewelry?
Pure gold and silver and various other precious metals are used in creating temple jewelry to increase its luster. Some of the rare gemstones and techniques which add shine to such jewelry include kemp, pearls, rubies, emeralds, diamonds, kundan, polka and meenakari. Precious and semi precious stones are used in both cut and uncut forms to endow a classic look to the jewelry. Use of uncut precious stones gives a majestic touch to the outward show of temple jewelry. Some of the most admired traditional designs include waves, lines, floral shapes, birds and statuettes of royal figures.
Temple Jewelry Pieces – Types and Usage
Temple jewelry comes in a variety of designs and their maximum use by Indian classical dancers also makes it popularly known as dance jewelry. It is chiefly divided into two categories. The first type is called as regular temple jewelry which is basically worn by women on traditional functions like temple pilgrimages, baby showers, weddings and other festivals. Some of the commonly used jewelry on such occasions includes earrings, bangles, chains, bracelets, necklaces, chokers, rings and toe rings.
The second type of jewelry is called occasional temple jewelry which is especially adorned during dance performances by classical dancers and brides on their wedding days.Jewelry commonly used on such occasions includes anklets, armlets, hair accessories, waist belt and hip chain and nose rings.
Temple Jewelry Gaining Popularity as Fashion Jewelry
Nowadays, the usage of temple jewelry is not limited to certain occasions, but also used by women to boost their style quotient on ordinary days. It is certainly loved by women who yearn to flaunt a completely astonishing look. Wearing the highly creative designs of temple jewelry not only adds to a person's glamour, but also becomes a status symbol as such jewelry can't be owned by everyone as it's quite expensive.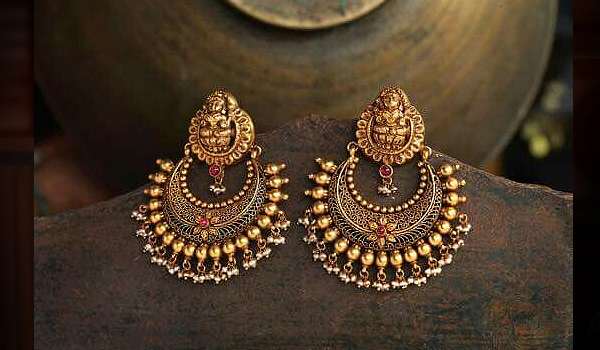 Image Credit:
https://www.pinterest.com/pin/416020084307755090/
Here is a list describing some of the most popular ornaments of temple jewelry:
Temple chains are the most popular ornaments of temple jewelry which are mainly adorned to give an exquisite look to a woman's beauty.  As per one's needs and look required according to the dress, these chains are available in long as well as short lengths. Various precious gemstones like pearls, kemps and rubies are used to add to the luster of the temple chains. Long chains are popularly known as harams in South India and some of the designs employed to increase the beauty of the chains include strings of gold coins, flowers, rudraksha stones and Hindu deity figurines.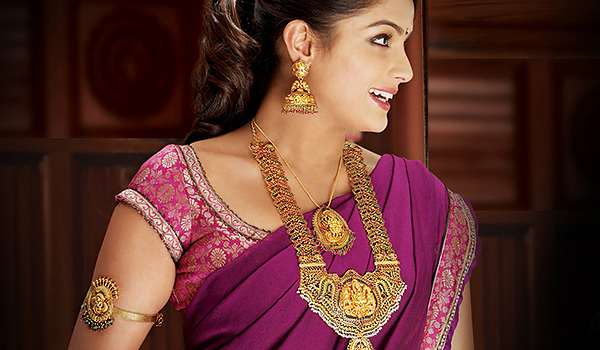 Image Credit: http://www.southjewelry.com/2013/07/model-in-heavy-temple-jewelry.html/
Temple necklaces and chokers constitute a significant part of ornaments worn by women to enhance the beauty of their necks and add glory to the festive occasions. Usage of various precious and semi precious gemstones and pearls give luster to the necklaces and chokers. These ornaments also symbolize Goddess Lakshmi who is the incarnation of wealth in Hindu mythology.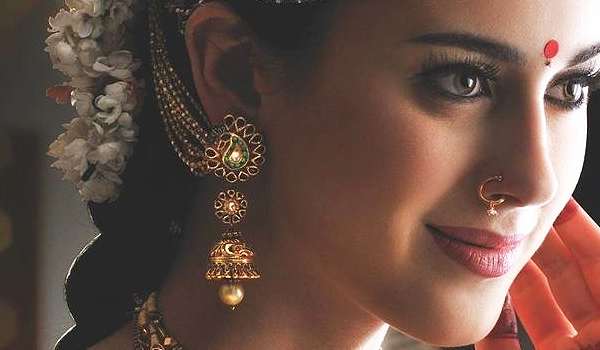 Image Credit: https://www.pinterest.com/pin/367254544591868413/
Bell shaped designs are most loved in earrings of temple jewelry. It's available in plain gold as well as a designed look with several gemstones carved on it. The design is chiefly created with kemp stones or rubies with a circular swirl of tiny pearls hanging at the end. Whether plain gold or a designed look, both the looks are stunning.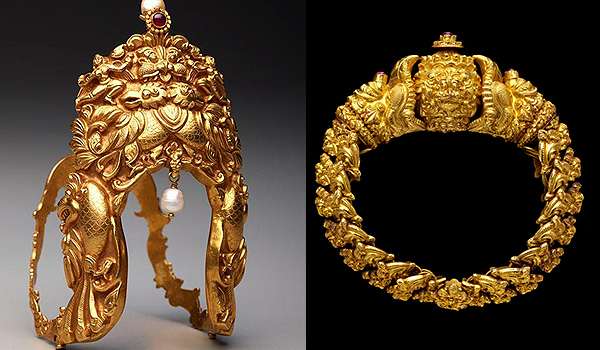 Image Credit:
http://arjuna-vallabha.tumblr.com/post/88218272692 and http://collections.vam.ac.uk/item/O130805/shiva-lalata-kadaga-bracelet-with-bangle-unknown/
Bangles and bracelets form the most significant part of a married woman's jewelry and owning a set of temple jewelry bangles is dreamed by all. There is a wide variety available in this ornament ranging from chunky wrist ornaments to dangling ones.  Hanging bells fastened to bracelets is in major demand which people love to adorn during weddings or other festive occasions.
Temple rings and toe rings are available in a wide variety of designs studded with precious gemstones and semi precious gemstones. Having god or goddess figurines as a centerpiece has grown largely in the past few decades. These rings are intricately crafted to give a lovely look to the jewelry and make it attractive. The toe rings generally use silver as the base metal and women wear it in their toes as the name itself suggests.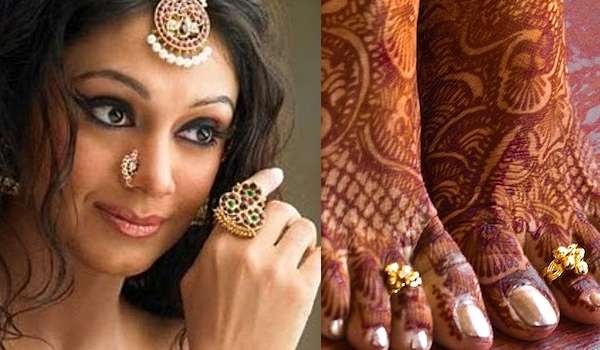 Image Credit: http://www.indiangoldtrends.com/2012/11/temple-maang-tikka-design.html
Wearing temple armlets has become a status symbol for the bride wearing it on her wedding. It is available as attachable traditional armlets or with strings to be tied around the arms. Keeping in view its traditional value, these armlets are given the shape of temple sanctum and mostly have Goddess Lakshmi placed in the centre to give an exquisite look to the design.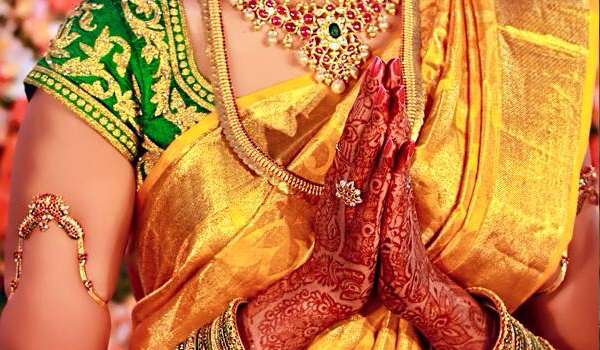 Image Credit:
https://www.pinterest.com/pin/563090759637178993/
With the base metal of silver, temple anklets are mostly coated with gold to give a finishing lustrous look to it. Though used nowadays on festive occasions by general women, these are chief highlights of a classical dancer who wear thick anklets with trinkets in their feet.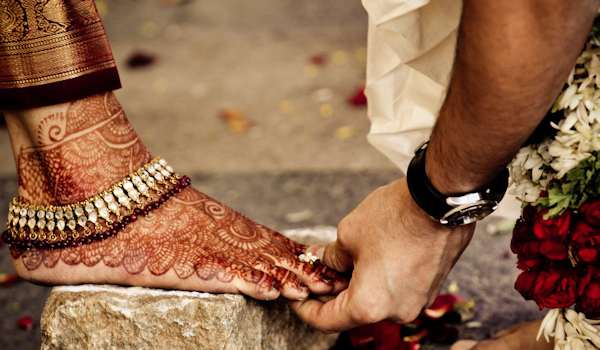 Image Credit: https://www.flickr.com/photos/phototantra/5356352250/in/set-72157625826204288/
Temple hair accessories are made with gold-plated silver studded with kemp stones, pearls and other semi-precious stones to give a traditional attractiveness and an exceptional grace to the traditional dancers. It's also worn by brides to give a divine look to their appearance. These hair ornaments are tied from the top of the forehead to the tip of the plait.

Image Credit: https://40.media.tumblr.com/4f9d22250be7cc812c4d0ddbb0c48fc1/tumblr_niyaxomHkD1rvjfqgo2_400.png and http://www.modernrani.com/posts/2013/2/jodi-bridal-show-teaser/
Nose rings have been an integral part of ornaments worn by women in India since ages. However, temple nose rings made with gold and decorated with pearls and kundan stones are mainly worn by classical dancers, brides and other women on some festive occasions.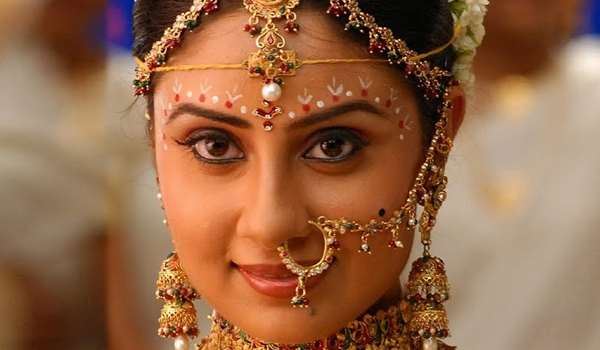 Image Credit:http://aweddingpics.blogspot.in/2011/08/traditional-south-indian-wedding-sarees.html
These temple ornaments are chiefly worn by classical dancers and brides to complement their beauty and give a divine look to their appearance. Made in gold or gold-glazed silver, temple waist belts and hip chains are studded with gemstones and decorated with little bells or trinkets to add to its exquisite look.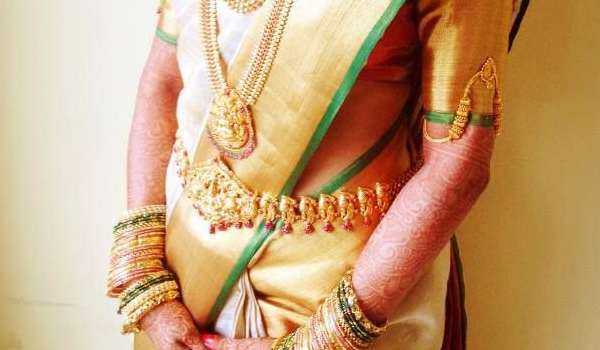 Image Credit: https://s-media-cache-ak0.pinimg.com/736x/c1/5b/4d/c15b4dcd44017238700916e1d9288113.jpg/
Invaluable Treasure of Temple Jewelry
Temple jewelry's unique designs and timeless history make it a valuable part of Indian jewelry market. Mainly sold by retired dancers or ancient family clans to the jewelry stores, the value of the jewelry makes its price higher than other jewelry forms.  Pieces of this exquisite and valuable jewelry are also adorned as a symbol of good luck while adding gleam to one's overall personality. The fact can't be denied that the prestige of temple jewelry has increased manifold in the past few years which has increased its demand both in Indian market as well as overseas.