Indian bridal jewelry grabs everyone's attention with the visual appeal of its intricate designs. However; the actual beauty of the jewelry pieces lies much deeper and is considered a blend of spiritual and cultural essences for the most auspicious and beautiful occasion of a woman's life.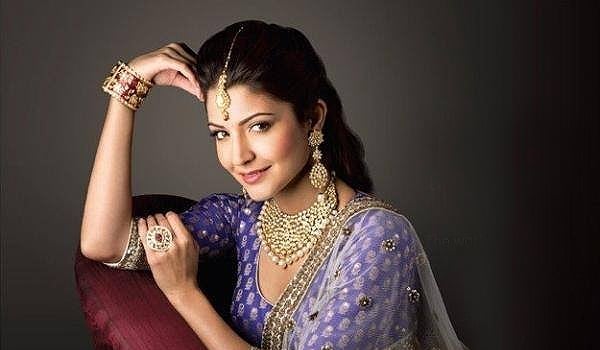 Image Credit: http://www.stylepk.net/2013/09/avalon-indian-celebrity-jewelry.html
A bride of any country remains incomplete without the exquisite touch of some jewelry pieces which gives her entire get up a majestic look. Bridal jewelry is of such a great significance as it not only enhances the beauty of the bride's attire, but also takes her beauty to another level. The makeup of an Indian bride is considered to be incomplete without her solah shringar which consists of all the jewelry pieces considered essential to be adorned by a bride.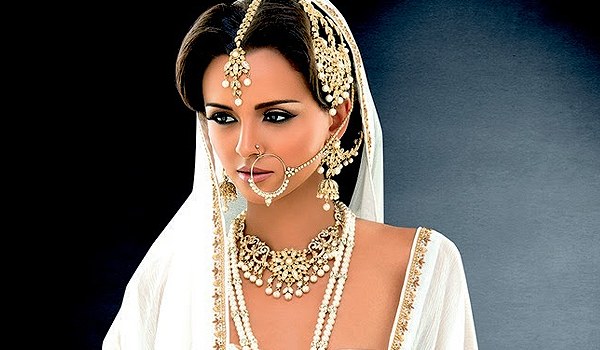 Image Credit:
https://sumairamsaleem.wordpress.com/indian-jewelry/wedding-jewelry/
In India, bridal jewelry has a special value and a bride's look depends a lot on the kind of jewelry worn by her. Due to its special intricate designs and availability in a wide variety, Indian jewelry is famous all over the world and even people of other countries love to adorn it on their special occasions.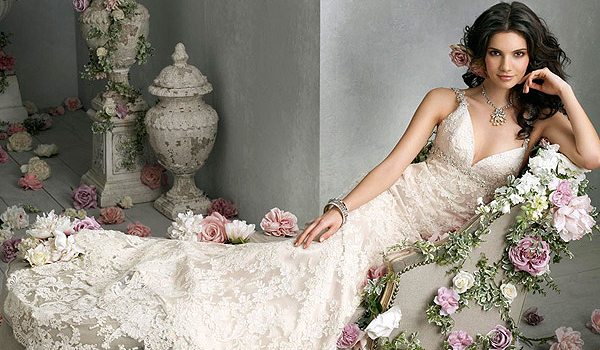 Image Credit: http://weddingseve.com/wedding-gowns/comfort-ivory-lace-wedding-dress-for-western-bride.php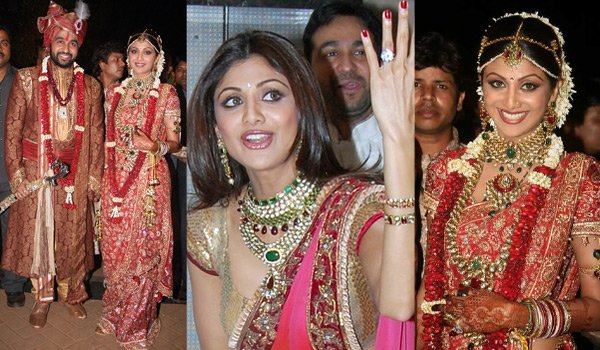 Image Credit:
https://in.lifestyle.yahoo.com/most-expensive-bollywood-celebrity-weddings-leave-stunned-165327847.html
There is a plethora of metals in which bridal jewelry pieces are available nowadays. It has given an easy way for people of all the classes to be able to buy bridal jewelry and get the best of their looks on the d-day of their lives.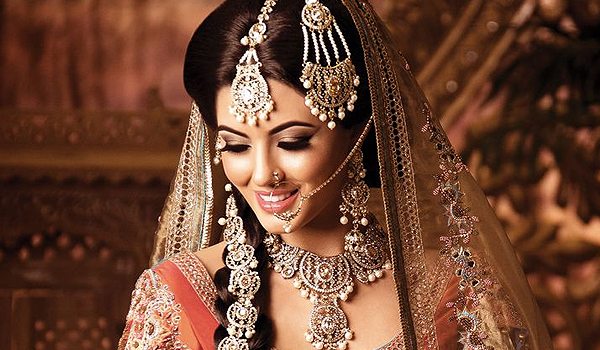 Image Credit: http://www.kylescollection.com/Shop/traditional/traditional/Product/2591/C950_SET/TiaAnkariSet.aspx
Nowadays, fancy jewelry pieces made of colorful metals have gained more popularity than the jewels made by using any single metal like gold or silver. Some of the most popular metals used for making bridal jewelry include platinum, gold and silver. However, nowadays keeping in view the variety in demand and people's love for colorful designs with sparking effect, techniques like kundan, lac, jadau have also come in vogue and widely used for making bridal jewelry pieces in all parts of India.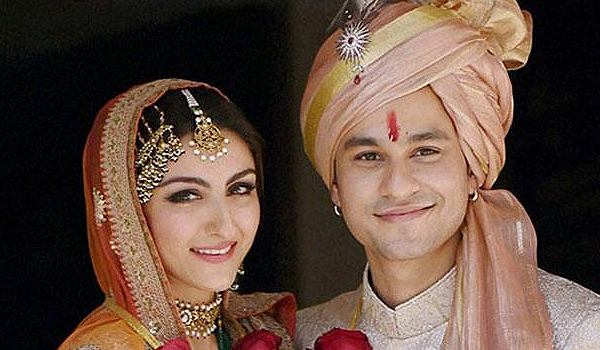 Image Credit:
http://www.bollywoodshaadis.com/articles/8-most-awaited-bollywood-weddings-of-2013-1623
If we keep only the traditional Indian jewelry in mind, then it is mostly made of gold. One of the primary reasons behind this is the belief of the people in the auspicious value of the metal for such grand events of life like a marriage ceremony.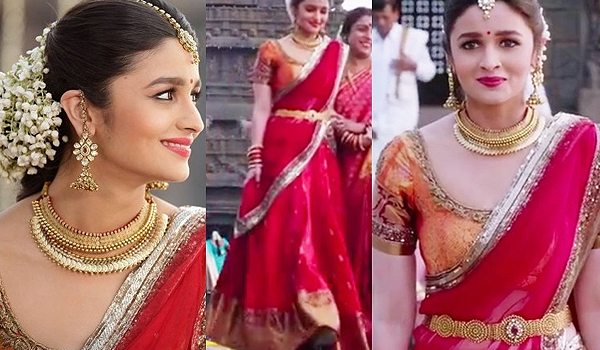 Image Credit: http://www.fashionlady.in/16-bollywood-movie-wedding-dresses-waiting-to-be-worn-again/38855
However, due to changes in tastes of the people, brides generally go for mixed metal jewelry by making alterations as per their attire and choice.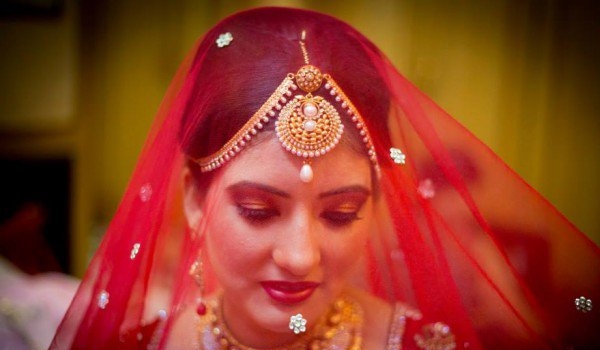 Image Credit:
http://www.myweddingplanning.in/category/brides
Here is a detailed description of some of the most essential pieces which form an integral part of the Indian bridal jewelry without which the essence of the bridal jewelry remains incomplete: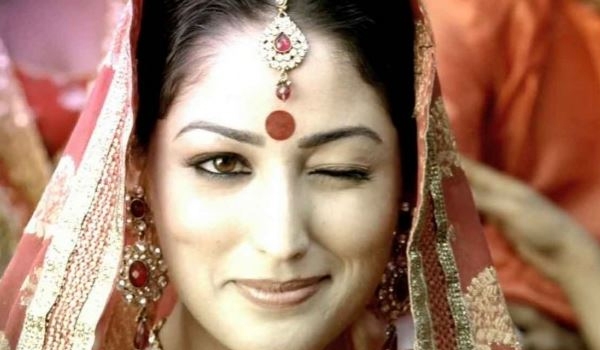 Image Credit: http://www.reckontalk.com/indian-brides-15-ways-how-they-rock-their-weddings/
Maang Tikka
This beautiful piece of jewelry has made its entry again into the Indian jewelry box with ladies' increased love to flaunt a unique traditional style on their wedding. It is used for filling up the center parting of a woman's hair which women in India generally keep for putting vermillion after marriage. It is one of the important signs of a woman who is married in Hindu religion.
Choosing the right jewelry piece according to one's personality is also very important. While selecting a maang tikka, one should choose it according to the size of one's forehead. A lady with a broader forehead will look good in a heavier maang tikka and a light delicate one will suit more on a woman with a smaller forehead. Keeping in view the matching of the entire bridal jewelry, a maang tikka is generally made along with the bridal set especially matching with the colours of the necklace and the earrings. However, it depends on the choice of the person. One can also get it made separately to make it look outstanding with a different look on the face.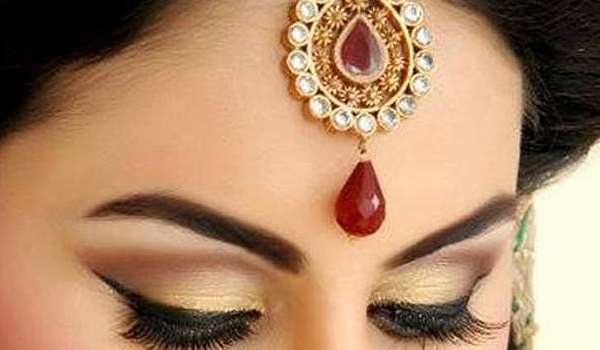 Image Credit: http://forum.xcitefun.net/bridal-maang-tikka-jewelry-set-for-wedding-day-t78822.html
A necklace is certainly the most essential piece of the bridal jewelry and it is considered auspicious and mandatory to be worn by every Indian bride. It adds a heavenly touch to the overall aura of the bride and gives an exquisite glamour to her personality. It not only helps in covering the bare neck area, but also gives a million dollar touch to one's personality. Nowadays, brides are moving away from wearing necklaces made only in gold used traditionally. Instead, they prefer wearing necklaces made of gold, but with colourful and glittery touch of kundan and diamond.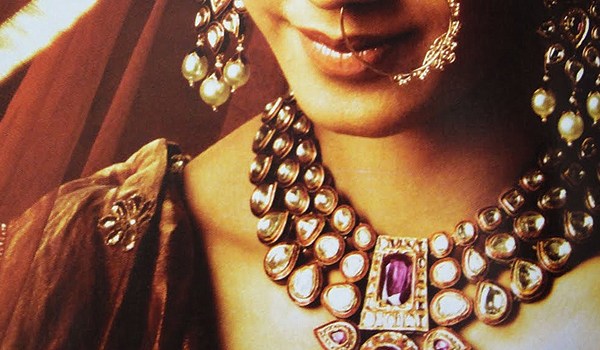 Image Credit:
http://thebigfatindianwedding.blogspot.in/2010/04/wedding-jewelry-by-tanishq.html
Earrings
Earrings are like the best friends of a bridal necklace and both seem to complement each other. In fact, one without the other makes the look lacking something important. You get a wide range of options for selecting earrings and can choose a heavy or a lighter one according to one's preference. As earrings are required to be worn during the entire marriage ceremony, the piece should be selected carefully keeping one's comfort in mind. If your bridal wear is in a pastel tone, you can opt for stone studded and diamond earrings and for a darker tone bridal wear, you can select gold jewelry pieces.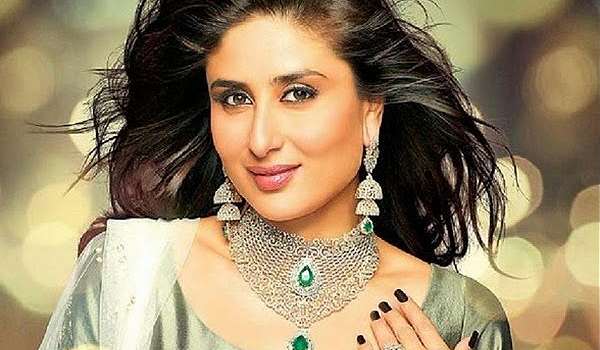 Image Credit: http://www.jewelorigins.com/search/label/Diamond%20Ring
We are all familiar with the traditional jewelry piece. But, did you know a nose ring or nath is, traditionally, representative of a bride's virginity? Wearing a nose ring or a nath, which is basically of a round shape, is one's personal choice, but the instant uniqueness added by wearing this jewel gets difficult to be ignored by a lady.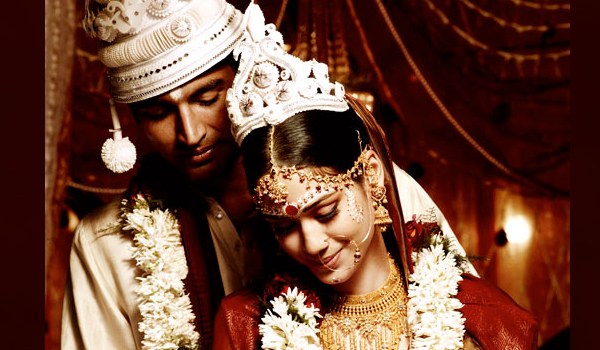 Image Credit:
http://webneel.com/design/daily/tansihq-wedding-photography-india-brid-groom/20/1/Tanishq%20Wedding%20Ad%20Photograph-1/jpg?nid=7867
This beautiful jewelry piece was introduced by Mughals in the Indian culture which gradually became a symbol of marital blessedness.Nath has gained more attention these days and the traditional patterns are more in vogue. It is obviously the most beautiful piece of Indian jewelry. However, it is tough to say if it would suit every bride or not. One can get it made by choosing colors and metals matching with the bridal dress. The size should also be decided keeping in view one's overall personality.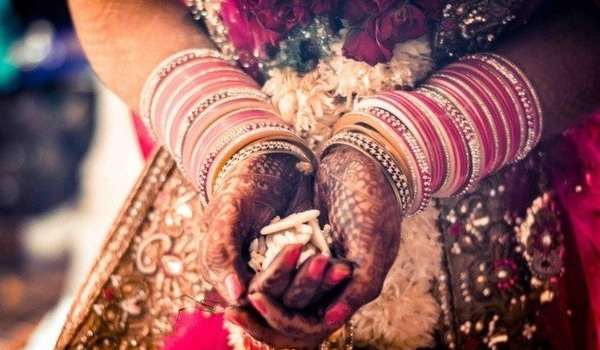 Image Credit: http://makeupandbeauty.com/6-types-of-shringar-essential-for-an-indian-bride/
Bangles, the word itself seems to produce the sweet tinkling sound which is loved to be adorned by every Indian bride. On the auspicious day of the wedding, a bride wears golden bangles though in some traditions colorful glass bangles are also a must to wear during the wedding ceremony. A variety of designs are available in bangles and one can get it made in only gold or a gold bangle with diamond studs on it.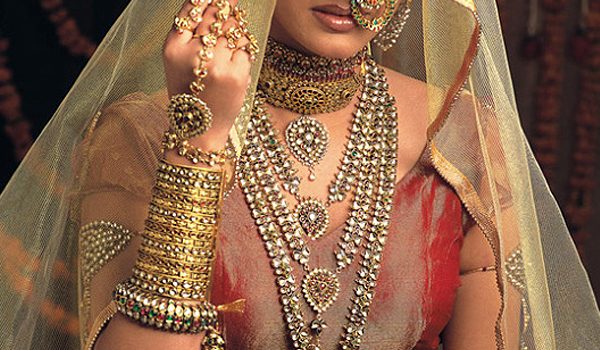 Image Credit:
http://blog.gehnaindia.com/tag/bangles/
Some brides also opt for diamond bangles as it goes wonderfully with light colored bridal wears. Bangles with kundan work are also in vogue these days and loved to be adorned by the brides. Use of kundan gives an intricate design to the bangles which is mainly done by an amalgamation of gold and uncut diamonds. It has gained a lot of popularity in designs preferred for bangles during Indian weddings.
Finger Rings
These are an integral component of the wedding jewelry set. A bride is supposed to wear her engagement ring along with other jewelry pieces of the bridal set. However, a bride can also wear more finger rings as per her choice. Nowadays, brides prefer wearing colorful stone studded rings matching the color of the bridal outfit. The tradition of wearing gold rings seems to have gone out of fashion and brides mostly prefer using studded finger rings for daily wear after marriage as well.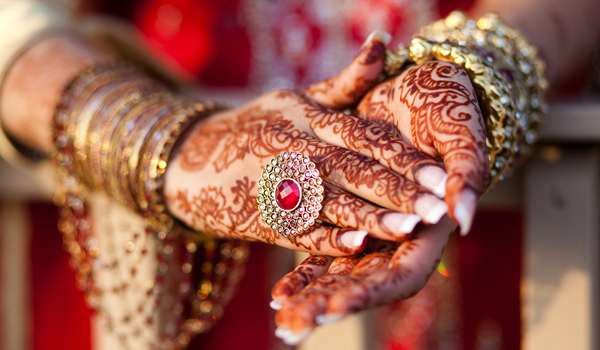 Image Credit: http://lazzycow.com/6-must-bridal-accessories
An anklet or payal and toe rings are considered to be important components of Indian bridal jewelry in different cultures of India. It is also scientifically connected to keeping the reproductive organs in a woman's body in good health. Both are considered to be very auspicious and must to be worn by Indian brides during the marriage ceremony and even after marriage. It is one of the important signs of a married woman. However, the fact can't be denied that some women wear it only for adding grace to their personality rather than for the traditional value.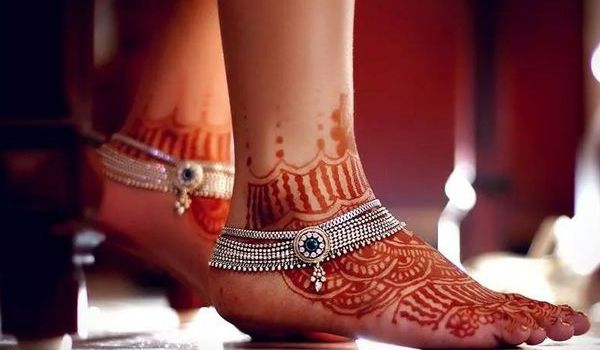 Image Credit: http://trends4ever.com/jewelry/indian-wedding-trendy-anklets-payal-for-girls.php#.VjC3OLcrLIV
Waistband
Waist bands had almost vanished, but now it has come back in vogue and forms an essential part of the Indian bridal jewelry. From heavy and broad waistbands to slimmer ones, brides have started opting for many varieties depending on their body structure, outfit and preference.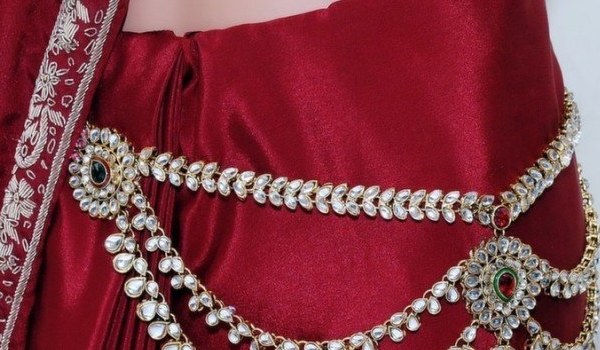 Image Credit: http://makeupandbeauty.com/6-types-of-shringar-essential-for-an-indian-bride/
Some brides prefer to wear it as it not only covers the bare torso area while enhancing its beauty, but also adds a heavenly aura to the bride's exquisite look.
These jewelry pieces not only form an essential part of the Indian bride's jewelry box, but also attain an undying love in an Indian woman's heart.