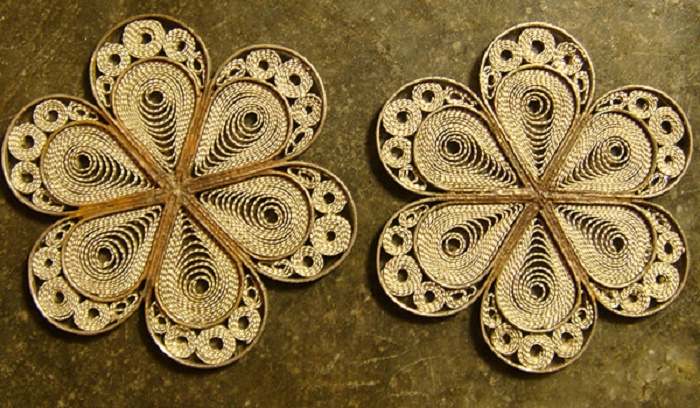 Image Credit: https://sebasilver.wordpress.com/2012/01/04/a-bespoke-order-for-filigree-jewelry/
Jewelry is such a fascinating term in itself that it draws everyone's attention. In the past few decades, the trend of fashion jewelry has gained a lot of attention which has led to the popularity of old traditional art forms used for creating jewelry. The reason lies not only in its unique designs which add to the style quotient of the person but also the low cost which can be easily afforded by all.
Filigree – An Enchanting Art Form
Indian culture is embellished with many varieties of jewelry, and filigree work is one of the most enchanting forms which have been created by the craftsmen since ages. Both decorative objects and designer jewelry made with filigree have been fascinating people with their beautiful designs.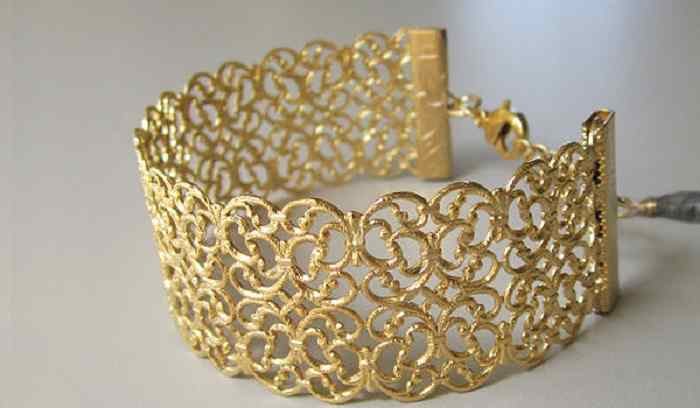 Image Credit:
https://www.etsy.com/in-en/listing/102842379/filigree-bracelet-bridal-bracelet-cuff
Filigree basically refers to gold or silver wires interwoven to make a lace like decoration. It is considered to be the perfect form of art to be used for arabesque designs. The delicacy of this art makes it an alluring and feminine art form of jewelry.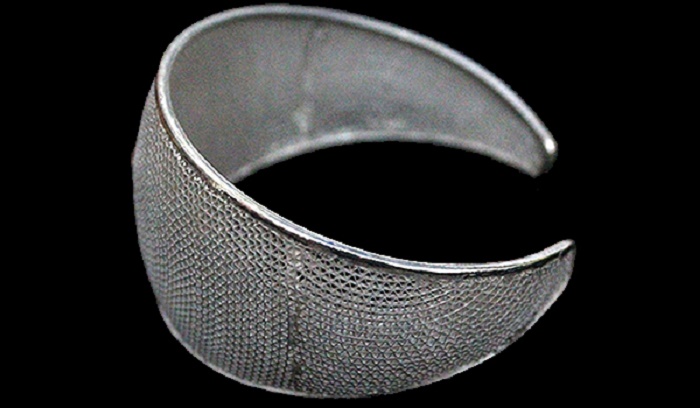 Image Credit: http://www.pretanshah.com/shop/bangles-bracelets/divine-silver-filigree-bracelet/
Filigree, the perfect blend of shining threads of silver and gold gives jewelry an exquisite look and an appearance that looks traditional as well as modern. Its beauty lies in the lace crafted in precious metals which makes it a mesh of diaphanous threads woven together.
Origin of Filigree Art
It consists of fine metal wires which are crafted beautifully to give an extraordinary blend of ancient and the modern art. Originated in Mesopotamia and Egypt (believed as filigree art's first countries), the charm of filigree jewelry spread in Asian continent during 2500 BC. Specifically created by craftsmen belonging to Midyat city in Mardin province of upper Mesopotamia, a pattern of filigree designs using both gold and silver wires emerged which was popularly known as 'telkari'. Till today as well, many expert craftsmen produce telkari jewelry which is highly intricate and delicate.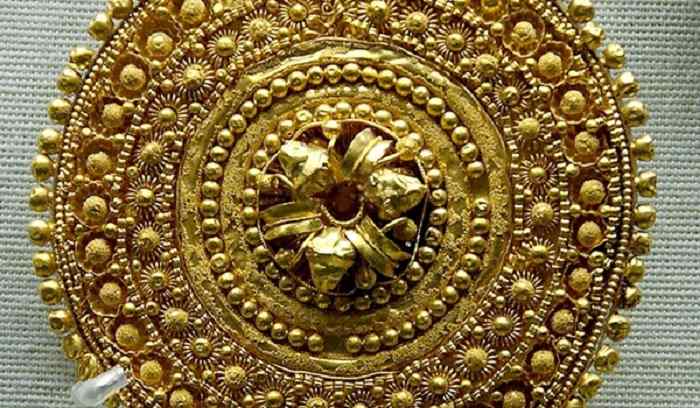 Image Credit:
https://en.wikipedia.org/wiki/Filigree
A high degree of similarity is found in Indian and Greek filigree arts due to the same kind of patterns and processes followed for creating filigree jewelry in both the countries. This gives a good proof of the common influence on artistic patterns in both the countries which came out in the jewelry pieces woven by them. This art form also gained some recognition in Italian and French metalwork from 1660 to the late 19th century.
Popularity of Filigree in India
Filigree work in silver is quite popular in the eastern states of India.  In the world of silver handcraft, silver filigree gives the most exquisite look to the jewelry. Since the ancient times, people in India have been using this form of jewelry creation. A lot of patience and hard work is required in creating a filigree piece as it needs high technicality to come out with an intricately designed beautiful appearance.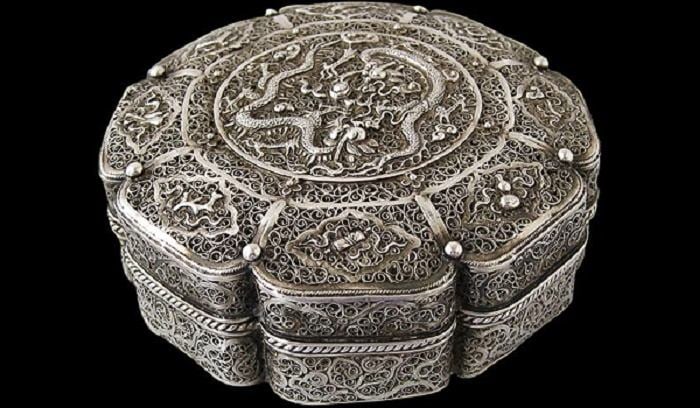 Image Credit: http://www.michaelbackmanltd.com/910.html
Filigree as Cuttacki Tarkasi in Orissa
In India, people of the Cuttack city of Orissa state are majorly involved in creating this art. More than a hundred families in Cuttack city are engaged in producing various patterns of filigree jewelry. The filigree art is popularly known as ' Cuttacki Tarkasi' among the local people of the state. For its intricate designs and brilliant artistic patterns, filigree jewelry of Orissa is famous all over the world. For the people of Orissa, filigree has been a significant export item since ancient times. Not only this, it also symbolizes the excellence and showcased the talent of Orissa's craftsmen.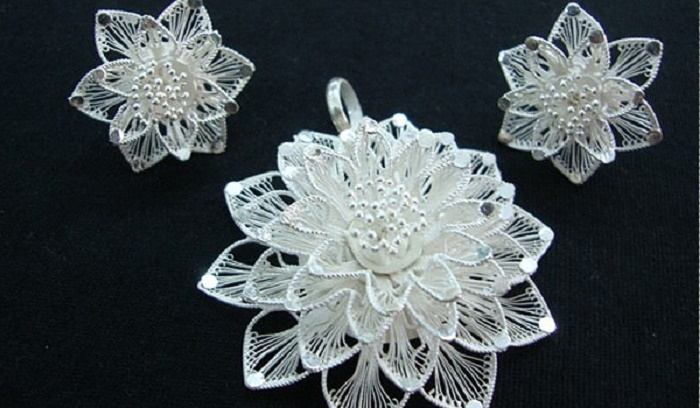 Image Credit: http://www.craftsvilla.com/catalog/product/gallery/id/204679/image/323954/
If we go deep into the process of making silver filigree, then it requires a lot of efforts. It is a completely different kind of creation which doesn't involve the process of engraving, carving or moulding a block of metal into jewelry.  The process of filigree art involves creating a piece by joining silver wires as thin as hair in bits and giving a complete shape to it.
The process of creating filigree jewelry involves melting of ingots of silver or gold on medium heat on a small stove and then pouring into a mould to make rods. After that, the rods are inserted into manual wire drawing machines with tiny apertures which result in formation of fine quality wires. And these wires form the major component of filigree jewelry. After gold, silver is considered to be the most ductile and malleable metal and these characteristics are such refined in quality that one kilometer long silver wire can be made out of one gram of pure silver.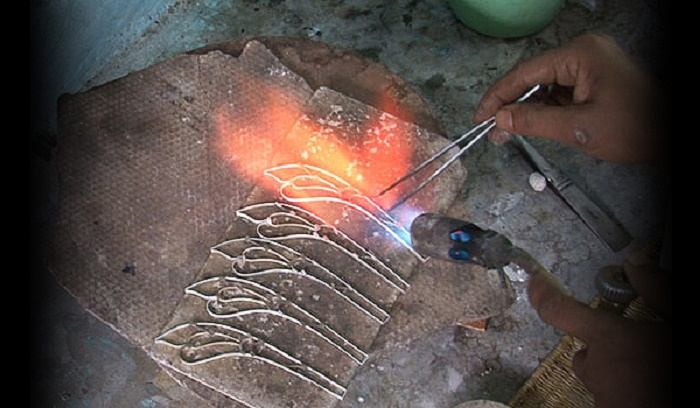 Image Credit: http://www.dsource.in/gallery/gallery-0150/index.html/
For creating the designs of the filigree jewelry, the first step involves drafting the designs on a piece of paper. The designs of filigree jewelry are chiefly inspired by the inscriptions on temples, statues of gods and goddesses, and the surrounding flora and fauna. Later, the wires made for making the outlines are carefully placed on the design sheets which take the beautiful shapes of the drawings.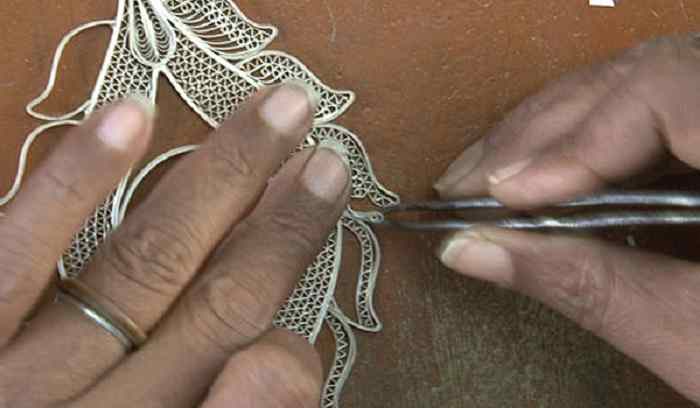 Image Credit:
http://www.dsource.in/gallery/gallery-0150/index.html/
In order to get a zigzag effect on the designs, the hair thin wires are crimped with the help of a machine which is specially designed for this process. After that, the fine wires are carefully soldered to the outlining frame by the craftsmen. It is an astonishing fact that more than ninety types of wire designs which include creepers and jaals, spirals and curls are used by the craftsmen to fill the outlines. The delicacy of the design gives the look of spider webs made of silver.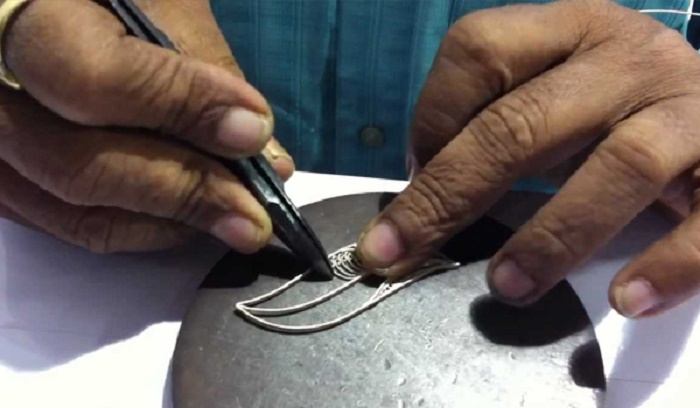 Image Credit: www.youtube.com/watch?v=_7G2d2CNHmA
With great precision and craftsmanship, the craftsmen fill in the outlines giving the appearance of beautiful intricately woven gauzy patterns. During the whole process, craftsmen take immense care in protecting the delicate thin strands of silver from breaking down.
In order to fuse the joins properly, soldered pieces are heated again on a stove. In the last stage, the created piece is polished to give a final touch to it. Some artists also lacquer the jewelry pieces to give shinier and finishing look.
Filigree Utensils for Auspicious Occasions
If we try to understand the depth of filigree art, jewelry is just one part of the creation which is made with filigree. Apart from this, there are many other fascinating and beautiful things created using filigree like decorative animals, inscriptions for temples, replicas for temples and idols of gods and goddesses. Some conventional items like vermilion containers, spoon and bowl for first meal of a new born and betel nut boxes are also given a special value by crafting them in beautiful designs using silver filigree. Nowadays, a wide variety of filigree jewelry mainly consisting of brooches, hairpins, and earrings are available in the market which is greatly loved by people.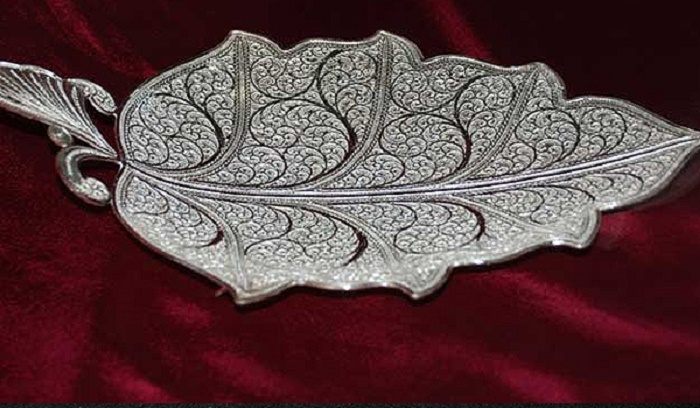 Image Credit: http://www.snipview.com/q/Silversmithing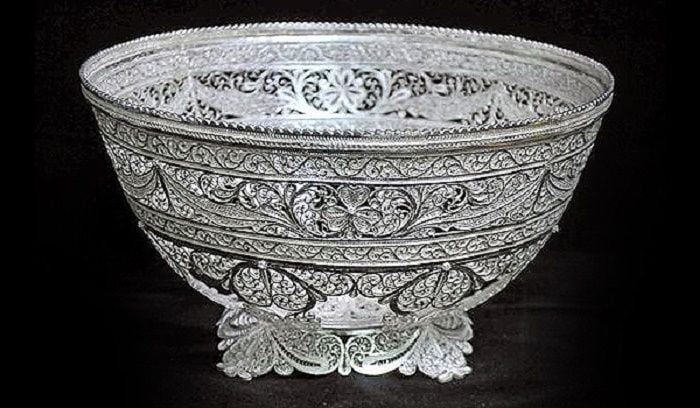 Image Credit: http://www.thehindu.com/news/cities/Hyderabad/filigree-magic/article4347659.ece#im-image-0
Not only Orissa, the art of filigree is also famous in states of Andhra Pradesh and West Bengal. In Andhra Pradesh, Karimnagar is the traditional centre of filigree. Women of the state love to embellish themselves with filigree jewelry on festive occasions considering its high level of purity.
Though the demand for this beautiful jewelry has decreased in the past few decades, its charm still remains the same when it's used on traditional occasions. With patronage and availability of modern designs, this art can certainly gain the attention of jewelry lovers. Not only in India, this art has got its admirers all over the world where women love to adorn filigree jewelry and embellish themselves with the enchanting purity and design of this art.