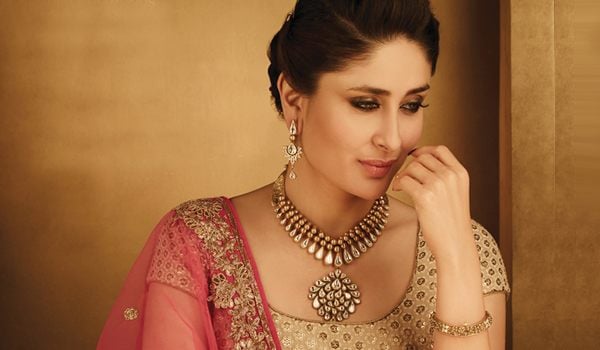 Image Credit: http://theffjournal.com/2014/12/21/new-kareena-kapoor-khan-in-malabar-print-advertisements/
Jewelry items that are older than 100 years and have witnessed the human evolution over these years constitute antique jewelry. The phrase "antique jewelry" is generally used to refer to previously owned jewels as well as the jewelry items crafted using earlier styles that were customarily associated with the era of yore, but it does not necessarily mean pre-worn or handed down.  Antique jewels are becoming highly wanted in the modern world because of their time-worn looks, state-of-the-art workmanship, and high quality gems used as well as their one of a kind rusty look.  Antique Indian jewelry can be well identified by its distinctive design, lustre and materials used. These can be typically categorized by the era to which they belong.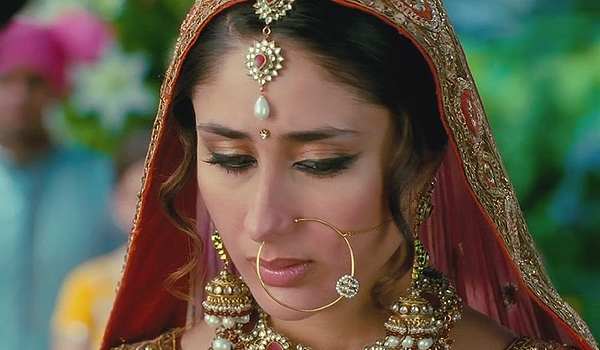 Image Credit:
https://in.pinterest.com/pin/340373684308279886/
In the olden days, precious metals like gold, silver and platinum were very commonly used to craft the jewels to be adorned by the royals. However, the commoners still stuck to copper, alpaca, iron and aluminium. Now-a-days vintage jewelry is available in a combination of the above metals, to suit the fashion requirements as well as the pocket of the adorner.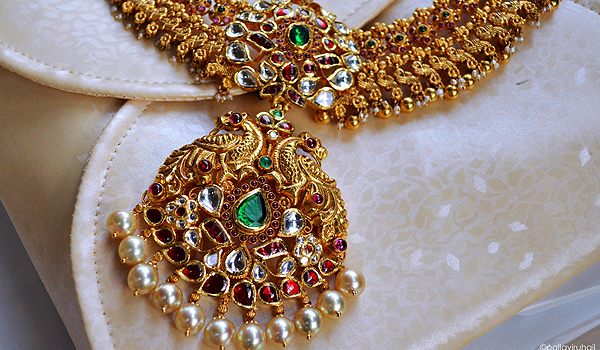 Image Credit: http://www.thatdelhigirl.com/2014/11/indian-jewelry-futureheirlooms/
Precious stones like sparkling rubies, lush emeralds, sapphires and crystal clear diamonds were studded to make the jewels look ornate. Also, semiprecious ones like topaz, tourmaline, and aquamarine were used to add a tinge of colour to the jewels. However, now synthetic stones, strass, enamel, marcasite and other semiprecious stones are also being used in combination with the precious ones to make the jewels accessible to all.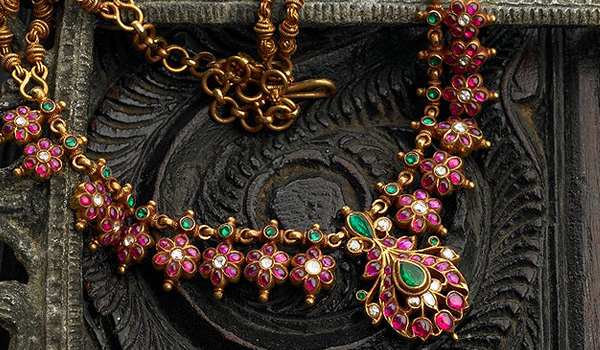 Image Credit:
http://clothingandjewelry.blogspot.ca/2012/08/elegant-temple-ruby-jewelry-from.html/
There were numerous reasons as to why our ancestors wore jewelry. One of the most important being that the jewels were often used to denote one's social status. By just a glance at one's jewels one could guess the area to which the adorner belonged, his profession, marital status and much more. Also, jewels were made for special happenings like coronation ceremonies, solar and lunar eclipses, falling comets, changing seasons and even wars.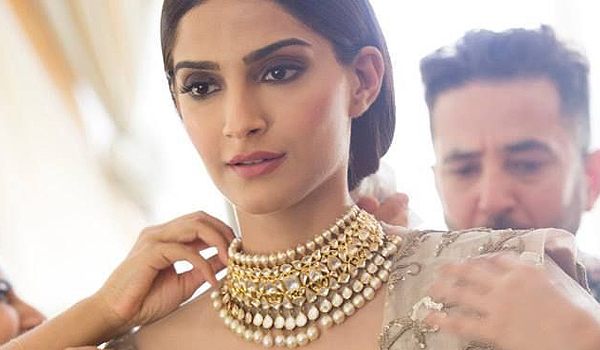 Image Credit:  http://life-camera-fashion.blogspot.in/2014/05/be-cannes-ready-with-loreals-paris-lor.html
Design, Style and Users
In the by-gone era, it was the royalty who were responsible for commissioning as well as introducing new trends for different fashions. This trend was further followed diligently by the nobility and commoners. Also, the priests from temples, churches and various other religious institutions played a major role in the commissioning of jewels. There were wholly and solely responsible for designing religious antique jewels that were known to hold mystical powers sufficient to turn a petty pauper into a king and even vice-versa.  Therefore, apart from the aesthetic value, the jewels were crafted to serve far superior supernatural purposes as well.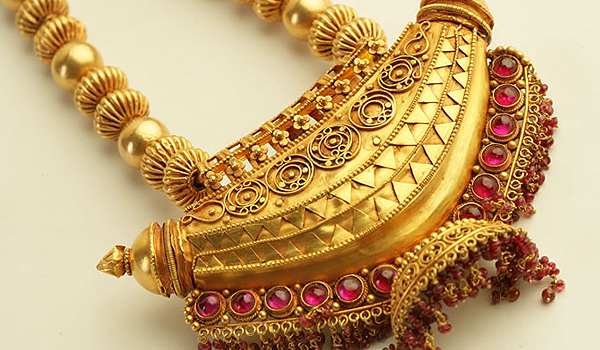 Image Credit:
http://clothingandjewelry.blogspot.ca/search/label/Ethnique%20jewelry
Different Antique Indian Jewelry Styles
Antique jewels can compel one to take a deep dive into the rich folklore attached to their existence. Also, their striking rustic vintage charm and vivid colours are enough to grip one's attention and never let go of it. Below are a few antique Indian jewelry styles that are still very popular:
1. Tarakashi:
 This unique art form developed in the late 1500s in Orissa and is a modified version of Greek Filigree work. It displays a unique combination of utility as well as beauty and is inspired from Nature. Most tarakashi designs feature intricate elements of flora and fauna in fine silver wire.  Customarily a "charkha" was used to swirl out brooches, necklaces, hoops, and pendants. But now even tarakashi rings, toe-rings, anklets and hairpins are becoming highly popular because of their exclusive antiquated design.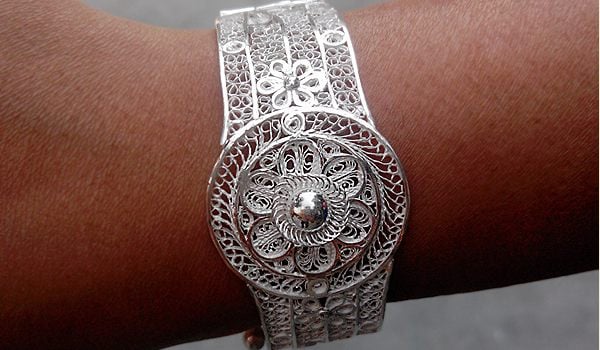 Image Credit: http://verysilver.in/qc_upload/qc_image/46/main.jpg
2.Thewa:
 Dating back to the 16th century, the Thewa art of making jewelry is still very popular in parts of Rajasthan and Gujarat. Infusing the audacious lustre of 23K gold with festive vibrant beads, this design was first made by a Pratapgarhia goldsmith Nathu Lal Sonewal. Soon after, it caught the eye of Maharaja Sumant Singh, during whose reign this art form flourished.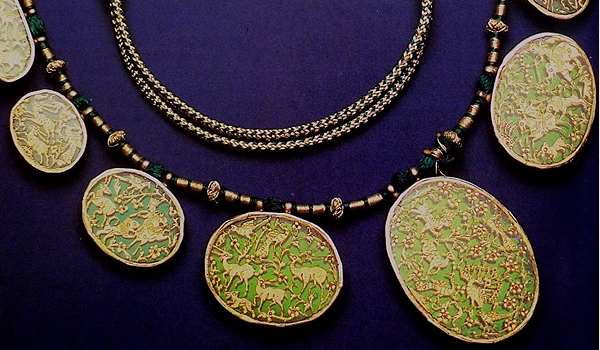 Image Credit:
https://s-media-cache-ak0.pinimg.com/originals/e6/e2/f4/e6e2f44795968e75943a1789208e0be8.jpg
3. Pachchikam:
Origination from the Kutch of Gujarat, this art form derives its name from a Gujarati word "Pachchigar" meaning a goldsmith. Pachchikam jewelry is made using soft shimmery metals preferably platinum or (now) silver.  Usually, glass beads and semiprecious metals add colour to Pachchikam rings, bangles, anklets, trinkets, jhumkis and pendants.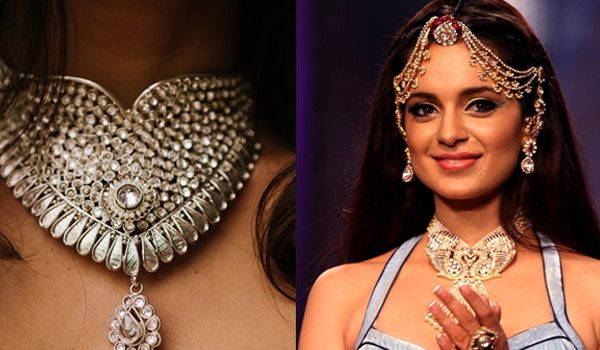 Image Credit: http://www.bollywoodshaadis.com/articles/7-most-amazing-types-of-indian-wedding-jewelry-that-every-bride-to-be-must-know-3803
4. Meenakari:
Introduced by Raja Mansingh, this artistic jewelry form uses enamelling to amp up the aesthetic coefficient of the ornament. Typically, this art form is fairly laborious and is usually kept on lac sticks while the designs are etched on it. Later, suitable coloured enamel dust is poured into these grooves and then heated until the dust liquefies and travels all around the groove. Then, the prepared design is set in silver or gold to complete the adornment.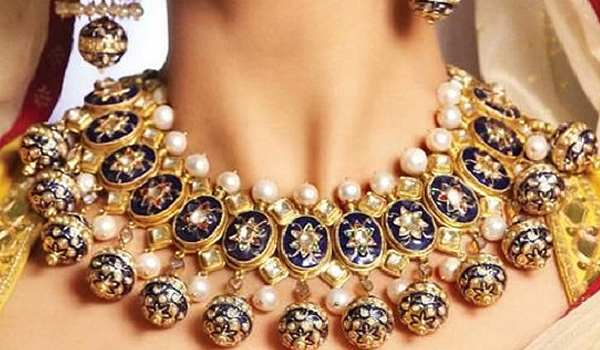 Image Credit:
http://www.wiseshe.com/2015/02/10-amazing-traditional-jewelry-collection-you-must-check-out.html
Meenakari work of Bikaner (Rajasthan), Varanasi (Uttar Pradesh), Hyderabad (Andhra Pradesh) and Kolkata is highly popular all over the world. Nathadwara's silver meena work looks exquisite and is very popular amongst the young fashionistas.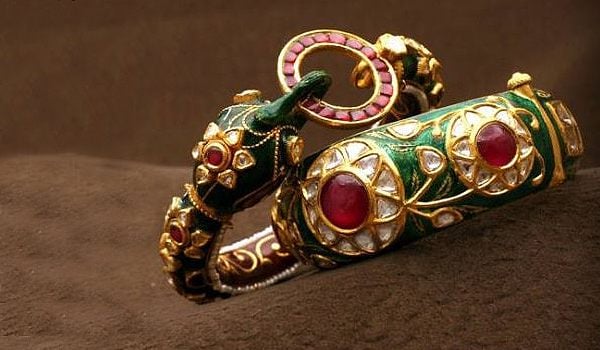 Image Credit: http://www.minmit.com/wp-content/uploads/2014/06/meenakari-bangles.jpg
5. Kundankari:
Incorporating the extravagance of diamonds, rubies, sapphires and other gemstones, this form of art originated in the Rajasthani and Gujarati royal courts in the early 19th century. Kundan's charm and unique claw setting are definitely hard to miss. Also, stone encrusted Kundankari jewels are often lined with vividly colourful Meena. Kundan wristlets, necklaces, earrings and anklets are even today used by modern fashion-conscious brides.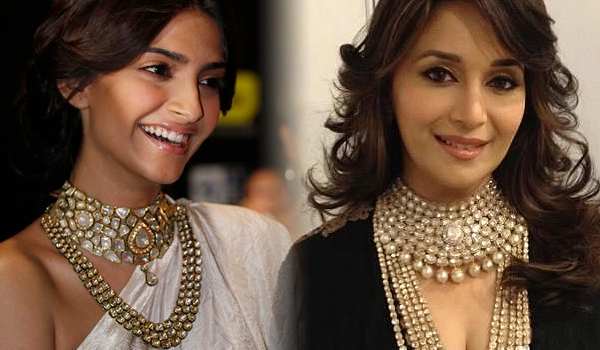 Image Credit:
http://7colorz.com/bollywood/sonam-kapoor/sonam-kapoor-and-her-jewelry-collection.php/attachment/sonam-kapoor-3
6. Jadau:
Combining the elegance of Meenakari work and the extravagance of Kundankari, this form of studded jewelry looks to be lifted out directly from the Mughal era. This setting technique uses uncut diamond polkis and semiprecious stones as embellishments. Usually, gold or silver foil is wrapped around the polki to make it more glistening, while a lac framework is prepared by the Ghaarias. Then, the polki is pushed and set into the lac structure, which is then finished by using gold. Also, colourful semi-precious and precious stones are studded in Jadau jewels to make them ready for the brides.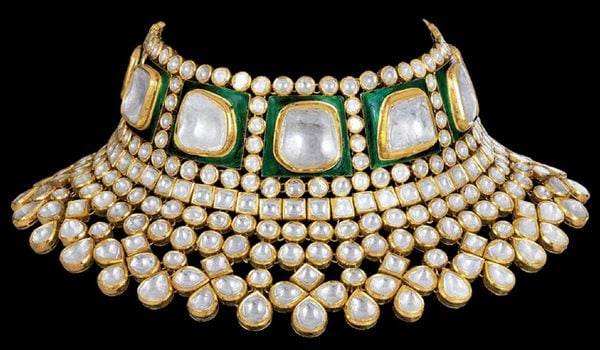 Image Credit: http://www.cityshor.com/ahmedabad/fashion/accessories/c-g-road/fuzion-jewelry---preview-of-the-jadau-collection/
7. Victorian:
Influenced by the European style jewels brought and adorned by the British invaders, the Victorian style jewels are made using gold, platinum or silver and decorated with inexpensive garnets, corals and other commonly available materials. These articles usually bear an inimitable Anglo-Indian charm which has made them highly popular among the Gen Y. Inexpensive Victorian brooches, bracelets and hair adornments are used by Indian girls even today.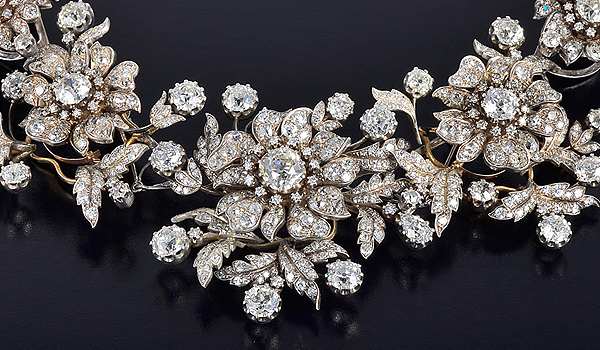 Image Credit:
http://www.annalin.net/product/impressive-victorian-diamond-necklace
Undoubtedly, antique Indian jewelry gels up very well with traditional attires including Saris, Salwaar Kameez, Ghagra Cholis, and Dhoti Kurtas, but it can also be mixed and matched with present-day outfits. Furthermore, antique jewels can also be very well incorporated in everyday fashion. For instance, a simple inexpensive casual Indian suit can be jazzed up with a trendy antique necklace or even a bangle or two.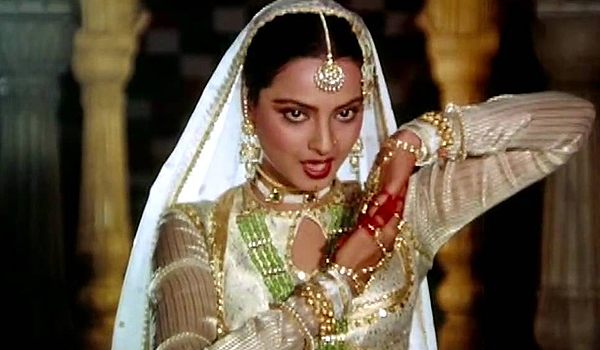 Image Credit: https://www.youtube.com/watch?v=wjodPfFdVe0
Similarly, Indian jewelry can even be teamed up with trendy dresses and gowns, to achieve an Indo-Western look.
Caring for Antique Indian Jewelry
To preserve the unique rustic charm of vintage jewelry, it is essential to take proper care of it. For instance extensive exposure to dust, sunlight or rain can make the jewel lose its earthy lure. Similarly, rough handling or vigorous scrubbing, brushing or washing can instantly damage it and take away its relic appeal. Therefore, it is important to store all jewelry items safely in anhydrous conditions.
Remember, the phrase "the older the better" when purchasing antique jewels and collectables.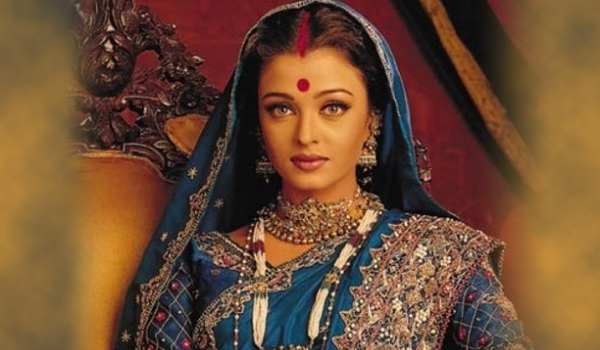 Image Credit:
http://www.ibnlive.com/photogallery/movies/aishwarya-rai38-happy-birthday-mom-to-be-811128.html