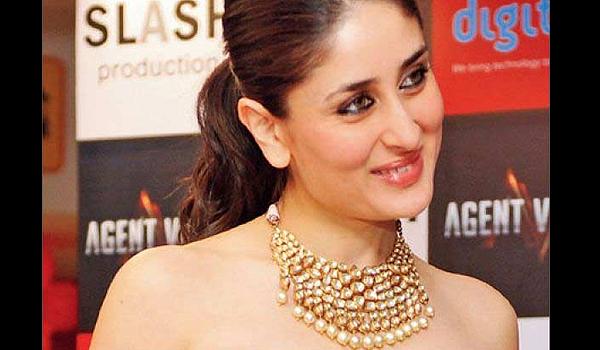 Image Credit: http://www.metromela.com/bollywood-divas-in-statement-necklace-designs/
India is famous worldwide for its jewelry and more importantly for its interest in jewelry. The fact that gold, silver, diamonds, rubies and other precious materials are not only seen as ornamentation but also as sound investments – especially gold – means that jewelry plays a huge role in India. Every special occasion demands gifts of gold and jewelry. This becomes even more important at weddings.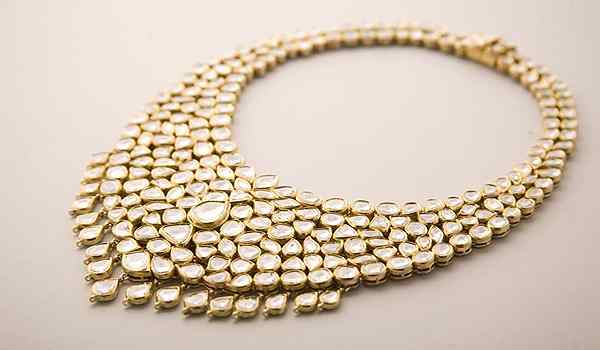 Image Credit:
http://www.pransukhlalbros.com/
Jewelry is very important for the Indian bride, no matter which region she belongs to. From Kashmir to Kerala, every traditional wedding sees a bride bedecked in jewels. This is to not only enhance her beauty but also to demonstrate to everyone, especially the groom's family, the affluence of the bride's family. In different regions this is done with different types of jewelry, but more and more we witness crossovers, such as a Tamil bride wearing the chuda or a Punjabi bride wearing a thalaisaamaan. This has enhanced the popularity of what till recently were local styles or styles limited to North India or South India. One such style is the Jadau style.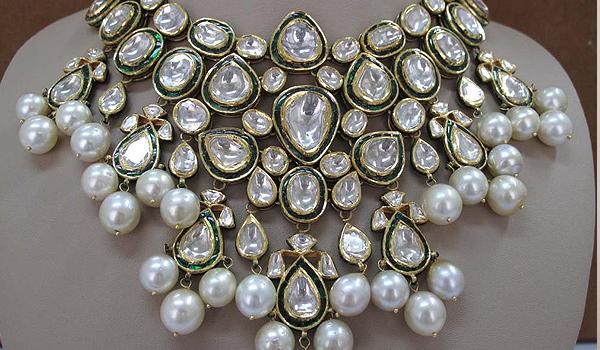 Image Credit: http://www.pransukhlalbros.com/
What Is Jadau?
Many people tend to confuse Jadau with other artworks such as Kundan, Polki and Meenakari. Here is a proper clarification. Kundan is jewelry that is embedded with glass beads. Polki uses the same technique, the only difference being that the stones here are not glass but uncut diamonds called Polki. Meenakari is the art of using enamelling in jewelry. And finally, Jadau is a technique that also uses Polki, Meenakari and Kundan but the technique varies a bit from Kundan work. Jad means to be embedded and that is the technique used by artisans who craft this style of Jewelry.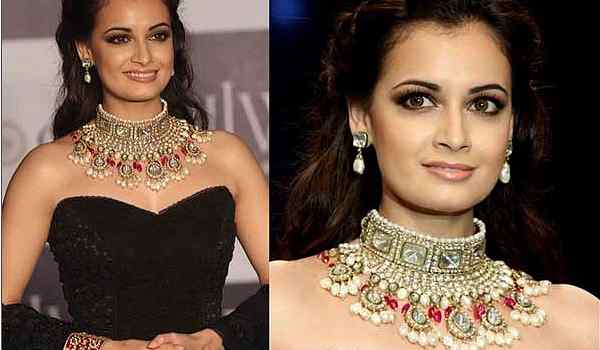 Image Credit:
http://www.metromela.com/bollywood-divas-in-statement-necklace-designs/
As with many others of our jewelry traditions, Jadau was brought into the country by the Mughals. It was then perfected by the Indian craftsmen of Rajasthan, specifically Bikaner. Even today it is acknowledged that the Jadau work from Bikaner is exceptional. However, Bikaner is not the only centre for Jadau work. Over time this tradition has spread to other cities such as Jaipur and even to other states such as Gujarat. Today Rajasthan and Gujarat are the most well known states for Jadau work. These days, though, Jadau is also available through major jewellers all over the country.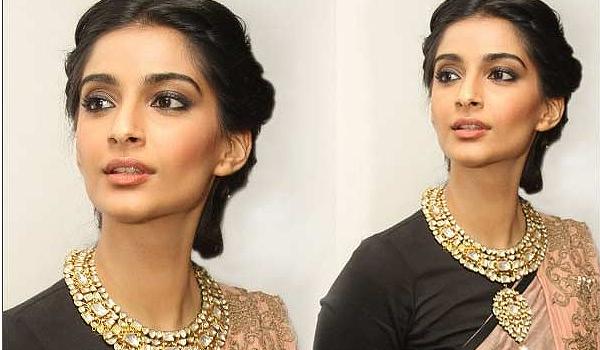 Image Credit: http://www.metromela.com/bollywood-divas-in-statement-necklace-designs/
How Is It Made?
Jadau work is complicated and involves a team of craftsmen, each of whom must know his work very well. The jewelry takes a long time to make – setting just four to five stones can take a whole day. Each craftsman has a specific task. The primary design of the ornament is made by the chiterias.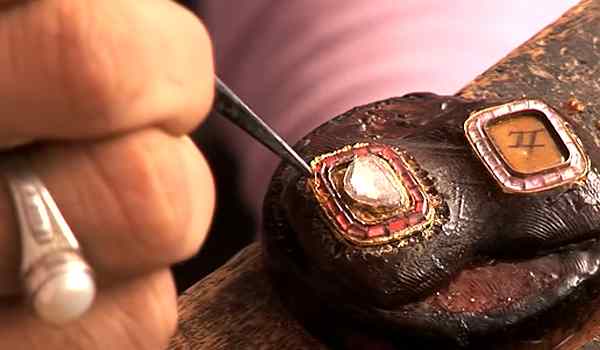 Image Credit:
https://www.youtube.com/watch?v=T75DayK5Iv0
The engravings and the making of holes to allow for the embedding later are done by craftsmen known as the ghaarias. As mentioned earlier, this technique is about embedding stones. Gold is melted just a bit, enough to make it pliable. Once it becomes that way, the stones or crystals are set on it. Care and finesse is required to do this job precisely. Once the gold cools down, the gems or crystals adhere to it without any help. The enamellers decorate the back of the ornament with Meenakari.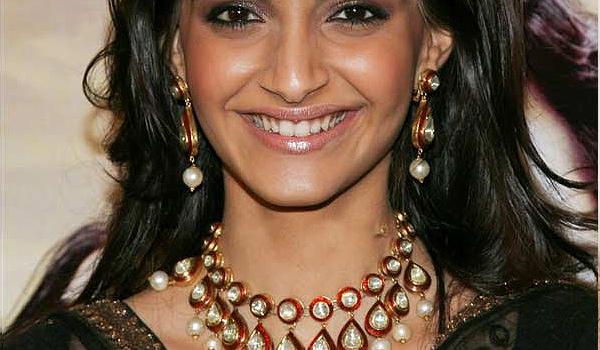 Image Credit: http://www.metromela.com/bollywood-divas-in-statement-necklace-designs/
Jadau and The Indian Bride
Jadau jewelry is regal and suits any Indian bride beautifully. Besides, modern crossovers and Bollywood have ensured that Jadau has found a place in the bridal heart. After all, what bride doesn't want to look resplendent on her wedding day?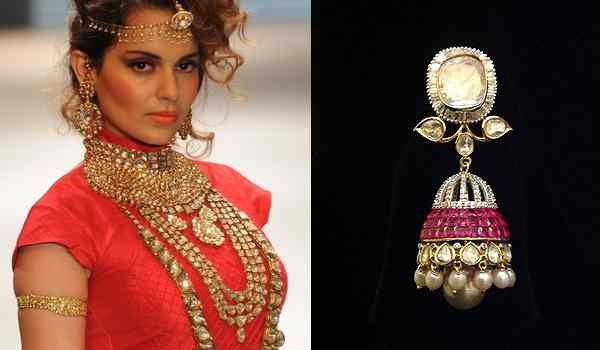 Image Credit:
https://www.pinterest.com/pin/175429347956778907/ and https://www.pinterest.com/pin/558657528755833701/
The first thing for a bride is to know where to go to find this style. Jaipur, Bikaner and Gujarat are supposed to be the home of Jadau. Those looking for pure authenticity would be well advised to go there. However, this is not necessary. These days you can get lovely Jadau jewelry at many retail chains around the country.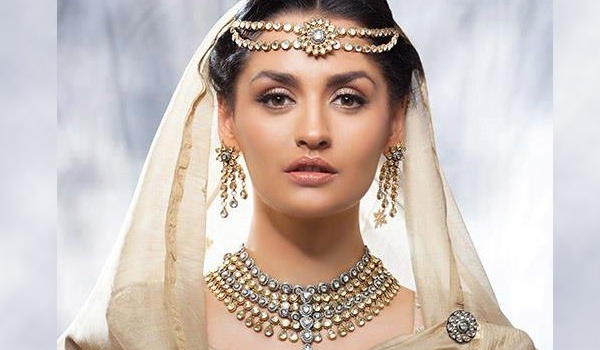 Image Credit: https://www.pinterest.com/pin/530510031081557651/
Price & Evaluation
Price is another factor to consider. Considering the amount of work and time that goes into making this type of jewelry, it is no surprise that Jadau work is pricey. As such, it is very easy for an enthusiastic bride and first time buyer to get swindled here by unscrupulous parties. To avoid this, she must know a few things about jadau before she even walks into a jeweller's. The value of a Jadau piece depends on many things. A major factor to consider is the weight and the purity of the gold being used. The stones being used, the art and of course, the composition of the piece are some other elements that affect price.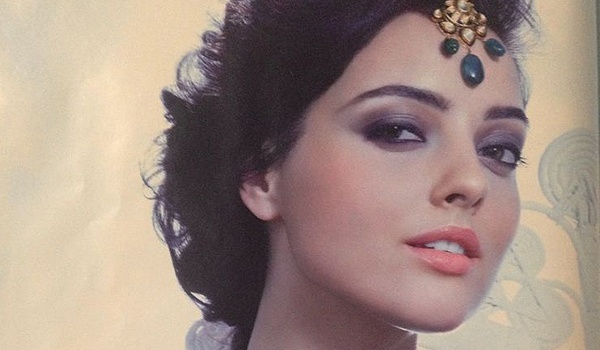 Image Credit:
https://www.toovia.com/posts/2014/may/12/0.13503.368336951332372490
A bride should always ask about the purity and weight of the gold separately from the rest of the piece. Jewellers will give the gross weight but this is not correct. It's best to ask for a guarantee. Also, it is important to consider the weight of the stones being used, as in most cases the heavier the stone, the higher the price. Purity and clarity of the stones also matter – especially in the case of diamonds. Again it is best to ask for a guarantee.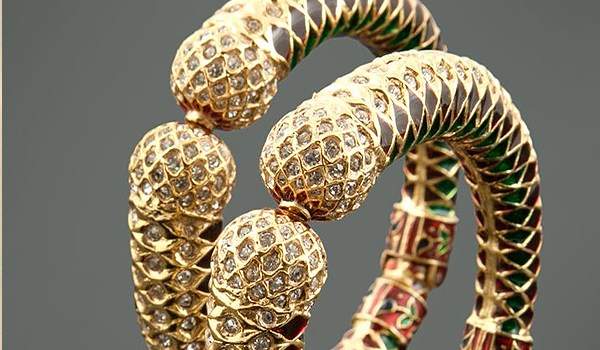 Image Credit: http://www.benzerworld.com/products/new-jewelry-collection/p_J15-117/jadau%20meenakari%20kada
What Type Of Jewelry Should She Wear?
Of course, then comes the critical question of what kind of a piece to order or buy. It really depends on the bride's taste and the outfits she is wearing along with the particular ceremonies she has to attend as part of her wedding. Jadau jewelry looks heavy and elaborate; therefore it is important that the bride not be overwhelmed by the jewelry. An outfit matched successfully with the right type of pieces can make the bride look regal and lovely.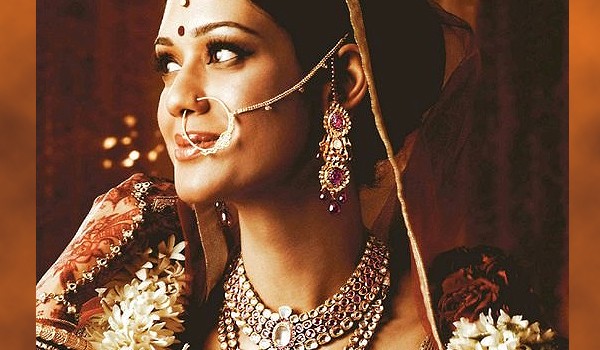 Image Credit:
http://thebigfatindianwedding.com/2013/tanishq-bridal-jewelry-from-around-india
There are many options here. The bride can choose to wear a choker with heavy earrings or light ones. These can even be teamed up with Jadau bracelets and rings. If however, the bride doesn't want a very traditional look, then she can choose to wear heavy earrings instead. Jhumkis have always been popular, although since the release of movie Goliyon ki Rasleela- Ram Leela, chandbalis have gained in demand as well. Then of course, there is the ubiquitous maang-tika or its different versions, depending upon which part of the country the bride belongs to. One can even team up a choker with a longer necklace, especially if the outfit isn't too heavy.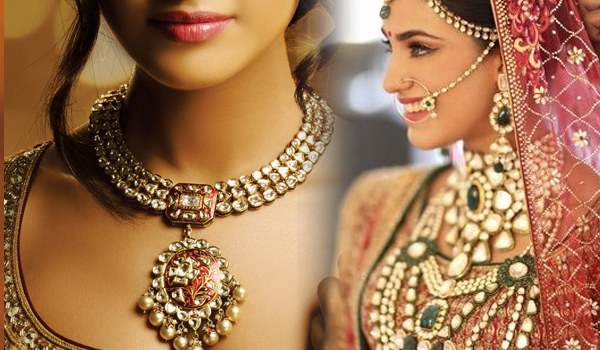 Image Credit: http://rose-style.tumblr.com/post/37188629963/hiscinnamongirl-kundan and https://www.pinterest.com/pin/139400550943092203/
How To Preserve Jadau Jewelry
Jadau work is very delicate and needs good maintenance to keep its beauty intact. Therefore, it is essential to take good care of the pieces before and after the wedding. Even the smallest Jadau ornament looks regal so these are definitely not meant for daily wear.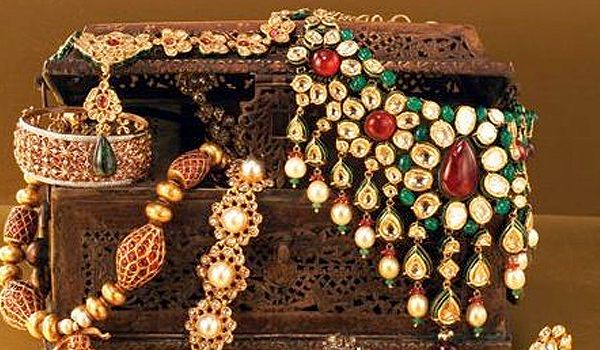 Image Credit:
http://anarkalilove.tumblr.com/post/30318159964
Keep the pieces in a dry environment, preferably wrapped in cotton cloth. There should be minimal exposure to pollutants – these include cosmetics and perfumes. Dust should also not be allowed to settle on the pieces and heat and moisture are also a complete no-no.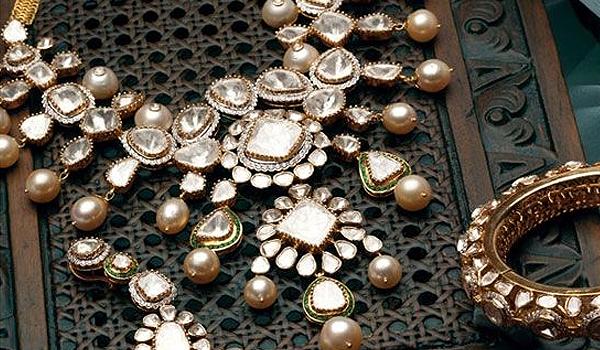 Image Credit: http://clothingandjewelry.blogspot.in/2012/07/bridal-jewelry-from-hazoorilal.html
Use an eraser, the kind used to rub out pencil marks, to clean blemishes from the jewelry. If this doesn't work, take it to a reputable jeweller to be cleaned. It is recommended that the jewelry be given to be professionally cleaned at least once a year.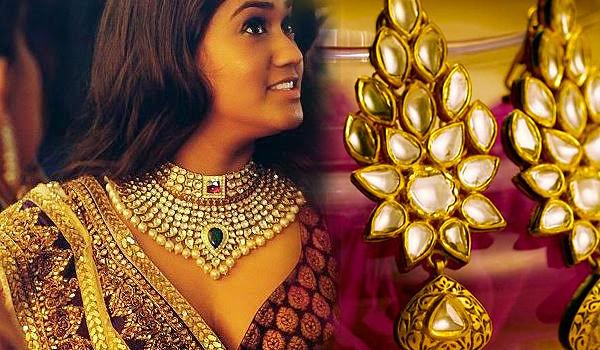 Image Credit: http://womenpla.net/big-fat-bollywood-wedding-arpita-khan/ and https://www.pinterest.com/pin/495184921500381017/
Jadau carries the legacy of Indian jewelry and it is a legacy that is no longer limited to Indian shores. Hollywood celebrities such as Jennifer Lopez and Heather Graham have been spotted wearing this type of jewelry with western gowns. This just goes to show the enduring popularity of this craft and the reason every bride must consider having at least one such piece among her jewelry.