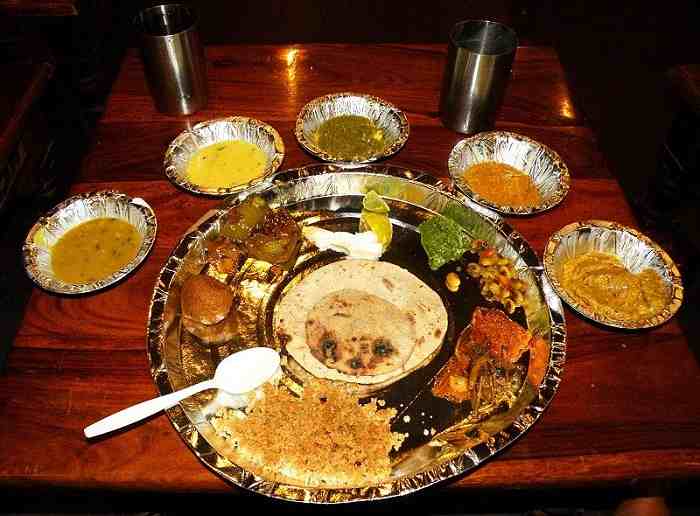 Image Credit: Wikipedia
The cuisine that originated in Rajasthan and the surrounding region in India is known as the Rajasthani cuisine. The state of Rajasthan is famed for its rich regal culture and heritage. The arid nature of the region, the extreme climatic conditions, scarcity of water and vegetation has witnessed evolvement of unique cooking styles and food habits of the natives that is noticeably different from other Indian cuisines. The Rajasthanis have moulded their culinary styles in such a way that many of their dishes can be shelved for several days and served without heating. The royal heritage of the region as well as the gastronomic enthusiasm among locals have led to a wide variety of delectable and exquisite Rajasthani dishes starting from main courses to snacks to sweet dishes. Some items like Dal-Baati-Churma and Bikaneri Bhujia have garnered both national and international popularity among foodies.
Distinct Features
The culinary style of the region to a great extent shaped up according to the bellicose lifestyle of the natives. Unavailability of a variety of fresh vegetables, fruits and other ingredients and scarcity of water due to the arid nature of the region has profound effect on the cooking style of the locals, particularly those living in the desert pockets. Traditionally the locals preferred to prepare such items that could be retained for a few days and consumed without heating them. Paucity of water in the region has witnessed extensive use of dairy products by the inhabitants like milk, butter and butter milk so as to compensate or reduce the water content while cooking. Beans, dried lentils and legumes like gram flour, bajra and jowar form the main ingredients of many of the Rajasthani dishes. Ghee is liberally used in preparing different Rajasthani dishes which are rich in spice and flavour. Although predominantly a vegetarian region, the influence of the Rajputs who savoured non-vegetarian dishes including game meat saw the evolution of several luscious non-vegetarian dishes such as laal maas, jungle maas, khad khargosh and safed maas.
Rajasthani breads are made out of conventional staples of the region like corn, barley and millet which are grounded into flour. Breads are generally roasted in frying pans and served after adding ghee on each piece. Of late wheat flour has replaced these traditional grains to some extent.
Popular Rajasthani Dishes
Rajasthani cuisine offers some exotic and scrumptious combo meals and dishes that are sure to delight the taste buds of foodies. Some of them are mentioned below. 
Bajre ki roti and Lashun ki chutney
Bajre ki roti made with bajra (millet) is very popular and healthy flat bread that is relished across Rajasthan. Though it can be taken with any vegetable dish or kadhi, it is generally savoured with onions and Lasun ki chutney that is a saucy preparation made with garlic. This combination has remained a staple food for the locals.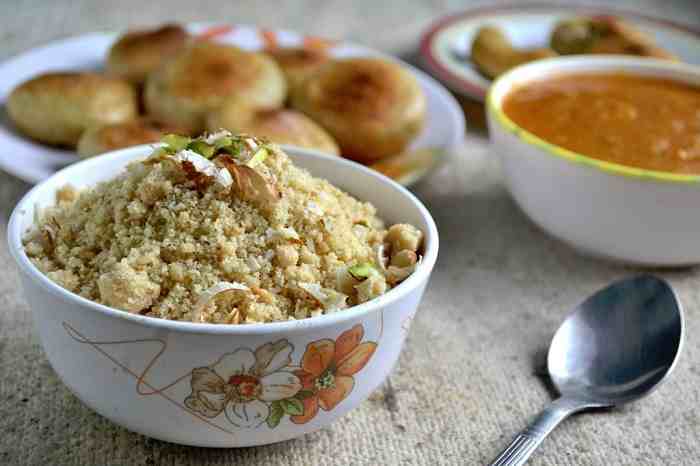 Image Credit:
www.thebetterindia.com
Dal-Baati-Churma
It is one of the signature Rajasthani dishes that have earned popularity across the globe. This delicious platter comprise of a combination of three different items namely a spicy Dal, a deep-fried Baati and a mouth-watering and slightly sweetish churma cooked uniquely with different ingredients. The baatis are baked flaky round breads made of gehun ka atta (wheat flour), rava (semolina), besan (Bengal gram flour), salt, milk and ghee that are typically served after dipping with ghee. The unsalted version of the baatis deep fried in ghee are crushed and mixed with jaggery and sugar thus forming the churma. The dal item is prepared of five different dals namely chana dal (split Bengal gram), toovar (arhar) dal, moong dal (split green gram), urad dal (split black lentils) and whole moong (whole green gram) and referred as panchmel dal or panch kutti dal.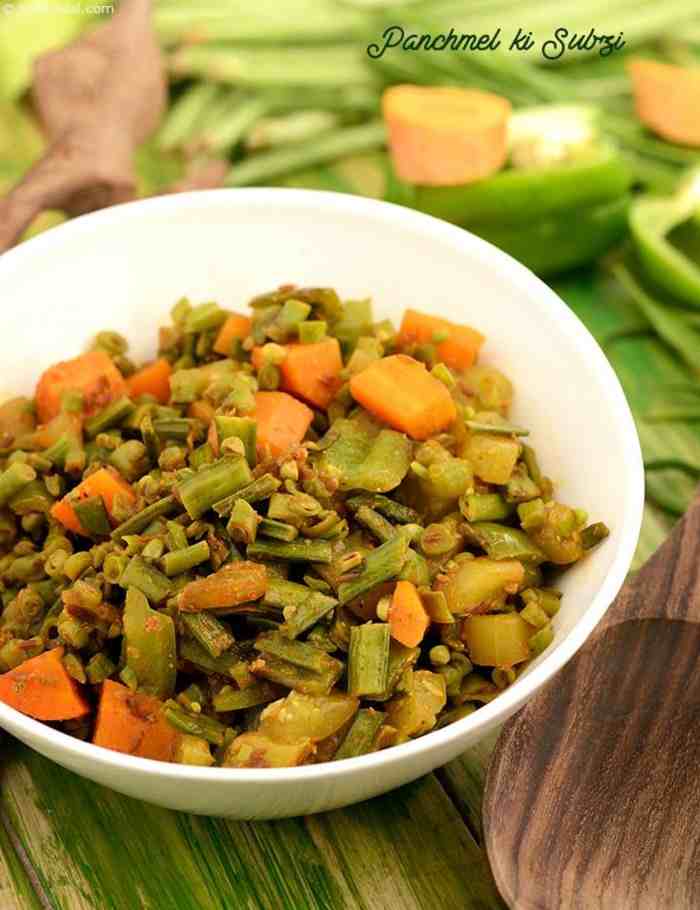 Image Credit:
www.tarladalal.com
Panchmel ki Sabzi
It is a very popular, healthy and delectable dish from Rajasthan that derives its name from the combination of five ingredients used to prepare it. This extremely luscious and dry vegetable dish is prepared out of five vegetables seasoned with a mix of aromatic spices and gets its tangy flavour from the use of dried mango powder called amchur. It is best savoured with roti/chapatti and rice.
Khichdi
Whenever we talk of Khichdi, we consider a wholesome and healthy meal made out of rice and different pulses. However, people of Rajasthan have some innovative and nutritious preparations of khichdi that are made using wheat, jowar and bajra in place of rice. Some of the popular ones are Gehun ki Bikaneri Khichdi made of wheat and moong dal that can be enjoyed with ghee, curd and mango pickle; and Bajra khichdi made of bajra (black millet)  and yellow moong dal (split yellow gram) and served with either curd or raita.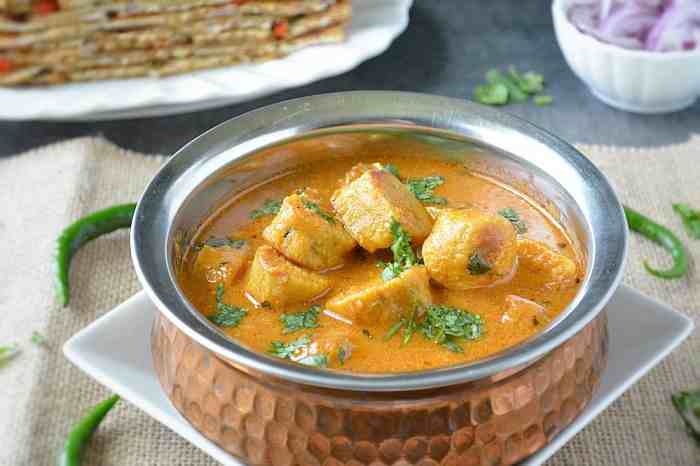 Image Credit:
www.ruchiskitchen.com
Gatte ki sabzi
This is an easy to digest and popular curry of Rajasthan made of gram flour balls with the gravy being prepared of buttermilk and different spices. It can be relished with both roti and rice.
Shahi Gatte
Shahi Gatte or Govind Gatte, is a rich and popular dish which consists of a gravy with fried besan dumplings that are stuffed with nuts. It can be savoured both with roti and rice. 
Rajasthani Kadhi
Unlike the kadhi preparations of many of the other states like Punjab and Maharashtra, the Rajasthani Kadhi does not contain pakoras or gram flour dumplings. It is a very quick and easy preparation that is made with spiced yogurt based gravy that is thickened with gram flour.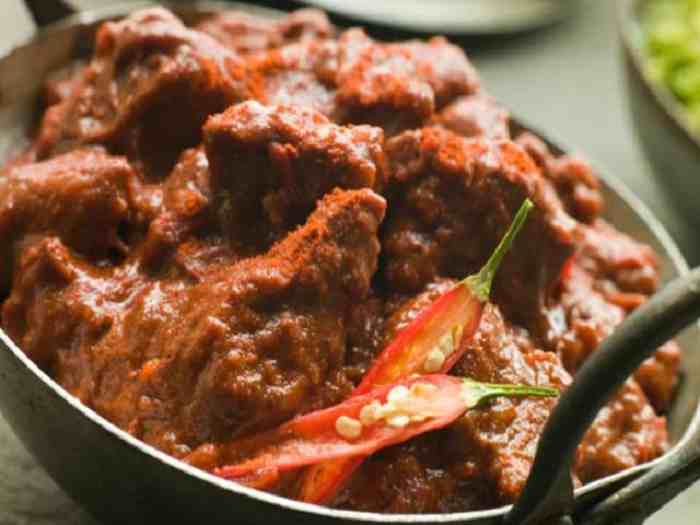 Laal Maas
This is one of the most popular and mouth-watering meat preparations of Rajasthan which is relished best with bajra ki roti, although rice can also be an option. The unique feature of this hot, spicy and rich preparation is its fiery red colour which it gets from the liberal use of red chillies.  
Mohan Maas
This regal meat preparation is counted among the yummiest and most delectable Rajasthani non-vegetarian dishes that will surely make any non-vegetarian crave for more. The juicy and tender meat prepared with mild spices and milk comes with rich gravy seasoned with cardamom, lemon and khus-khus among other ingredients, making the dish even more luscious.  
Snacks
The Rajasthanis are known for their unique main course delicacies and also offer a wide variety of snacks items some of which have garnered wide acclamation and are relished across the nation. Let us have a glimpse at some of them.
Bikaneri Bhujia
Originated from the Bikaner region of the state, this crispy snack made of besan (gram flour), moth beans and a mix of spices has become a household snack in India and has also gained much international fame.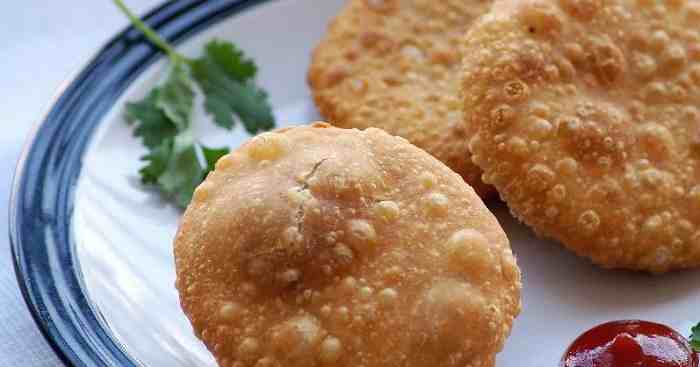 Image Credit:
http://fooddhamaka.com
Pyaaz Kachori
Pyaaz kachori, a popular spicy snack from in and around Jodhpur has not only found place in almost every snacks shop of Rajasthan but has also gained much popularity in other north Indian regions. It is a deep fried puffy pastry stuffed with spicy onion that is usually relished with sweet and sour imli (tamarind) ki chutney.   
Kalmi Vada
This crispy and crunchy snack delicacy made of batter of chana dal, onion, dhania seeds, chillies and other ingredients savoured with chilli or mint chutneys forms a perfect tea-time snack.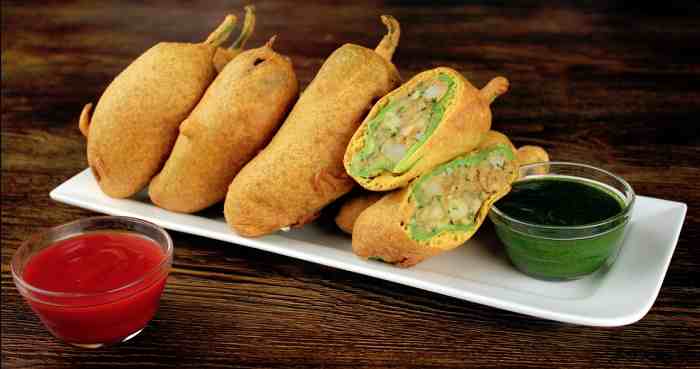 Image Credit:
foodfood.com
Mirchi Vada
The Jodhpur mirchi bada, a spicy chilli cutlet made of chilli and potato stuffing is a popular Rajasthani snacks item that goes along well with tamarind chutney, mint chutney or tomato sauce. 
Sweet Dishes
Rajasthanis are known for their love for sweets. There are wide varieties of Rajasthani sweets that are made from both dairy-based as well as non-dairy based products. In Rajasthan, sweets are never referred as desserts and unlike in the case of most other traditional regional meals where sweets are usually served after the meal, in Rajasthan these are savoured prior to, during and after the meal. Different sweet dishes from different parts of Rajasthan are Rassgollas from Bikaner, Malpauas from Pushkar,  Mawa from Alwar and Mawa Kachori from Jodhpur. Let us have a glance at some of the popular and toothsome sweet dishes of Rajasthan.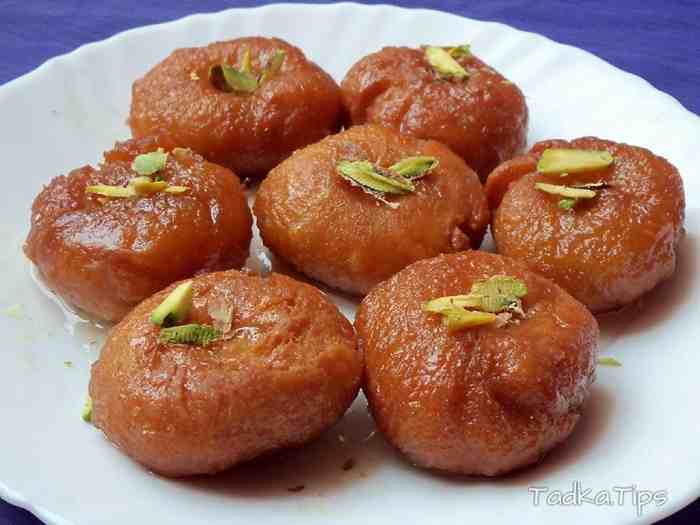 Image Credit: http://www.tadka.tips
Balushahi
It is a crunchy deep-fried sweet dish made of rounded doughs that are soaked in sugar syrup. The basic ingredients are maida (refined flour), ghee, sugar and milk among others.  
Ghevar
This sweet dish round in shape and made of flour, ghee, paneer and sugar syrup finds place in every Rajasthani occasion. Varied type of Ghevars such as Plain Ghevar, Mava Ghevar and Malai Ghevar can be prepared.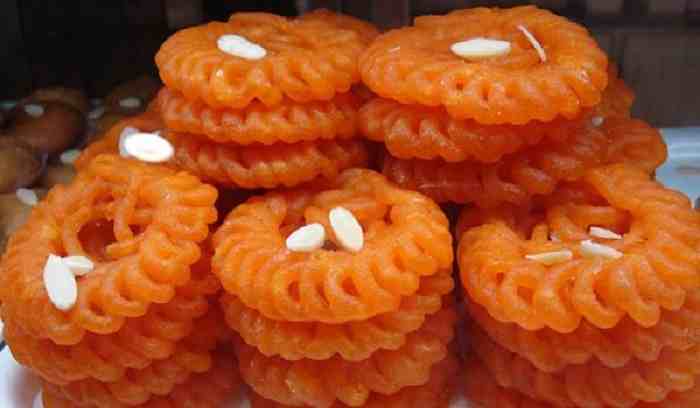 Image Credit:
http://www.indobase.com/recipes/rec-images/imarti.jpg
Imarti
Imarti is a delectable and finger-licking non-dairy based sweet dish. It is made of urad flour batter that is deep-fried in the shape of circular flower and then dipped in sugar syrup.   
Gujia
Gujia is a stuffed sweet dish that finds a special place during the Holi festival apart from other occasions. It comprises of a sweet dumpling of maida (refined flour) or suji (semolina) that is stuffed with khoya, coconut and roasted and grated dry fruits.     
Alwar ka Mawa / Kalakand
It is a famous sweet dish that originated from Alwar, Rajasthan. Prepared by thickened and solidified milk, paneer, sugar and dry fruits, kalakand today finds place not only in various Indian festivals and occasions but also in most of the sweet shops across the nation.    
Popular Rajasthani Dishes & Sweets
•    Bail-Gatte
•    Balusahi
•    Besan-Chakki
•    Chaavadi
•    Churma
•    Dal-Bati
•    Dhungari Hui Chaach
•    Ghevar
•    Googri
•    Jhajariya
•    Laapasi
•    Nukhti
•    Panchkoota
•    Raabdi
•    Tarfini
Popular Rajasthani Curries
•    Beans ki sabji
•    Gajar ki sabji
•    Guwar fali ki saag
•    Karela ki sabji
•    Keri ki sabji
•    Khaddi
•    Kicha ki sabji
•    Kikoda ki sabji
•    Makki ki raab
•    Matar ki sabji
•    Moranga ki sabji