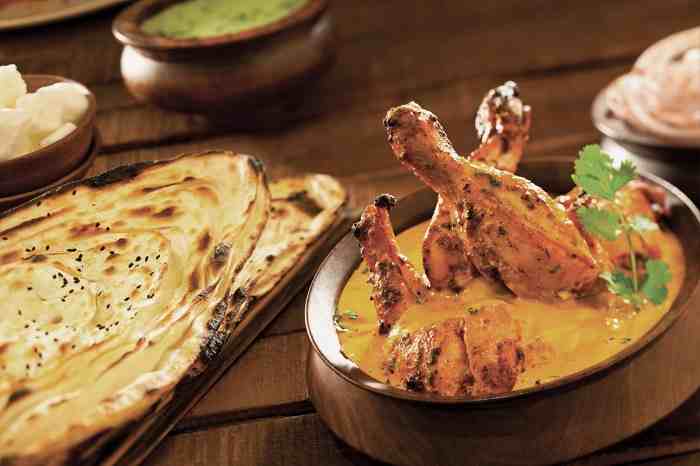 Image Credit: www.delhitown.in
Punjabi Cuisine is one of the most distinct and popular Indian cuisines and comes from the region of Punjab situated partially in India and Pakistan. It offers a vast variety of delectable and exotic vegetarian and non-vegetarian dishes that are prepared with varied traditional culinary styles, particularly the tandoori style. The exotic and appetizing tandoor items and various other mouth-watering and finger licking dishes having rich, spicy and buttery flavour savoured with Punjabi Basmati rice of varied forms and special Punjabi breads like Tandoori Roti and Naan have not only made the gastronomists crave for more but has also garnered the cuisine much fame outside the Punjab region taking it to places around the globe like Canada and the UK.
Distinct Features
Punjab with its rich cultivating lands has traditionally been an agrarian society since the time of the ancient Harappan Civilization. The land in the Indian Punjab is ideal for growing wheat and is called the 'Granary of India' or 'India's bread-basket'. The two major crops cultivated by the farmers of Punjab are rice and wheat, which remain the principal crops grown during the Kharif season and the Rabi season respectively. The indigenous Punjab Basmati rice has been the pride of the region being grown since time immemorial. The practice of multi-cropping is quite common in Punjab which also grows sugarcane, bajra (pearl millet), jowar (great millet), barley, potatoes, vegetables and fruits among others. Cattle primarily used for agriculture and dairy farming in the region form the major source of dairy products starting from ghee, butter, clarified butter, curd, paneer (cottage cheese) to a wide variety of sweet dishes. Thus the staple foods grown locally including the dairy products form an integral part of the local diet. 
Traditionally, ghee, butter, clarified butter, paneer and sunflower oil are used to cook various Punjabi dishes. However, nowadays ghee, cream and butter are liberally used in restaurants to prepare Punjabi dishes while the more health conscious households have mostly switched to sunflower oil or other refined oils. Traditional Indian spices grounded in Ghotna, a conventional kitchen device to grind and crush spices and other ingredients, are generally used in preparing the dishes. Kasoori methi or dried fenugreek leaves, onion, garlic and ginger are used extensively to prepare various Punjabi delicacies. Various food additives like vinegar, bulking agents like starch, colouring agents like zarda and condiments like cumin, coriander, dried methi leaves and black pepper are used to enhance the taste and flavour of various dishes. Fermented foods like pickles are also used to prepare many Punjabi cuisines. One of the famous ones is Achari Gosht made of chicken and pickles. Again pickles, particularly the ones made of mango popularly compliment many Punjabi dishes like the stuffed parathas, especially in the rural areas of Punjab region.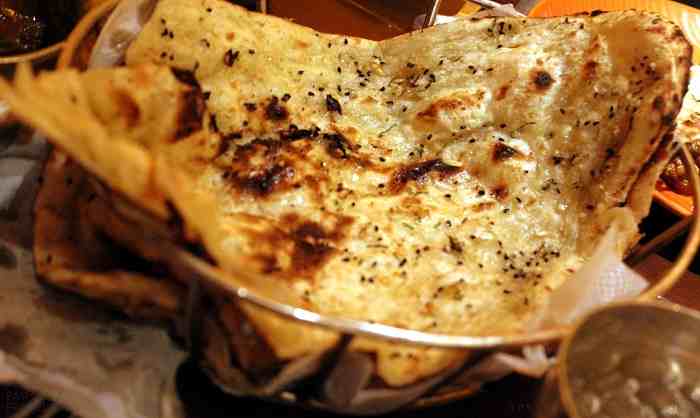 Image Credit:
https://sssourabh.files.wordpress.com
Different Cooking Styles
Various traditional cooking styles are applied with the villagers still using some of the conventional cooking infrastructures like the Punjabi bhathi which is similar to a masonry oven. The Punjabi bhathi is constructed with bricks or mud and clay and covered with a metal at the top. One side of the oven has an opening where wood, grass and bamboo leaves are put to burn the fire. The smoke of such fire emits through a cylinder.  The traditional stoves and ovens in Punjab are called Chulla and Bharolli respectively and it is common to find ovens called band chulla and wadda chulla in Punjabi households.  Another method of cooking using a traditional heating appliance in the form of a wood-burning stove that comprise of a closed solid metal fire chamber, an adjustable air control and a fire base made of brick is gradually dying out. A variant of such cooking style that has become quite popular is the tandoori style that includes preparing various dishes in a clay oven called tandoor.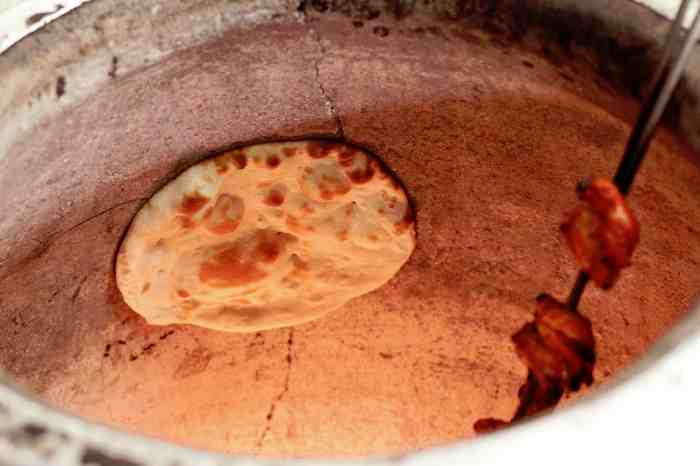 Image Credit:
https://kimchiconqueso.files.wordpress.com
Tandoor
The Punjabi tandoor which has become an integral part of preparing various Punjabi food items is a traditional clay oven that is commonly found in the courtyards of Punjabi households. There is also a tradition of having community tandoors in the rural pockets of Punjab. These tandoors are referred as Kath tandoors. A Punjabi tandoor is a bell-shaped oven either rested above the ground or set into the earth. Wood and charcoal are used to burn the fire of the oven.  This cooking style gained mainstream popularity post Partition of India in 1947 that saw resettlement of Punjabis in places like Delhi. Varied forms of bread items like roti and naan as well as luscious meat dishes like tandoori chicken made out of roasting the chicken with other ingredients like spices and yogurt are prepared in the tandoor.    
Let us have a look at the various Punjabi foods that are usually taken during breakfast, as main courses, as snacks and as desserts.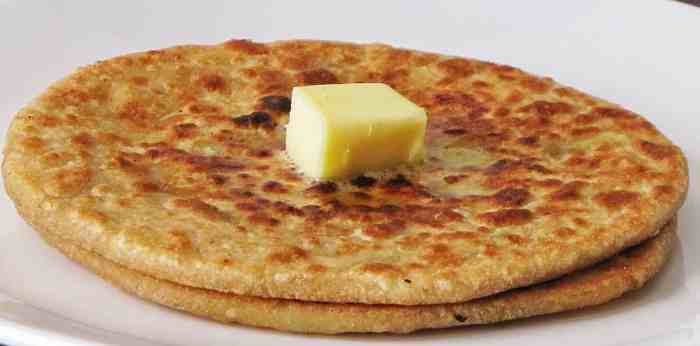 Image Credit:
younminerecipes.com
Breakfast Items
The breakfast items vary with the food preference and taste of different regions of Punjab. Some of the usual items are Paratha (flat bread thicker than roti that is fried with ghee or oil), stuffed parathas (like Aloo Paratha stuffed with mashed and spiced potatoes and Gobi Paratha stuffed with finely grated and spiced cauliflower) are commonly eaten as breakfast that can be served with white butter or mango pickles or curd. Halwa poori consisting of poori bread that is roundish bread deep fried served with a sweet dish called halwa is also taken as breakfast. It can also include chana masala, a variety of chickpea lusciously prepared with onion, tomatoes, garlic, chilli, ginger and hot spices. Chana Masala can also be savoured with fluffy deep-fried leavened and fermented bread called Bhatoora or with Amritsari Kulchas, another variant of leavened bread. Items like Dahi Vada, fried flour balls soaked in yogurt and seasoned with different spices among others are also included in breakfast.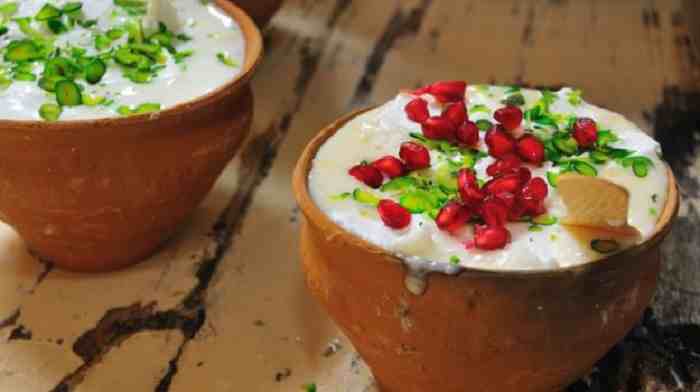 Beverages
Like any other cuisine, beverages form an important part of Punjabi cuisine many of which complement the parathas and pooris during breakfast or during lunch and dinner. The varied range of beverages can be dairy-based or derived from fruits and vegetables. The popular dairy-based beverages include Makhni Doodh (buttermilk), Chaas, Falooda, Amritsari Lassi, Mango Lassi, Mango Milkshake and Doodh Soda among others. Other drinks and juices include Carrot Juice, Water Melon Shake, Shikanjvi, Imli ka Paani (Tamarind Juice), Neembu Paani (Lemon Juice) and Jal-Jeera. Another traditional and common beverage of Punjab is Sattu made of roasted and grounded barley grains, salt, water and turmeric. Other than these, Tea and Masala chai are also savored as beverages in this region.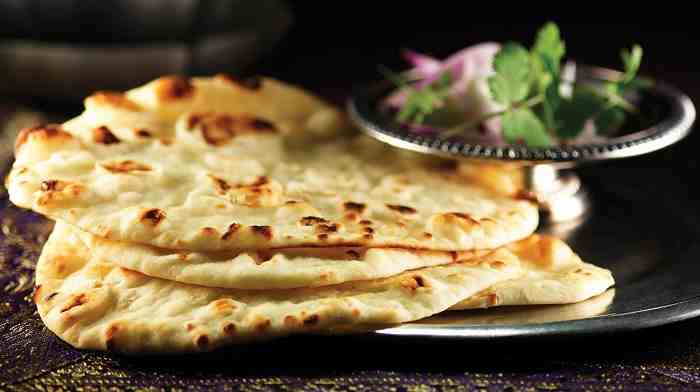 Variety of Breads
Different kinds of breads prepared in different styles with different types of flours are taken as staple food by the Punjabis. Breads like Tandoori Roti, Naan, Lachha Paratha and Kulcha are baked in the tandoor, while breads like Chapati, Makki ki Roti, Baajre ki Roti and Jowar ki Roti are dry baked in Indian pans called tavas. Stuffed parathas like Aloo (potato) Paratha, Palak (spinach) Paratha, Mooli (radish) Paratha and Paneer (Cottage Cheese) Paratha among others are shallow fried in pans while Bhatoora and Poori are deep fried.  
        
Dal
Dal usually forms a common dish in a regular Punjabi meal. Prepared with lentils the dal is seasoned with a mix of spices and aromatic ingredients to enhance taste. The commonly used tadka ingredients include fried onion, garlic, hara pudina (peppermint), hari mirch (chilli pepper), zeera (cumin seed) fenugreek seeds and mustard seeds. Popular dishes made with lentils include Khichdi, Punj Ratani Dal (made with a combination of five lentils) and Amritsari Dal Makhani (made with butter and cream).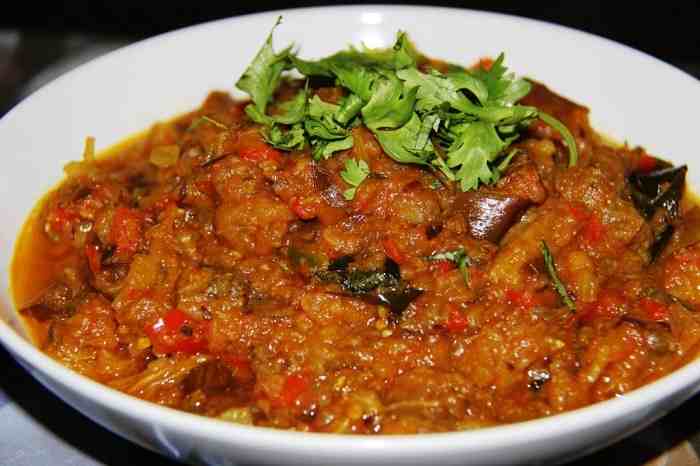 Image Credit:
http://punjabifoodsrecipesdishes.blogspot.in
Vegetarian Dishes
Punjabi cuisine includes various exquisite vegetarian dishes that can be taken with different breads and also with some rice preparations like simple hot Basmati rice or Jeera Rice. Some of the popular dishes are Aloo Gobi, a spicy vegetable made of potato and cauliflower; Aloo Tikki, a small and roundish cutlet like dish prepared with potato, onion and different curry spices; Aloo Mattar, a spicy and creamy curry made with potato and peas; Baingan Bharta, a luscious dish made with aubergines that are roasted mashed and cooked with onions, ginger, tomatoes and green chillies; Navratan Korma, a vegetarian korma prepared out of nine different vegetables, nuts and paneer; and Rajma, a delicious gravy item made with red kidney beans and various spices among others. Punjabi cuisine includes different palatable and yummy items made with Paneer (cottage cheese) like Shahi Paneer, Mattar Paneer, Paneer Kofta, Paneer Paratha and Khoya Paneer to mention a few.  One of the popular Punjabi vegetarian dishes is Sarson da saag, a preparation of green mustard leaves that is best savoured with Makki di roti, a combination that has become a traditional staple food in Punjab.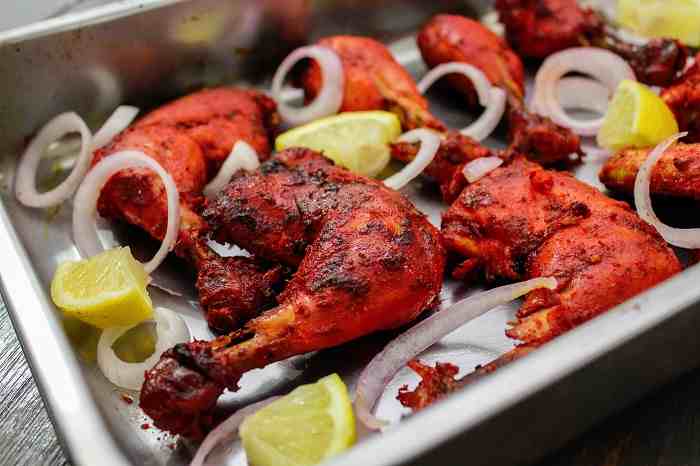 Image Credit:
mayakitchenette.com
Non-vegetarian Dishes
The non-vegetarian Punjabi dishes are usually made with meat of lamb and goat, eggs and fish. Beef is prohibited in the Punjab region of India while pork is prohibited in Pakistani Punjab due to religious restrictions. Punjab being a land of five rivers offers variety of fish including rohu, carp, tilapia and catfish among others. The palatable biriyani, a rice preparation made with chicken, lamb and beef variations is one of the most popular Punjabi rice dishes. Some popular dry non-vegetarian dishes include Amritsari Tandoori Chicken, a lip-smacking chicken preparation that is prepared by roasting the chicken in tandoor with different spices and ingredient; Kebab, braised and minced spicy lamb or beef preparation; Chicken Tikka, a boneless variation of Tandoori Chicken that is prepared by marinating the small chicken pieces with yogurt and a distinct combination of spices and put to skewers and then baked in the tandoor; and Fish Tikka Amritsari, a boneless fish item that is prepared after marinating it with yogurt and spices.
 
Punjabi kitchen offers a number of exquisite and delicious non-vegetarian gravy preparations as well, each of which are cooked in different style using unique combination of spices and other ingredients. Some of the most delectable ones are Butter Chicken, Chicken Kadahi, Rogan Josh, Amritsari Fish, Murg Musallam, Egg Curry, Saag Gosht, Kadhai Gosht and Nihari Gosht among others.           
Snacks
Toasted corn and wheat grains are popular snacks items savoured in the region. Other items that are deep fried and usually enjoyed with chutneys are samosas and pakoras. Punjabi chutney, a saucy preparation, can be made with mango, tamarind, pudina, dhania and anar among others.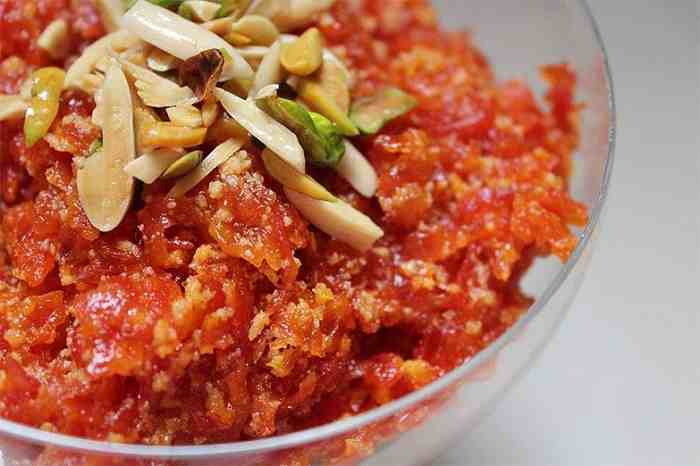 Image Credit:
http://desiappetite.com
Sweets
Punjabi cuisine includes a vast variety of sweet dishes or mithyai such as Kheer, Malpua, Barfi, Kulfi, Motichoor Laddu, Rabri and Sheer Korma to name a few. One of the popular ones is Gajar Ka Halwa, a finger licking sweet dessert pudding made from grated carrots, milk, water and sugar and garnished usually with pistachios and almonds that are already sautéed with ghee.
Popular Punjabi Dishes
Non Vegetarian
•    Butter Chicken
•    Chicken Curry with Tomatoes (Murgha Kari)
•    Chicken Biryani
•    Chicken Tikkas
•    Fried Garlic Pepper Chicken
•    Amritsari Fish
•    Murgh Musallam Chicken Curry
•    Tandoori chicken
•    Zeera Murg (Cumin Chicken)
•    Egg
•    Egg Curry
•    Egg Bhaji
Vegetarian
•    Amritsari Aloo
•    Aloo Gobhi
•    Aloo Mattar
•    Aloo Tikki
•    Baigan Bharta
•    Bhindi
•    Cauliflower Bhaaji
•    Chana Masala
•    Dahi Bhalle
•    Dal Fry
•    Dal Makhani
•    Handi Biryani
•    Jeera Rice
•    Makki Di Roti
•    Malai Kofta
•    Navratan Korma
Sweets
•    Carrot Halwa
•    Gulab Jamoon
•    Kaju Barfi
•    Kalakand
•    Imarti
•    Jalebis
•    Motichoor Ladoo
•    Pinni
•    Soan Papdi
•    Sooji Halwa