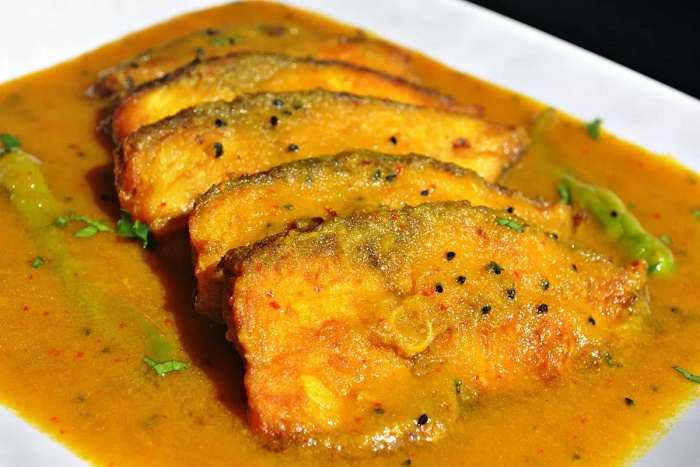 Image Credit: hungryforever.com
Bengali food that originated and evolved in the region of Bengal situated in the eastern subcontinent of India (presently divided into West Bengal in India and a separate nation called Bangladesh) is rich and varied in its platter starting from snacks to main courses to sweets. Although the food habits, tastes, preferences and choice of items vary with different districts, communities and religions, the basic course generally remains the same with rice and fish playing a dominant role. Probably this is why a Bengali is often typified as a 'Maache-Bhaate-Bangali' where Maach means fish and Bhaat means boiled rice in Bengali. A Bengali meal follows a multi-course tradition where food is served course-wise usually in a specific format, marking it as the only meal of the subcontinent to have evolved such convention. It is quite similar to the present day service à la russe style of French cuisine. Generally a Bengali meal starts with a 'Shukto' (a bitter preparation) followed by 'Shak' (leafy vegetables), Dal (pulses), variety of vegetables, fish/mutton/chicken/egg curry, chutney (sweet-sour saucy item) and ends with sweet dish like curd and other traditional sweets like sandesh or rosogolla. With time Bengalis have embraced different culinary influences as well including that of the Mughlas, Chinese and British subtly twisting these to suit their own taste-buds.
Availability of Different Products & Distinguishing Features of Bengali Food
Bengal, with rich cultivating land, has traditionally been an agrarian society. The practice of multi-cropping is quite common in Bengal which has earned a fame for producing varied and good quality rice. Variety of vegetables and fruits are grown here round the year. The coastline region is also abundant with rivers like the Ganges, Padma, Meghna, Damodar, Mayurakshi, Teesta and Rupnarayan among others and other water bodies like ponds and lakes that offer the populace a wide variety of fish like ruhi, katla, pabda, tangra, koi, hilsa, pomfret and bhetki and other sea animals like shrimp, prawn and crabs. Cattle primarily used for agriculture and dairy farming in the region are prime source of variety of dairy products in Bengal starting from ghee, butter, curd and a huge variety of sweet dishes. Traditionally ghee and mastered oil were used for cooking, however the former has now been replaced by refined oil by the more modern and health conscious Bengalis. However it still finds place in different delicacies and special items to enhance taste and although not quite often but is still savoured with hot rice. Thus the products cultivated and found regionally dominate the platter of a Bengali.
A daily meal of a Bengali comprise of various items served course-wise however is much simpler than the ones prepared during occasions and festivals. Fish, mutton, goat, chicken and eggs of chicken and ducks are usually consumed across Bengal while beef is consumed by the Muslim community. Mustard oil is mostly used in preparing different dishes barring a few delicacies. Use of whole black mustard seeds either as phoron or as a paste in different cuisines are also very much in league with Bengali dishes. Kashundi, a special sauce prepared out of mustard paste is savoured with Shak served with boiled rice and with different other fried items like fish fry.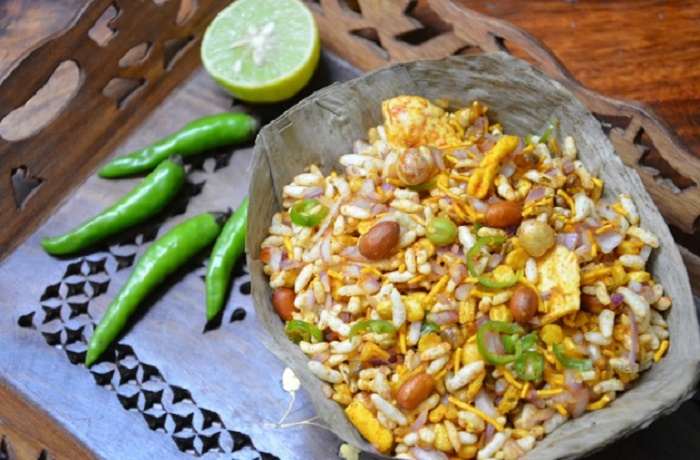 Image Credit: http://susrecipes.blogspot.in/2014/02/jhal-muri-kolkata-style.html
Common Spices Used in Bengali Cuisine
A variety of spices and their mixes are used in preparing Bengali cuisine, the common ones being halud (turmeric),  jira (cumin), dhone (coriander) radhuni (wild celery seeds), kalo jeera (black onion seeds), dried red chilli, bay leaves, shorshe (mustard), poshto (poppyseed), methi (fenugreek), mouri (fennel), peyaj (onion), ada (ginger), narikel (ripe coconut)  and a combination of five spices called panch phoron which comprise of kalo jeera, cumin, black mustard seeds, fenugreek  and fennel. Phoron that is frying the spices singly or in combinations either at the beginning of preparing a recipe or adding later to it plays a dominant role in Bengali cooking style. Use of whole black mustard seeds either as phoron or as a paste in different cuisines are also very much in league with Bengali dishes. Kashundi, a special sauce prepared out of mustard paste is savoured with Shak served with boiled rice and with different other fried items like fish fry.
Daily Meals of a Bengali Family
The Bengalis who are known to be foodies not only relishe different delicacies but also take pleasure in serving guests or 'athithis' who they consider as Narayan (Lord Vishnu). Kitchen not only marks an important spot in a Bengali household but also probably remains the busiest section of the house since dawn. The four meals throughout the day comprise the usual breakfast, lunch, snacks and dinner.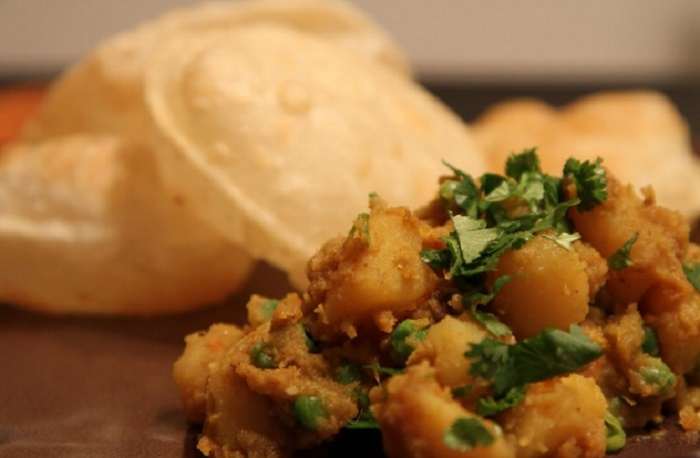 Image Credit:
http://letscookdinner.blogspot.in/2010/04/alur-dom-spicy-potato-curry.html
Breakfast
As rice plays a prominent role in a Bengali platter, it has its reflections in breakfast also - the form may differ though. Traditionally a usual day breakfast may comprise of rice in puffed form called 'muri', in beaten form called 'chira' or in fried form called 'khoi'. Vegetables, milk and fruits are also consumed during breakfast. In rural areas the rice left over after dinner is kept in a pot with water in it which gets slightly fermented the next morning. This rice popularly called 'pantha bhat' is consumed as breakfast the next morning and is a very common form of breakfast in villages. Special wheat-based items like luchi (round and small in shape, deep-fried and puffed homemade bread), porota (triangular or round pan fried homemade bread with or without stuffing) and kochuri (stuffed luchi) served with hot dal or alurdum (a spicy and extremely luscious dish made of potato) are some of the items that are usually prepared during weekends, holidays or on special occasions. The stuffing can be different, but the most usual is peas and dal. However along with the traditional dishes Bengalis have also incorporated healthy and less time consuming breakfast items of the day such as oats and cornflakes among others.
Lunch/Dinner
The course-wise lunch or dinner more or less comprise of similar set of items such as dal, vegetables, non-veg items like fish or meat and desserts barring a few changes.  While the meal starts with a preparation of bitter vegetables and herbs called shukto during lunch followed by shak or leafy vegetables like palong, and spinach among others these two items are usually avoided during dinner. Shukto, which is considered to have high medicinal value can be a simple fry of different forms of bitter gourd or herbs like neem, a mix of steamed bitter vegetables with boiled potato or a well prepared and delicious mixed vegetable containing these ingredients. The latter often remains a starter in many of the Bengali occasions. Shak is generally consumed in fried form and sometimes added in mixed vegetables as well.
Next come dal with a number of varieties like mug dal (split green gram), mushur dal (split red lentils), and arhar dal (split ed gram) among others complimented with mashed potato or deep fried vegetables called bhaja such as aaloo bhaja (finger chips), begun bhaja (fried brinjal) and potol bhaja (fried pointed gourd or parval). Sometimes these vegetables as also chopped onions are coated with besan and deep fried which are then referred as 'tele bhaja'. Posto bora that is poppyseed paste deep fried in balls as also maacher dimer bora that is fish eggs specially that of ruhi and katla mixed with other ingredients and deep fried are some of the other delicacies that accompany dal on special occasions of the Bengalis. Naksha bori bhaja that is beautifully designed and sundried lentils made by rural women are also deep fried and savoured with dal.
Items comprising of vegetable referred as 'torkari' follow which can be cooked alone, in combinations as also with non-veg ingredients. When it comes to vegetables, the Bengalis excel in preparing umpteen numbers of recipes from the varied choice of regional vegetables available round the year. Not only that they are quite accomplished particularly the ones from Bangladesh or migrated from there to West Bengal in preparing delicious and mouth-watering dishes made out of often rejected parts of veggies like leaves, peels and stalks. This section of Bengalis also thrive in making appetizing cuisines like bhapa (steamed) fish and vegetables that are prepared in different fuel-efficient procedures like placing such items in a covered bowl atop pot of boiling rice. Coming back to vegetables, some purely veg dishes include doi potol, mochar ghonto, chorchori, alurdum, dhokar dalna, lau ghonto, chanar dalna and many more. Dishes like chhyanchra, lau chingri, echor chingri, potoler dolma/dorma are prepared using a mix of veg and non-veg items.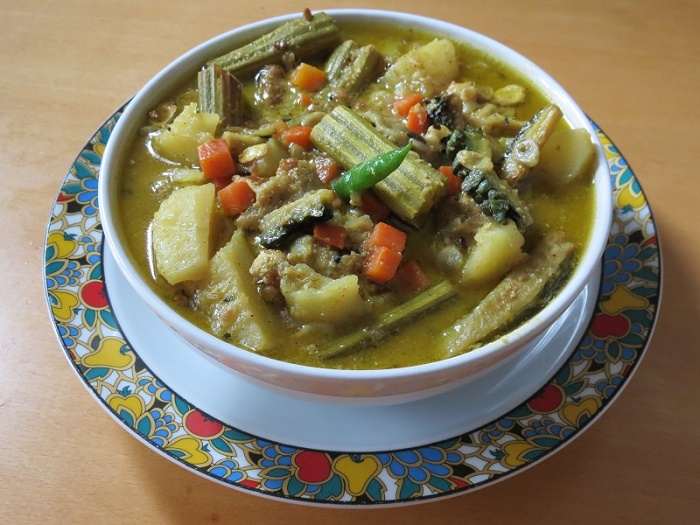 Image Credit:
http://www.indianrecipes.lv/wp-content/uploads/2013/07/Shukto.jpg
The next course in line would be one or more non-veg items that are generally segregated into jhol, a light stew like preparation; jhal, a more spicy and hot one; kalia, a rich and gravy preparation; and korma, a more sweetish form. Some of the most revered fish delicacies of Bengal include ruhi maacher kalia, tel koi, chitol maacher muitha ,ilish maacher paturi, ilish maach bhapa, pabda maacher jhaal and chingri maacher malaikari among several others. Mutton preparation like kosha mangsho or hot and spicy meat and kochi pathar jhol are among the favourite dishes of the Bengalis, especially enjoyed during lazy weekends and other occasions. 
After the main dishes comes the sweet and sour chutney, a slightly thick and saucy item that can be made of tomatoes, pineapple, papaya, mango, tamarind or with a mix of different fruits including the dry ones. It is generally complimented with a papor or papadum which is made of dal or sago or potato generally roundish in shape either deep fried or roasted.
Last but not the least comes the sweet dishes. Bengalis are famous for their vast variety of sweet items starting from misti doi (sweet curd), rosogolla, variety of sandesh, payesh (rice in thickened milk) and many more. New rice, rice flour, khejurer gur that is date palm syrup, milk and coconut are used to prepare a variety of sweet dishes during Poush Sankranti which falls in the Bengali month of Poush when the Bengalis celebrate the harvest festival called 'Poush Parbon'. Some of the most famous and mouth-watering dishes prepared during this time are pati sapta pitha, puli pitha, Gokul pitha, chitoi pitha and payesh among others.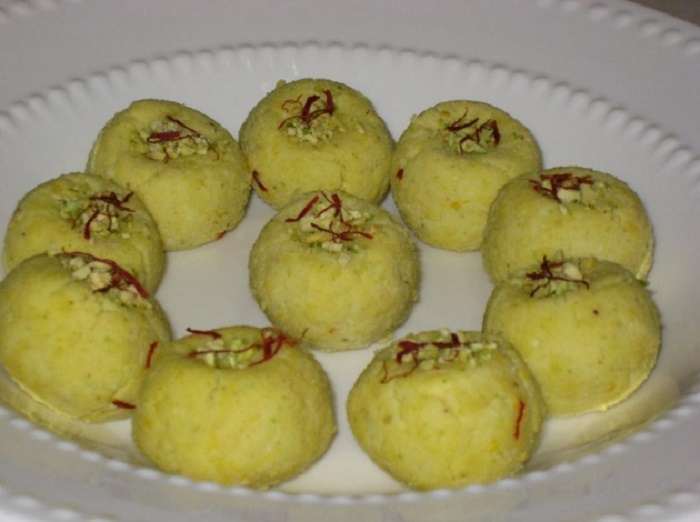 Snacks
Traditional snacks of Bengalis are also varied such as muri with tele bhaja; jhal muri (muri mixed with chopped onion, boiled potato, cucumber, tomato, different spices and other ingredients); chira bhaja; and singara (samosa) that is a dry potato torkari which may also include peas and cauliflower during winter stuffed in a wheat envelope triangular in shape and deep fried.   
Mughal, Colonial & Other Influences
Bengal has a rich and significant past that includes rule of several dynasties and empires including that of foreign invaders like the Mughals and the British. It also witnessed presence of many other foreign communities like that of the Chinese, the French and the Dutch among others. Gradually the ever gastronomic Bengalis embraced many of the delicacies of such foreign communities. Amongst the famous and popular ones are the Chinese foods like chowmin, Chinese soups, Chilli Chicken; the Mughlai cuisines from the Mughals like biriyani, kababs and murg tandoor; and the varied range of baked confectioneries, chops and cutlets among others from the British. The most significant of these is perhaps the habit of drinking tea influenced by the Christian community. A Bengali today perhaps starts a day with a cup of tea and biscuits and the beverage has become an integral part of the community whether savoured individually cherishing some me time or while storming up a discussion or having a gala time with family, friends and associates.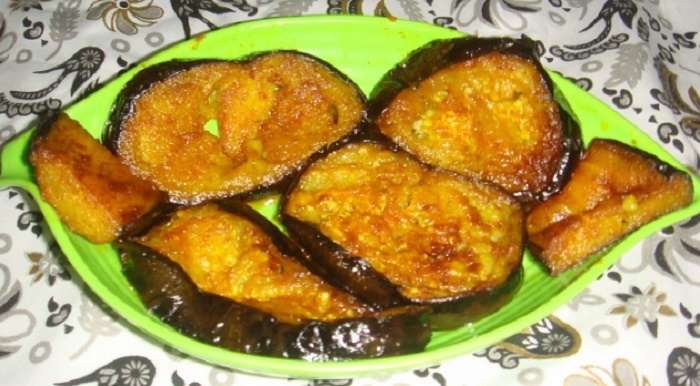 Image Credit:
https://amchibong.files.wordpress.com/2010/10/dsc09494.jpg
Influence of Widows on Bengali Cuisine
Traditionally Hindu widows spent a highly restrained and suppressive life within the household and were barred from most of the social and family functions. They had to lead a highly monastic life and were expected and allowed to take interest only in religious pursuits. They followed strict vegetarian diet with restriction in it as well. A Bengali widow was not allowed to eat mushur dal, onion and garlic, hardly used to get expensive spices and ingredients like cloves, saffron and dry fruits. However ginger was allowed which found place in many of their recipes, some of which happened to be highly innovative and delicious. Even some preparations made out of rejected and left over ingredients like vegetable peels and spinach ends can no doubt give competition to the high-end cuisines made by skilled chefs.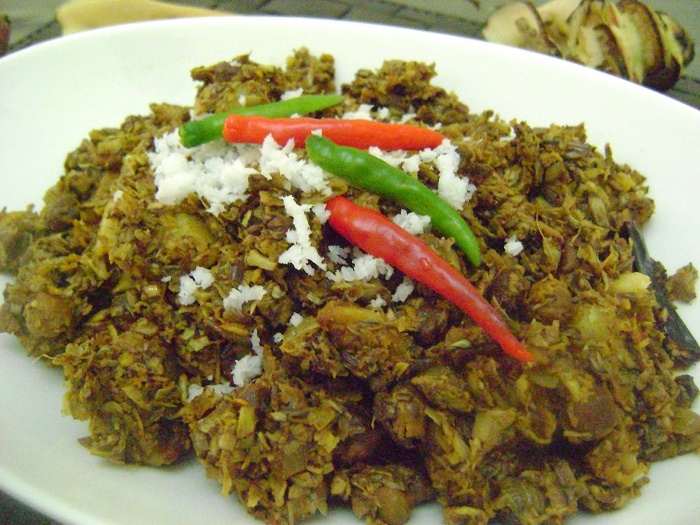 Image Credit: http://bethicad.blogspot.in/2015/07/mochar-ghonto-banana-blossom-curry.html
Popular Bengali Dishes
| | |
| --- | --- |
|  Roshogolla / Rossogolla |  Luchi |
|  Laddu (Naru) |  Alur Torkari |
|  Roshmalai |  Shukto |
|  Pantua |  Aloo Potol Posto |
|  Chom Chom  |  Ilish Macher Jhol |
|  Pitha or Pithe |  Cholar Dal |
|  Mishti Doi |  Doi Fulkopi |
|  Shondesh |  Begun Bhaja |
|  Chhanar Jilapi |  Mochar Ghonto |
|  Kalo Jam |  Mangsher Singara |
|  Darbesh |  Kanchkolar Kofta |
|  Raghobshai  |  Bhetki Macher Paturi |
|  Payesh |  Chingri Macher Malaikari |
|  Bundiya |  Chital Macher Muitha |
|  Nalengurer shôndesh |  Daab Chingri |
|  Shor bhaja |  Macher Dompukht |
|  Langcha |  Shorshe ilish |
|  Malpua |  Macher Matha Diye Moong Daal |
|  Bhappa doi |  Muri ghonto |
|  Kolar Bora |  Kosha Mangsho |
|  Muri |  Kochi Pathar Jhol |
|  Jhal Muri |  Dhokar Dalna |
|  Moa |  Chhanar Dalna |
|  Chide Bhaja |  Sojne Dantar Chorchori |
|  Kochuri-AlurDam |  Mohanbhog |
|  Phuchka |   |