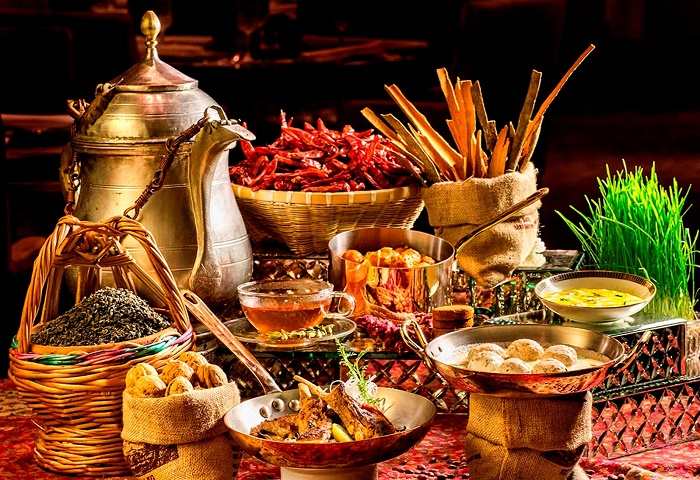 Image Credit: delhisecretsupperclub.com
Kashmiri food originated from the picturesque Kashmir Valley, the crown of India that lies in the lap of the Himalayas. Kashmir not only offers mesmerising locations but also a wide range of lip smacking and exotic delicacies. Traditionally rice has remained the staple food for the Kashmir populace which is most popularly complimented with varied preparations of meat. Kashmiris including the Brahmin Pandits are voracious meat eaters and thus a number of appetizing and luscious Kashmiri dishes of meat like rogan josh and yakhni are available. Varied range of traditional Kashmiri breads like bakarkhani and tea like sheer chai are also quite popular in the region.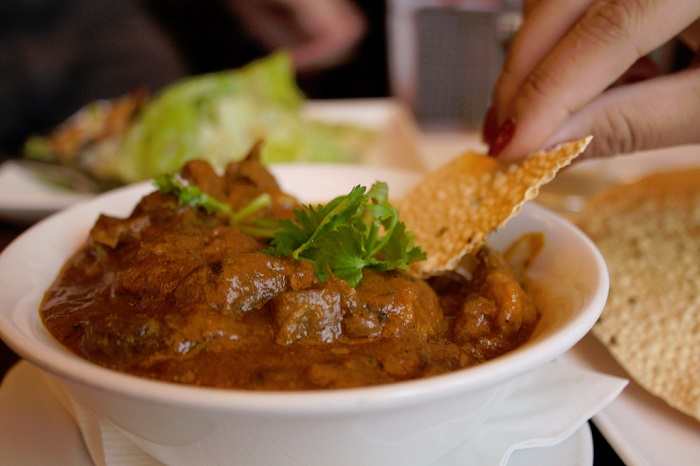 Distinct Features of Kashmiri Cuisine
The region offers a wide array of food items, zaeka-e-Kashmir, particularly authentic non-veg cuisines made of chicken, mutton and fish, some of which has become hugely popular across the nation. The Kashmiri cuisines primarily non-vegetarian with of course some exquisite vegetarian dishes on offer are mostly influenced by the traditional cuisines of the Kashmiri pundits and the mughlai cuisines. Of late aspects of culinary styles of regions like Afghanistan, Persia and Central Asia are also noticeable in Kashmiri food. Generally Kashmiri cuisines, most of which are marked with ample use of turmeric and yogurt are quite rich in flavour and mild in taste. Spices like cloves, cinnamon, cardamom, ginger and fennel which are generally considered hot are used widely in different Kashmiri cuisines, while garlic and onion are not used much. The region that boasts of being the leading producer as well as exporter of saffron, use this colouring and seasoning agent as an ingredient in many of its dishes specially sweets and pulao (a rice preparation). The exquisite aromatic flavour of variety of dishes of this region, particularly seasoned with saffron, has become an integral part of Kashmiri food, some sort of a trademark, making it more enticing among gastronomic enthusiasts. Dry fruits are also used extensively in different Kashmiri dishes, especially in preparing curries. The unique aromatic flavour of Kashmiri rice has garnered much fame with the Kashmiri pulao topping the rice dishes giving stiff competition to the various other rice delicacies across the nation. Traditionally ghee is used in cooking Kashmiri dishes, however in modern day many health conscious Kashmiri families have switched to mustard oil.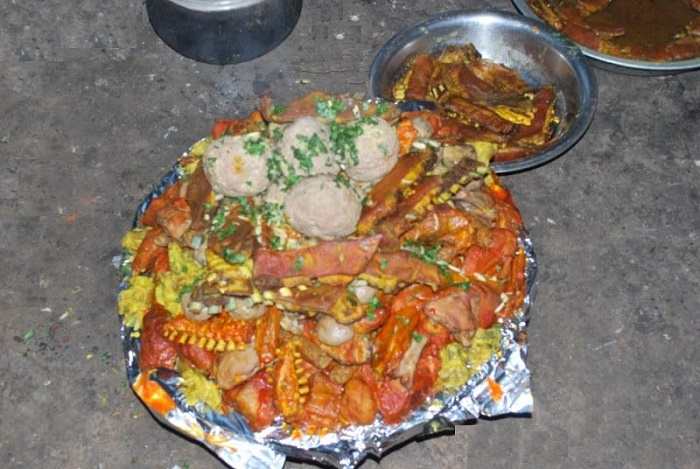 Wazwan
The Kashmiri Muslim tradition has a multi-course Kashmiri meal called Wazwan that is considered by the community as an essential and fundamental aspect of their very essence and culture. The preparation of the cuisine is regarded as an art and the dish is held with high regards in the region. This multi-course meal traditionally comprise of thirty-six courses of which fifteen to thirty can be meat-based. The non-veg items can be prepared out of fish, chicken and lamb but beef is never used. Serving of any item based on lentils or pulses at the time of this feast is regarded as a desecration. This popular dish has made its way not only to the leading hotels and restaurants in India but also to different international Kashmiri food festivals and occasions.
The different courses of the dish are prepared by and under the supervision of the head chef called a vasta waza who is assisted by a team of chefs called wazas. The term Wazwan is derived from two words, 'waz' meaning cook or cooking and 'wan' meaning shop in Kashmiri language. Some of the items are cooked overnight with great precision. This multi-course dish is usually prepared during special occasions of the Kashmiris like the marriage ceremony. The art of preparing the Wazwan, which is considered with pride, has been passed on hereditarily and is hardly shared to anyone outside blood relations. Thus some wazas have made their names with their rich lineage of such service and remains greatly in demand during occasions.
Wazwan is served in traem or a large copper platter with each platter serving a group of four guests. While the name of Allah is taken by the Kashmiri Muslims prior to consuming the meal, the Kashmiri Brahmins take the name of Lord Rudra. The ritual of Tash-t-naer that is washing of hands of the guests takes place with the attendants taking around a jug and a basin. The traem heaped with rice that is quartered with four sheek kababs also including two tabak maaz, barbecued lamb ribs prepared with milk, butter and ground spices; four methi kormas, prepared out of chicken or mutton seasoned with combination of spices including dried methi (fenugreek) leaves; one zafran kokur, a preparation of chicken with saffron sauce; one safed kokur, a preparation of chicken with white sauce; and a few other courses is served to the guests. Accompaniments of the meal which are served in small earthen pots include chutneys or dips and saffron garnished yogurt. Thereafter the junior cook or the waza serves around twenty more courses.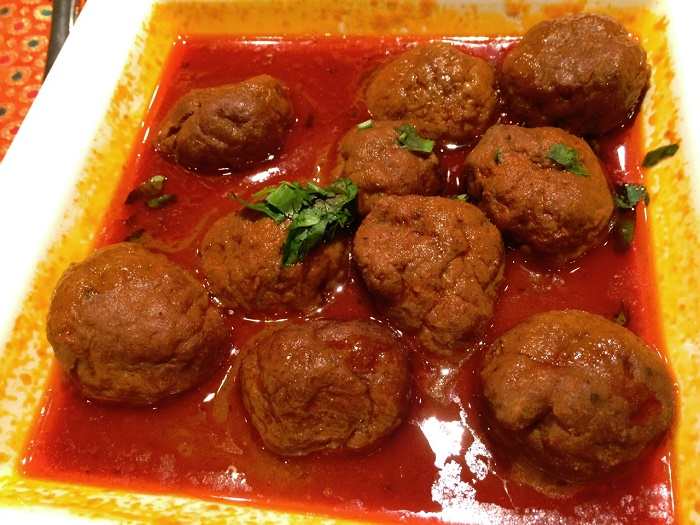 Image Credit:
bharatkasafar.files.wordpress.com
Seven Mandatory Dishes of Wazwan
There are seven items that must be served in such occasions. These are
-    Tabakhmaaz or Qabargaah, barbecued lamb ribs prepared with milk, butter and ground spices
-    Rista, a spicy gravy preparation of meat balls where the ingredients of the gravy includes fennel, saffron and paprika and takes its colour        from the dyer's alkanet  
-    Damiwal Korma, a preparation of lamb roasted with spices, onion puree and yogurt and garnished with coriander leaves 
-    Rogan Josh, one of the signature dishes of Kashmiri cuisines, a lamb gravy, ingredients of which includes asafoetida , Kashmiri chillies,        yogurt, ginger and bay leaves among others  
-    Gushtaba, a preparation of spicy yogurt gravy containing meatballs 
-    Marchhwangan Korma, a preparation of chicken thigh or leg pieces that is cooked with a spicy onion sauce   
-    Aab Gosh, chunk of lamb prepared with thickened milk, cardamom and fennel-based spice mixture.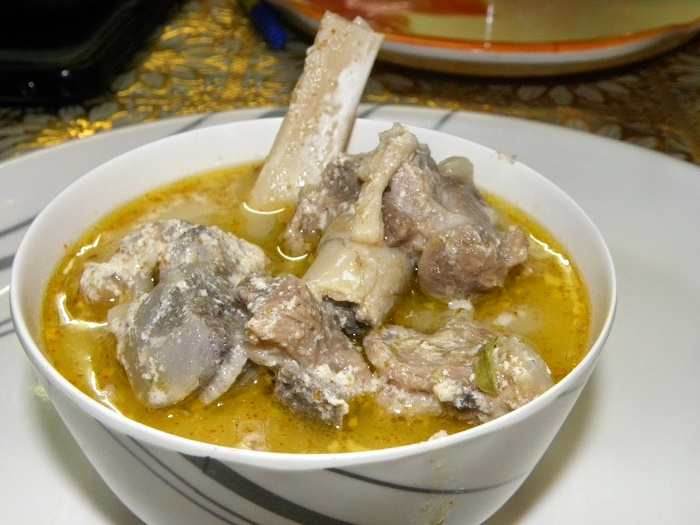 Image Credit:
http://myfoodtryst.blogspot.in/2015/01/lamb-yakhni-delicate-kashmiri-yogurt.html
Noted Kashmiri Cuisines
Some of the signature dishes of Kashmir already mentioned are Rogan Josh, Aab Gosht, Goshtaba and Tabakhmaaz. The others include Yakhni, a mild dish of yoghurt-based mutton gravy, predominantly seasoned with cardamom seeds, bay leaves and cloves, which is savoured with rice; Shab Deg, prepared out of meat and turnip simmered overnight; Dum Olav or Dum Aloo, a luscious potato dish prepared using yogurt, fennel, different hot spices and ginger powder; and a purely vegetarian dish called Lyodur Tschaman made out of cottage cheese that is prepared in creamy gravy based on turmeric.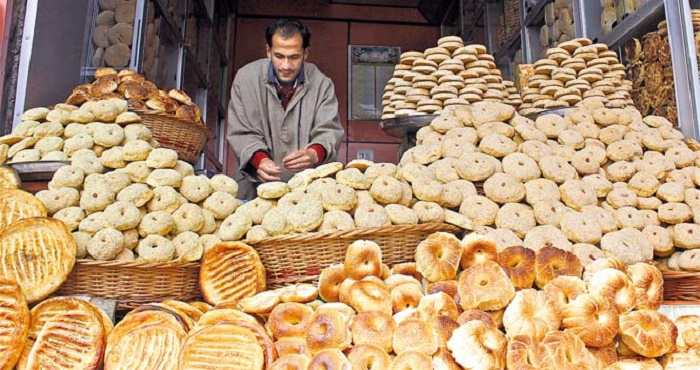 Image Credit:
hindustantimes.com
Traditional Breads of Kashmir
The valley is noted for offering a variety of traditional bakery items and the love of the populace for baker's bread will lead one to find at least one traditional bakery shop referred as Kaandar or Kandur in every colony or locality of Kashmir. Different kinds of breads for different seasons are available in the bakery shops that have golden brown crusts and are topped with sesame and poppy seeds. Two such breads that are flaky and crisp and topped with sesame and poppy seeds are tsochvoru and tsot that are small in size and round in shape. Other popular ones include kulcha, small, round, dry, hard and crumbly breads that are embellished with a peanut in the upper middle part; lavasa or lawaas, a large, thin, unleavened flat bread made with maida which can be either crispy or soft; sheermal or krippe, a dry crumbly bread generally served with kehwa; and roth, a huge bread of around 1 m in length and 2 ½ m in width which is more like a Kashmiri dry fruit cake among others. A Kashmiri bakerkhani that is a spiced, thick, roundish flat-bread having almost a biscuit like texture that is crisp with a hard crust, layered and sprinkled with sesame seeds finds a special place in Kashmiri food. Generally the Kashmiris eat it hot as a breakfast item.
Different Types of Tea    
Kashmiris drink two types of tea namely Noon Chai, or Sheer Chai and Kahwah. The former is the most popular beverage of the Kashmiris who drink tea heavily. This noon chai where 'noon' means salt in Kashmiri language is made of black tea, salt, milk and bicarbonate of soda. The tea gets its unique pink colour from the distinct style of its preparation and of course due to the use of soda. While the Kashmiri Muslims call it 'Namkeen Chai' or 'Noon Chai', the Kashmiri Pandits generally call it the 'Sheer Chai'. It is usually consumed in Kashmiri households along with breads during breakfast.
Kahwah is a green tea prepared with different spices, walnuts or almonds and saffron. Different households prepare this tea differently thus marking more than twenty varieties of Kahwah. It has become a custom to serve this tea at religious places, festivals and at marriages. Some Kashmiri Pundits belonging to small villages of the region refer this tea as 'Maugal Chai' while the Kashmiri Pundits and Muslims living in cities call it 'Kahwah' or 'Qahwah'.
Popular Kashmiri Dishes
| | |
| --- | --- |
| Chamani Qaliya | Dhani Phul |
| Choek Vangan | Gaad kufta |
| Dum Aloo | Gushtaba |
| Hak (with Nadeir/Vangan) | Kabaab |
| Muji Chetein | Kashmiri Chicken |
| Nadeir Yakhean | Martswangan Korma |
| Nadier Palak | Rista |
| Razmah dal aanchar | Rogan Josh |
| Razmah Goagji | Shami Kabab |
| Veth Chaman | Tabak Maaz |
| Aab Gosht | Yakhni |
| Daniwal Korma | Gushtaba |