Fast Facts
Date of Birth: 4 February 1938
Place of Birth: Handia, United Provinces, British Raj
Birth Name: Brijmohan Mishra
Died: 17 January 2022, Delhi
Profession: Classical dancer, composer, classical singer
Children: Deepak Maharaj, Jaikishan Maharaj, Mamta Maharaj    
Father: Acchan Maharaj
Mother: Ammaji Maharaj
Awards: Padma Vibhushan, Sangeet Natak Akademi Award, Kalidas Samman, National Film Award for Best Choreography, Filmfare Award
Introduction
Birju Maharaj was a leading exponent and torch-bearer of Kathak dance form. He was the only son and disciple of Shri Achhan Maharaj and a familiar face of Indian Kathak dance all over the world. He performed in several countries throughout his illustrious career. Besides being a great classical dancer, Birju Maharaj was a wonderful singer with a strong grip over Thumri, Dadra, Bhajan and Ghazals. He was not only a Kathak dancer but also a sensitive poet and captivating orator. He gave his first performance at the age of seven.
His constant attempt to take Kathak to a whole new level fructified when he managed to make people take note of this dance form, not only in India but also in the western countries. Introduced to Kathak at a very young age, Birju went on to master the nuances of arguably one of the most difficult classical dances of India. Known for his facial expressions and quick feet movements, Pandit Birju Maharaj is considered as the epitome of Kathak by many.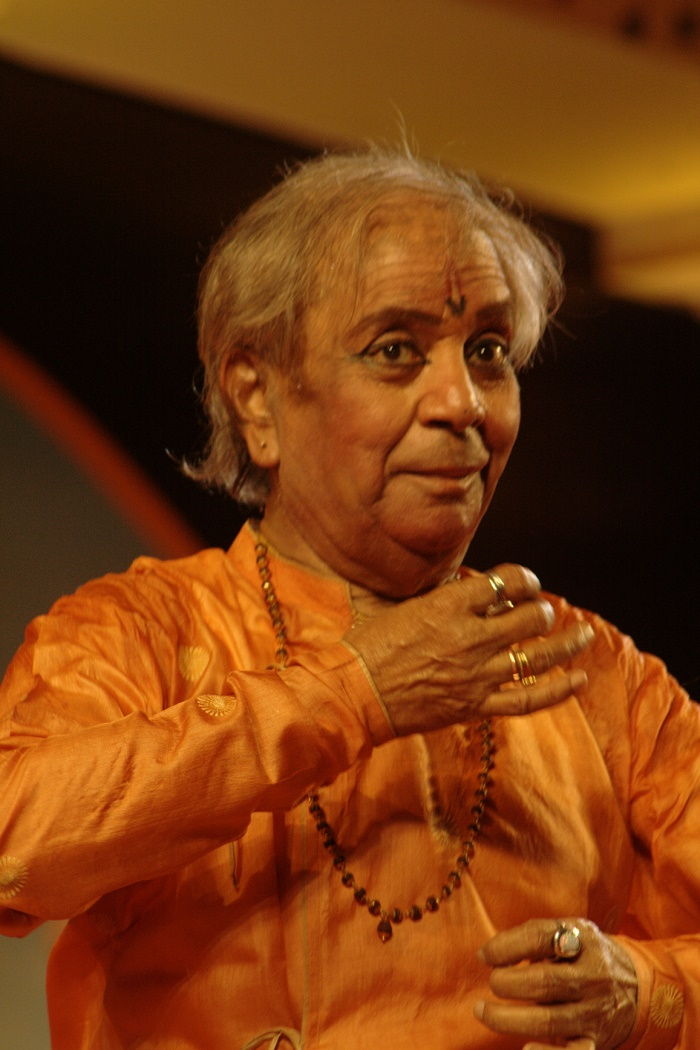 Image Credit:
wikipedia.org
Childhood

Birju Maharaj was born into the family of the renowned Kathak proponent Jagannath Maharaj of the Lucknow Gharana. Birju's father, popularly known as Achhan Maharaj, spent much of his time teaching young Birju the fundamentals of Kathak. Young Birju used to accompany his father to the places where he was invited to exhibit his skills. As a result, Birju started learning the dance at a very young age. His uncles, Lachhu Maharaj and Shambhu Maharaj, also guided him in learning Kathak. In 1947, Birju lost his father; after the unfortunate demise of Achhan Maharaj, the family moved to Bombay, where Birju continued learning the nuances of Kathak from his uncles. At the age of thirteen, he was invited to Delhi to teach at Sangeet Bharati.

Making Delhi his Home

Pandit Birju Maharaj spent the last several decades of his life in Delhi. For a young boy, moving to Delhi from Lucknow was quite intimidating as he would often get lost in the streets of Delhi until he made Regal Cinema his regular landmark. Young Birju would first travel to Regal Cinema and then find his way back home or to his institute. But slowly Delhi became his home and he liked spending much of his time at his home in Lutyens Delhi.
Life as a Teacher
Birju Maharaj started his career as a teacher when he was just 13 years old. After a successful stint at Sangeet Bharati, where he began his career, he went on to teach at the famous Bharatiya Kala Kendra. Soon, he was presented with the opportunity to head a team of teachers at the Kathak Kendra, a unit of Sangeet Natak Akademi. After serving as the Head of Faculty at the Kathak Kendra for many years, he retired in 1998 at the age of 60.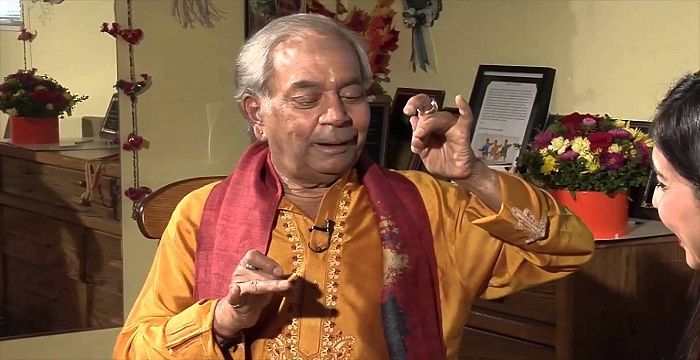 Image Credit:
Youtube.com
Living his Dream
Starting his own dance school was always a dream and ambition of Birju Maharaj. This was realized soon after his retirement, when he started Kalashram. In Kalashram, the students are trained in the field of Kathak, and other associated disciplines like vocal and instrumental music, yoga, painting, Sanskrit, dramatics, stagecraft etc. Pandit Birju Maharaj is a firm believer that a dancer must have adequate knowledge of music. Also, since it is important for a Kathak dancer to have control over his breath, he or she will benefit immensely from practicing Yoga. 
The classrooms, practice halls and amphitheatre of Kalashram reflect a shade of rural set-up amidst the busy and fast-moving urban lifestyle. The natural atmosphere, with numerous trees and ponds are extremely inspiring and brings everyone within the institute closer to the simple, unassuming yet rich heritage of the country. 
The objective of the institute is to produce highly talented students who would not only prove worthy of the training they receive, but would also lead a modest, humble and disciplined lifestyle.
Birju Maharaj the Musician & Lyricist
Since music is an integral part of any dance form, Birju Maharaj started learning music at the age of seven. He is a wonderful singer with a strong grip over Thumri, Dadra, Bhajan and Ghazals – forms of Indian music. He has also tried his hand at writing and written a few poems. He has also written lyrics for many ballet compositions.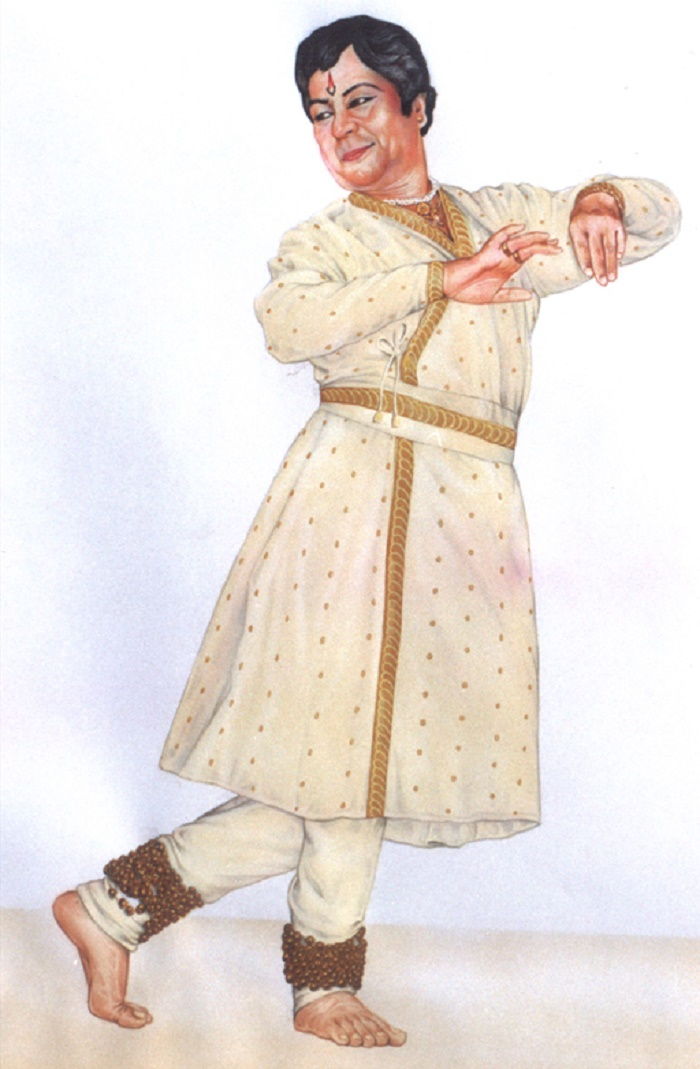 Image Credit:
wikimedia.org
Film Career
Pandit Birju Maharaj is also a noted film personality. In the movie 'Shatranj Ke Khilari', directed by the famous Satyajit Ray, Birju Maharaj had composed two dance sequences for which he had lent his voice as well. In the 2002 film 'Devdas', Birju had choreographed the song 'Kaahe Chhed Mohe.' He has also worked as a choreographer in well-known movies like 'Dedh Ishqiya', 'Umrao Jaan', and 'Bajirao Mastani.' In 2013, he went on to make his South Indian movie debut when he choreographed the song 'Unnai Kaanatha Naan' for the Kamal Haasan starrer 'Vishwaroopam.'
Contributions
Birju Maharaj is a leading exponent and torch-bearer of the Kalka-Bindadin Gharana. Apart from his obvious contributions (which are immense), his effort to make Kathak a well-known dance form all over the world is exceptional. He has performed in various countries making people all over the world take a note of this magnificent dance form. Thanks to his dance school 'Kalashram', his contribution towards Kathak will resonate throughout the globe for decades to come.
Awards
Pandit Birju Maharaj has won several honors and awards including the coveted Padma Vibhushan (1986). He has been awarded with the Kalidas Samman by the Government of Madhya Pradesh. He has also been honored with Sangeet Natak Akademi Award, Soviet Land Nehru Award and Sangam Kala Award among other awards. In 2002, he was honored with the Lata Mangeshkar Puraskaar. Pandit Birju Maharaj has also been conferred with honorary Doctorate degrees from Khairagarh University and Banaras Hindu University.
In 2012, he bagged the National Film Award for Best Choreography for the movie 'Vishwaroopam.' He also went on to win Tamil Nadu State Film Award for Best Choreographer for the same movie. In 2016, he bagged the Filmfare Award for Best Choreography for the film 'Bajirao Mastani'.
Birju Maharaj the Mystic
Being an ardent devotee of Lord Krishna, mysticism comes naturally to Pandit Birju Maharaj. His interest in all things spiritual and the way he observes the dance of nature (whistling of wind, rumbling of clouds, swaying of trees among other things) makes him a natural mystic. He even believes that any dance form is deeply connected with spiritualism and that one can realize God or the higher source through dance.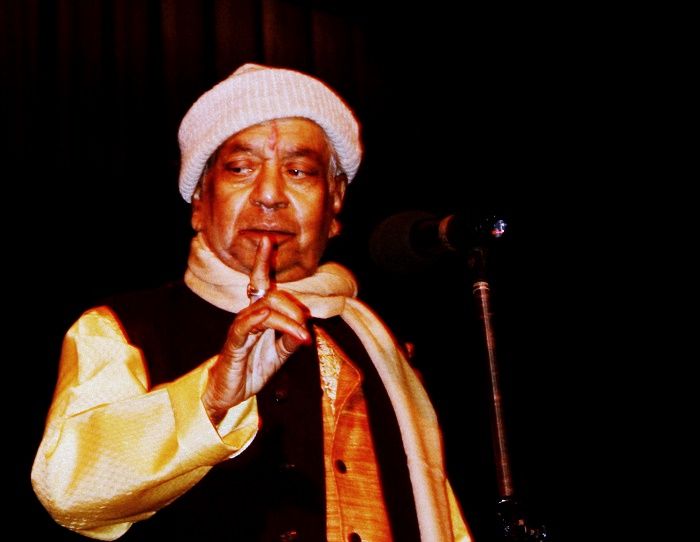 Image Credit:
http://vageeshwari.blogspot.in/
A Day with Birju Maharaj
Pandit Birju Maharaj believes that any dance form is a balance between one's mind and soul. This is exactly why the dancer gives importance to practices like meditation and Yoga. Although Yoga helps him in improving his breath control, which in turn helps his dancing skills, meditation, he says, helps him to learn from his mistakes. This is why, he never fails to meditate (he says his morning rituals and bed-time prayers put him in a meditative state).
His daily life is filled with events and performances as he travels extensively, still trying his best to spread the knowledge of Kathak all over the world. In whichever part of the world he is, Birju Maharaj's food habits remain the same. Vegetables, dal, rice and roti form his everyday menu. 
For a man with immense knowledge, Birju Maharaj can surprise you with the way he strives to know more. Though many prominent dancers consider him to be their guru, Birju likes to believe that he is still a humble student of the dance form. He says that when one stops learning they tend to perfect their respective art form which is nothing but an illusion.
Personal Life
Apart from his passion for fine arts, Birju Maharaj has passion for cars. He had once mentioned in one of his interviews that he would have become a mechanic, had his dancing skills been unnoticed. Even today, he is a big fan of gadgets. His favorite pastime is ripping apart gadgets like television sets and mobile phones and rearranging them as they were before. The 79-year-old legend also likes to spend time watching Hollywood flicks. Among his favorite action heroes, Jackie Chan and Sylvester Stallone get the top most slots. 
Birju Maharaj has five children – two sons and three daughters. Among his five children, Deepak Maharaj, Jai Kishan Maharaj and Mamta Maharaj are prominent Kathak dancers. Birju Maharaj's wife passed away 15 years ago.