Fast Facts
Date of Birth: 9 May 1954 
Birth Place: Ahmedabad, Gujarat, India
Profession: Kuchipudi and Bharatanatyam dancer, Politician
Spouse: Bipin Shah
Children: Revanta and Anahita
Father: Vikram Sarabhai
Mother: Mrinalini Sarabhai
Sibling: Kartikeya Sarabhai
Education: IIM Ahmedabad, Gujrat University
Awards: Padma Bhushan, French Palme D'or
Mallika Sarabhai is a noted Kuchipudi and Bharatnatyam dancer from Ahmedabad, Gujarat. Born to famous dancer Mrinalini Sarabhai and the well-known space scientist Vikram Sarabhai, Mallika is a woman of many dimensions and talents. She has also shown her talent in the fields of acting, theatre, writing and publishing. As a social activist she has actively participated in many socio-economic developmental projects initiated by the United Nations. Mallika has won many national and international awards for her excellence and contribution to performing arts. She has also produced many television programs and also anchored many TV shows. Apart from her contribution to the field of classical dance, Mallika has also contributed columns for several national newspapers. She looks after the Darpana Academy of Performing Arts, founded by her parents.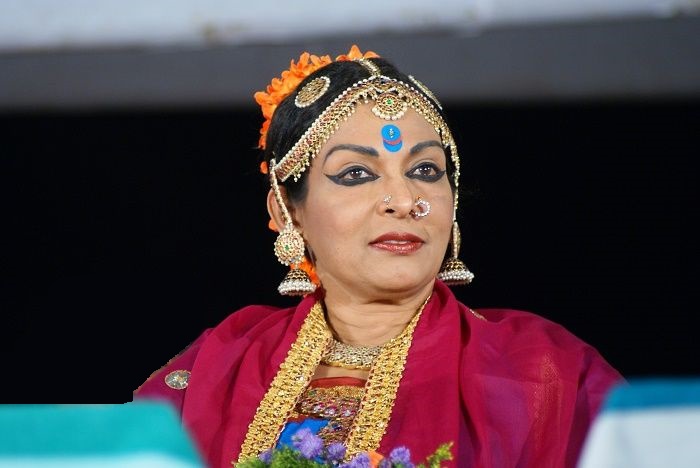 Image Credit:
Wikimedia.org
Childhood and Early Life
Her mother Mrinalini Sarabhai was an eminent Bharatanatyam dancer. As a result, flair for dancing came naturally to her. As she was raised by parents who had liberal and progressive mind, Mallika always stood apart from the crowd.
Education 
After completing economics honors from St. Xavier's College, Mumbai, she pursued her MBA from the reputed Indian Institute of Management (IIM) Ahmedabad—the topmost management institute in India. A Doctorate in Organizational Behavior from the Gujarat University, Sarabhai stepped into the world of theatre and performing arts pretty soon. 
Training in Bharatanatyam and Kuchipudi
Mallika's Bharatanatyam training started off at home itself under her mother's guidance. Her mother ensured that she learnt different dance forms and not restrict herself to only a single art. Mallika began her training in Kuchipudi under R. Acharyelu. With her quick learning ability, she soon acquired the grace and beauty of Kuchipudi. In no time Mallika was seen on the stage rendering some marvelous performances.
Association with Films 
Mallika was first approached by director Prabhat Mukherjee, for his directorial venture 'Sonal' for the lead role and that is how she debuted in cinema. She has acted in more than 30 films in Gujarati and Hindi, including 'Mena Gurjari', 'Mutthi Bhar Chawal', and 'Himalaya Se Ooncha' to name a few. In 1984, she appeared n the role of Draupadi in 'The Mahabharata', a stage play directed by renowned director Peter Brook. The play ran for five long years and later made into a film. The movie was made in French and English. Some of her critically acclaimed films include 'Lovesongs: Yesterday, Today, Tomorrow', 'Kahkasha', 'A Thousand Flowers' and 'Katha'.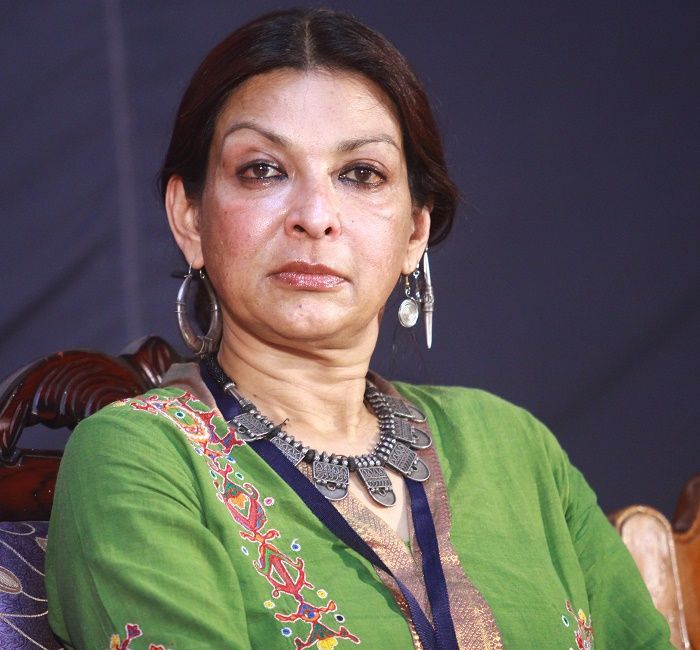 Image Credit: Wikimedia.org
Theatre
Versatility could very well be Mallika Sarabhai's middle name. Along with dance and acting, she has excelled in theatre as well.Following are some of the works performed by her:
Unsuni - This is based on 'Unheard Voices', a book by Harsh Mander. The story is about the lives of marginalized faces - the beggars, children at the Traffic Signal and "chotu", the little child at roadside restaurant. These are stores of struggle and courage.
India: Then, Now, Forever - This revolves around different lifestyles of the people of India. It attempts to show the resemblance between the life of the tribals of Mizoram and the Bollywood. 
Sita's Daughters - This play has toured the world and been performed over 500 times in three languages.
Ahmedabad Ki Aurat Bhali: Ramkali - Directed by Arvind gaur, this 2009 play is Indian adaptation of 'The Good Person of Szechwan'.
Shakti: The Power of Women- It is a work on the image of Indian women. 
The Legacy of 'Darpana'
In the year 1949, Mrinalini and Vikram Sarabhai founded the Darpana Academy of Performing Arts, which was later managed by Mallika Sarabhai. The main motive of this venture was to enrich the youth culturally and preserve the Indian heritage. To serve this purpose, a variety of courses are offered in classical dance Bharatanatyam, Mridangam, Indian Classical Vocal, Flute, Violin, puppetry and martial art 'Kalaripayattu'. Kailash Pandya and Damini Mehta of drama section have helped produce a wide variety of stage plays. The Academy also offers Artist Residency programs under the aegis of UNESCO. In 1982, DAPA expanded as Mallika Sarabhai founded Darpana for Development. She also formed 'Janavak', the voice of the people, to archive and preserve the folk and tribal culture of India. In 2001, Darpana Communications was launched, and since then it has produced over 2500 hours of broadcast programming in Gujarati dealing with social issues like gender bias, communal hatred, the environment, corruption, violence etc. A three-day event, 'Vikram Sarabhai International Arts Festival' is also organized every year.                                                                                                  
Some of the notable Darpana alumni are Madhu Rye, Labhshankar Thakar, Shrikant Shah, Subhash Shah, Chinu Modi, and Hasmukh Baradi.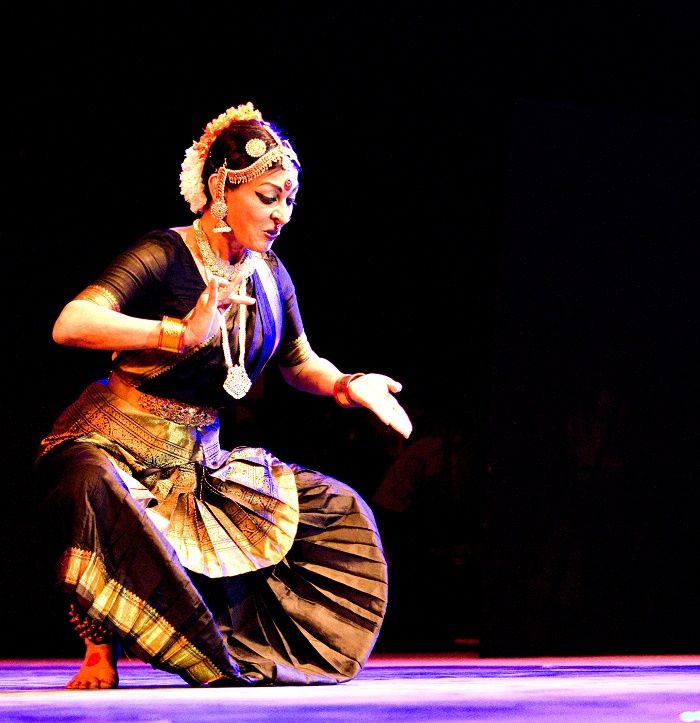 Image Credit:
Wikimedia.org
Literary & Publishing Work
Mallika Sarabhai never confines herself into a single character. She has also tried her hand at writing. Her first literary work was the script for Shakti: The Power of Women. Thereafter, she wrote the scripts of her shows, films, TV serials for ISROs educational TV. In 1979, Mallika Sarabhai published India's first design magazine, 'Inside Outside'. She has contributed columns for popular publications such as Vanitha, The Times of India, The Week, Hans, DNA and Divya Bhaskar. Following are some of the acclaimed books published by Mallika Sarabhai and Mapin Publishing Private Limited. 
India's Daughters
Cultural Guide to Ahmedabad
Spectacular India
Jute Handlooms of India
Sufism And Beyond
Romance of Golconda Diamonds
From Mustard Fields to Disco Lights
Parvati: Goddess of Love
Documenting Chandigarh
Image & Imagination:5 Indian Artists
Performing Arts of Kerala
Understanding Kuchipudi (Co-Author)
Krishna as Shrinathji: Miniature Paintings From Nathdwara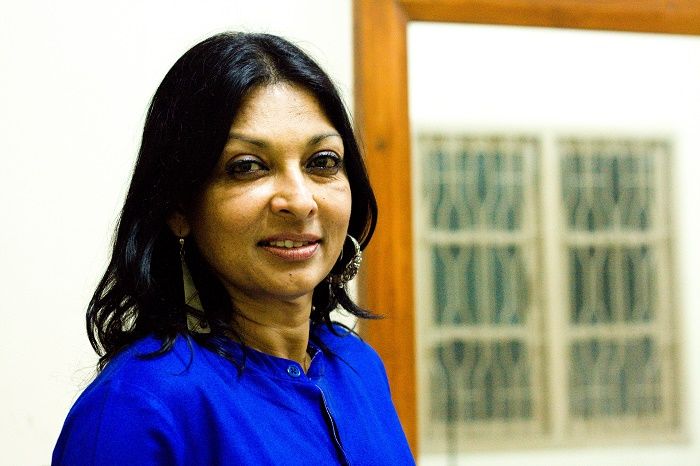 Image Credit:
Wikimedia.org
Political Career
In March 2009, Mallika Sarabhai announced that she will contest the Parliamentary elections against L.K. Advani, the Bharatiya Janata Party's prime ministerial candidate, from Gandhinagar Lok Sabha seat. She contested as an independent candidate but ended up losing by a huge margin. She later joined the Aam Aadmi Party (AAP) in January 2014.
A Social Activist
In an effort to serve the society, Mallika Sarabhai took up many developmental projects including the 'The Acting Healthy Project'. The project educated people on how to avoid maternal deaths and infant deaths due to malnutrition. In addition to this, she has also played an active role in the UNICEF Peer Educators Project, UNICEF Anandshala Project, 2007 Fatehpura Model village project and UNICEF Rural Health Project.
Awards and Achievements
In her long career, Mallika Sarabhai has been honored with several awards. Here is the list of awards and honours:
Best actress award (1975) - Meena Gurjari
Sangeet Natak Akademi Award (2000)- Creative Dance
Padma Bhushan (2010) - for contribution to Performing Arts.
Nobel prize nomination - For peace
French Palme D'or (1977) - The highest Civilian award in France 
Theatre Pasta Theatre Award 
Chevalier des Palme's Academiques
Controveries
Success and controversies go hand in hand, and Mallika Sarabhai is no exception. In 2001, she was criticized by the extreme right-wing political parties. She filed a Public Interest Litigation in the Supreme Court accusing then Chief Minister, Narendra Modi, of supporting the genocide against the Muslims in Gujarat. She even made a statement that Modi tried to bribe her lawyers to 'dilute' the cases she had filed against his government.
Sarabhai was also embroiled in an alleged immigration racket. She was accused of making false promises of sending people to the US as members of her 'cultural troupe' and of failure to refund the money to those who were denied visa by the US Consulate-General in Mumbai. According to the complaint, Sarabhai had originally demanded Rs 3 lakhs from each of the members. Later, Brazil was also added to the tour and an additional Rs 30, 000 was demanded from each of them, which they all paid.
Personal Life
In the year 1982, Mallika met Bipin Shah, a New York based publishing executive. They tied the knot after a live-in relationship for few years. The couple was blessed with a son, Revanta, and a daughter, Anahita.
Along with her husband, Mallika founded Mapin Publishing in 1984. Mapin publishes books mainly on Indian art, culture and literature. 
Mallika and Bipin are separated, but even after their divorce, Mallika and Bipin still run Mapin together.