Date of Birth: February 18, 1836
Place of Birth: Kamarpukur village, Hoogly District, Bengal Presidency
Parents: Khudiram Chattopadhyay (Father) and Chandramani Devi (Mother)
Wife: Saradamoni Devi
Religious Views: Hinduism; Advaitaism; 
Philosophy: Shakto, Advaita Vedanta, Universal Tolerance
Death: 16, August, 1886 
Place of Death: Cossipore, Calcutta
Memorial: Kamarpukur village, Hoogly District, West Bengal; Dakshineshwar Kali Temple Compound, Kolkata, West Bengal
One of the most prominent religious figures of India during the nineteenth century, Sri Ramakrishna Paramhansa was a mystic and a yogi who translated complex spiritual concepts into lucid and easily intelligible manner. Born in a simple Bengali rural family in 1836, Ramakrishna was as simple yogi. He pursued the Divine throughout his life in various forms and believed in divine embodiment of the Supreme Being in every individual. Sometimes believed to be the modern day reincarnation of Lord Vishnu, Ramakrishna was the embodiment of spiritual salvation to troubled souls from all walks of life. He was a key figure in revival of Hinduism in Bengal at a time when intense spiritual crisis was gripping the province leading to predominance of young Bengalis embracing Brahmoism and Christianity. His legacy did not end with his death in 1886; his most prominent disciple Swami Vivekananda carried on his teachings and philosophy to the world through Ramakrishna Mission. In essence, his teachings were as traditional as ancient sages and seer, yet he remains contemporary throughout the ages.
Early Life
Ramakrishna was born as Gadadhar Chattopadhyay on February 18, 1836 to Khudiram Chattopadhyay and Chandramani Devi. The poor Brahmin family hailed from the Kamarpukur village of Hoogly district in Bengal Presidency. 
Young Gadadhar was sent to the village school to learn Sanskrit, but a reluctant student he would often play truant. He loved to paint and create clay models of Hindu Gods and Goddesses. He was attracted to folk and mythological stories which he had heard from his mother. He gradually leant Ramayana, Mahabharata, Puranas and other holy literature by heart just by hearing it from priests and sages. Young Gadadhar loved the nature so much that he used to spend much of his time in orchards and on the river-banks.
From a very young age, Gadadhar was religiously inclined and he would experience episodes of spiritual ecstasy from everyday incidents. He would go into trances while performing pujas or observing a religious drama.
After the death of Gadadhar's father in 1843, the responsibility of the family fell on his elder brother, Ramkumar. Ramkumar left home for Calcutta to earn for the family and Gadadhar, back in his village started performing regular worshipping of their family-deity, previously handled by his brother. He was deeply religious and would perform the pujas ardently. Meanwhile, his elder brother had opened a school to teach Sanskrit in Calcutta and served as a priest at different socio-religious functions. 
Ramakrishna was married to five-year old Saradamoni Mukhopadhyay from a neighbouring village when he was twenty three years of age in 1859. The couple stayed apart until Saradamoni came of age and she joined her husband at Dakshineshwar at the age of eighteen. Ramakrishna proclaimed her as the embodiment of Divine Mother and performed the Shodashi Puja with her in the seat of Goddess Kali. She was an ardent follower of her husband's philosophies and took up the role of mother to his disciples with much ease.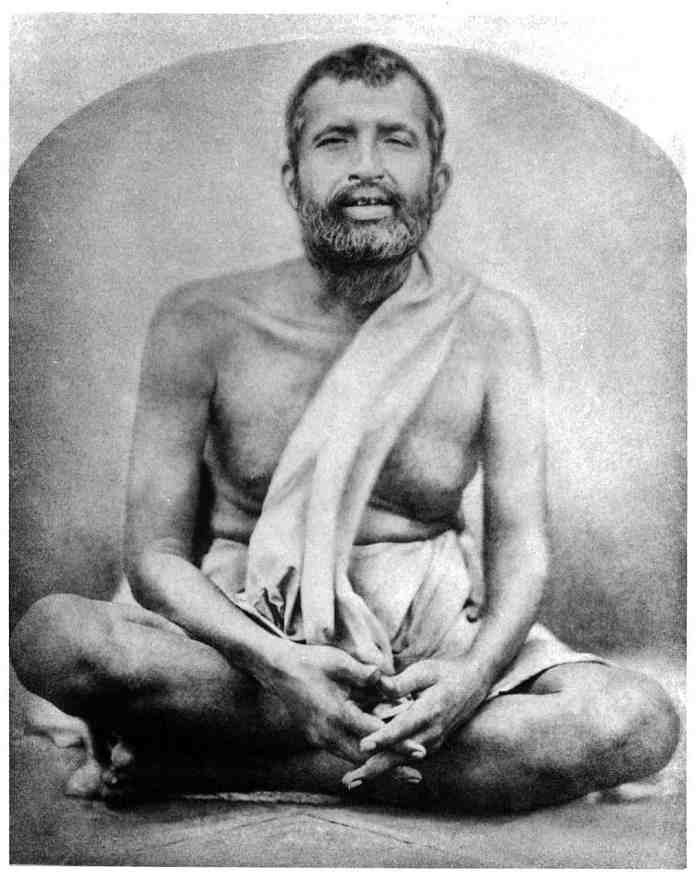 Arrival at Dakshineshwar and Induction into Priesthood
The Kali temple at Dakshineshwar was established by the celebrated philanthropist Queen of Janbazar, Calcutta, Rani Rashmoni, during 1855. Since the Queen's family belonged to the Kaibarta clan that was considered a lower caste by the Bengali society of the time, Rani Rashmoni was having immense difficulty in finding a priest for the temple. Rashmoni's son-in-law, Mathurbabu came across Ramkumar in Calcutta and invited him to take the position of the head priest at the temple. Ramkumar obliged and sent for Gadadhar to join him at Dakshineshwar to assist him in the daily rituals. He arrived at Dakshineshwar and was entrusted with the duty of decorating the deity. 
Ramkumar died in 1856, leaving Ramakrishna to take over the position of the head priest at the temple. Thus began the long, celebrated journey of priesthood for Gadadhar. It is said that Mathurbabu, witnessing Gadadhar's piousness and certain supernatural incidents, gave the name Ramakrishna to young Gadadhar.
Religious Journey
As a worshipper of Goddess Kali, Ramakrishna was considered a 'Shakto', but the technicalities did not limit him to worship the divine through other spiritual approaches. Ramakrishna was perhaps one of the very few yogis who had tried to experience divinity through a host of different avenues and have not stuck to one single way of spirituality. He schooled under a number of different Gurus and absorbed their philosophies with equal eagerness.
He worshipped God Rama as Hanuman, Rama's most devoted follower and even experienced vision of Sita merging with himself.
He learned the nuances of 'Tantra Sadhana' or tantric ways from Bhairavi Brahmani, a female sage, during 1861-1863. Under her guidance Ramakrishna completed all 64 sadhanas of tantras, even the most intricate and demanding of them. He also learned Kundalini Yoga from Bhairavi.
Ramakrishna next moved on to leaning the inner mechanics of the 'Vaishnav' faith, a faith starkly opposite in philosophy and practices to Shakto tantric practices. He learned under the tutelage of Guru Jatadhari during 1864. He practiced 'Batshalya Bhava', worshipping of God, specifically Lord Vishnu in a child image with the attitude of mother. He also practiced 'Madhura Bhava', the central concepts of Vaishav faith, synonymous with the love that Radha felt for Krishna. He visited Nadia and experienced a vision that Chaitanya Mahaprabhu, the founder of Vaishnav faith merging in his body. 
Ramakrishna was initiated into Sanyaas or formal life of an ascetic during 1865 from Monk Totapuri. Totatpuri guided Ramakrishna through the rituals of renunciation and instructed him the teachings of Advaita Vedanta, Hindu philosophies dealing with non-dualism of spirit, and importance of Brahman. It was now that Ramakrishna attained his highest spiritual realization.
In the subsequent years, he undertook practicing of Islam, with observing all the rituals of the religion in a devout manner. He even experienced vision of a radiant white bearded man. His tryst with Christianity came much later, in 1873, when a devotee read The Bible to him and he got immersed in the thoughts of Christ. He had a vision of Madonna and Child and of Jesus himself.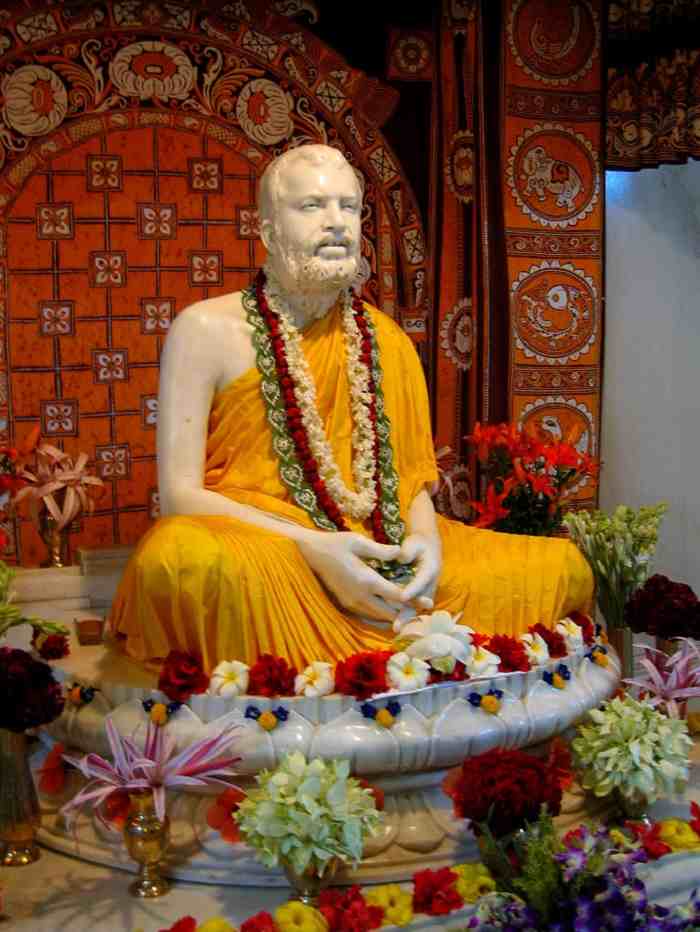 Teachings and Influence on Society
Sri Ramakrishna was probably the most celebrated mystic of all times. A simple man, sometimes with childlike enthusiasm, he explained the most complex concepts of spiritual philosophies in most simple parables, stories and anecdotes. His words flowed from a deep sense of belief in the Divinity and his experience of embracing God in a very real form. He directed that the ultimate goal of every living soul is God-realization. Having practiced different facets of Hinduism as well of other religions like Islam and Christianity, he preached that all of these religions were different paths that lead up to a single goal – God. His conversations with his disciples were recorded by his devotee Mahendranath Gupta and the collective work was titled as Sri Sri Ramakrishna Kathamrita (The Nectar of Sri Ramakrishna's Words). To get rid of the thought that he belonged to a higher Brahmanical caste, he began to eat food cooked by the shudras or lower-caste.
His influence reached all strata of the society; he did not differentiate between devotees based on caste. He even embraced the sceptics, won them over with his simplistic charm and unselfish love. He was a force of revival to re-energise the decaying Hinduism in nineteenth century Bengal. His teachings also had profound effect on other religions like the Brahmoism that were forced to re-evaluate their beliefs.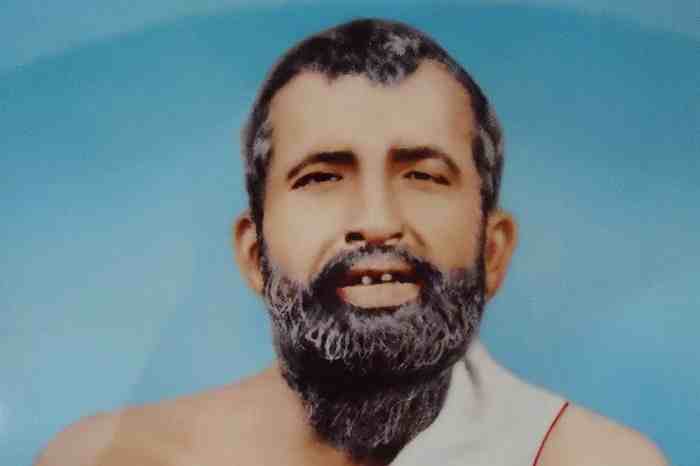 Image Credit:
http://beautifulandawesomewallpapers.blogspot.in/2014/03/swami-ramkrishna-paramhans-hd.html
Notable Disciples
Foremost among his innumerable disciples was Swami Vivekananda, who was instrumental in establishing the philosophy of Ramakrishna at a global stage. Vivekananda established the Ramakrishna Mission in 1897 to carry out the visions of his Guru Ramakrishna and dedicated the establishment in servitude of the society. 
Other disciples who renounced all ties to family life and participated in the formation of Ramakrishna Math along with Vivekananda were Kaliprasad Chandra (Swami Abhedananda), Sashibhushan Chakravarty (Swami Ramakrishnananda), Rakhal Chandra Ghosh (Swami Brahmananda), Sarat Chandra Chakravarty (Swami Saradananda) among others. All of them were instrumental in propagating the teachings of Sri Ramakrishna not just in India, but throughout the world and carred forward his vision of Seva. 
Apart from his direct disciples, Ramakrishna had profound effect on Sri Keshab Chandra Sen, an influential Brahmo Samaj leader. Ramakrishna's teaching and his company led Keshab Chandra Sen to reject the rigidity of Brahmo ideals that he initially was attached to. He recognised polytheism and heralded the Naba Bidhan movement within the Brahmo order. He propagated Ramakrishna's teachings in his Naba Bidhan periodicals and was responsible for popularisation of the mystic among the elites of the contemporary Bengali society.
Among the other noted disciples of Ramakrishna were Mahendranath Gupta (a devotee who followed Ramakrishna despite being a family man), Girish Chandra Ghosh (noted poet, playwright, theatre director and actor), Mahendra Lal Sarkar (one of the most successful Homeopath doctors of the nineteenth century) and Akshay Kumar Sen (a mystic and saint).
Death
In 1885 Ramakrishna suffered from throat cancer. In order to consult the best physicians of Calcutta, Ramakrishna was shifted to a devotee's house in Shyampukur by his disciples. But with time, his health started deteriorating and he was taken to a large house at Cossipore. His condition kept worsening and on 16 August, 1886, he passed away at the Cossipore garden house.