When was it built: Originally constructed in 249 BCE later replaced in 500 CE
Who built it: Emperor Ashoka of the Maurya Dynasty
Where is it located: Sarnath, Varanasi, Uttar Pradesh, India
Why was it built: Buddhist Pilgrimage 
Architectural Style: Buddhist Art and Architecture
Visit Timing: Sunrise to Sunset 
How to Reach: Located 13 km away from Varanasi in Uttar Pradesh, India. Varanasi is well-connected with other parts of India by air, rail and roads. One can hire a cab, auto or even a rickshaw from hotel depending on distance from hotel to reach the spot.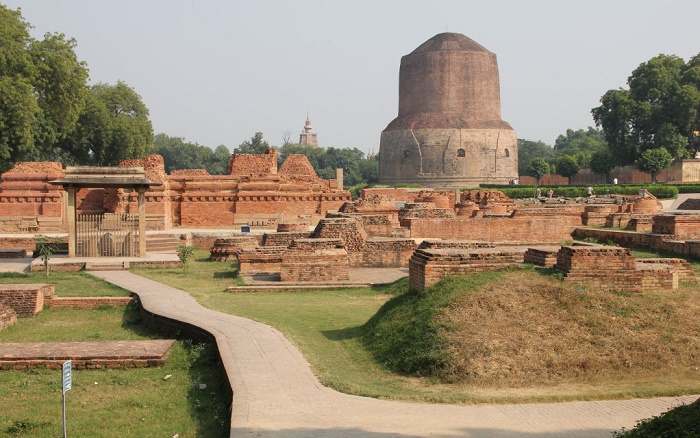 Image Credit:
mouthshut.com
Dhamek Stupa which is also spelled as Dhamekh and Dhamekha is one of the most famous and Buddhist stupas located in Sarnath near Varanasi in Uttar Pradesh, India. Originally built in 249 BCE during the reign of king Ashoka of the Maurya Dynasty, this massive and prominent structure has over time gone through several expansions and additions. This solid cylindrical shaped Stupa made of red bricks and stone in its present position stands at a height of 43.6 m with a diameter of 28 m. The significance of this sacred place is that it marks the spot where Lord Buddha preached the first sermon to His five disciples after attaining enlightenment in Bodh Gaya. Buddhist pilgrims from around the world visit Sarnath to circumambulate the holy Stupa and worship Lord Buddha. National and international tourists also flock at Sarnath to get a glimpse of Buddhist architecture and culture at this significant centre of Buddhism.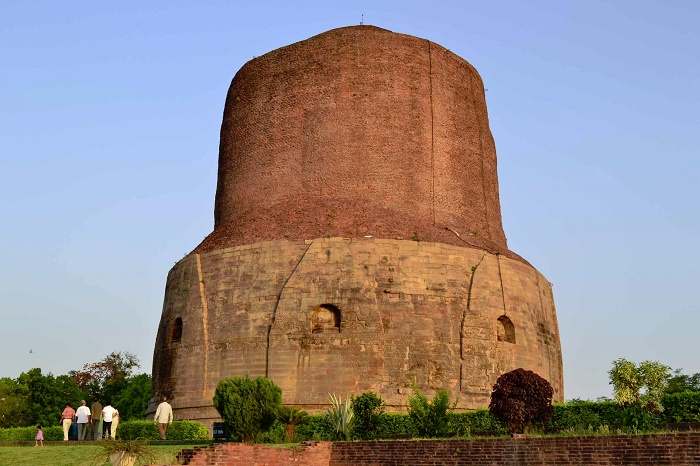 Image Credit: thenomadicguy.files.wordpress.com/2014/02/dhamek-stupa-sarnath-uttar-pradesh.jpg
History of Dhamek Stupa
Following the parinirvana of Lord Buddha, His mortal remains after cremation were distributed and buried under 8 mounds and the embers and urn were placed under 2 other mounds making a total count of 10 such monuments consisting the relics of Lord Buddha. Although lack of proper information regarding such ancient monuments made it difficult to identify the original 10 mounds consisting of the relics of Lord Buddha, it appears that the Stupas at Sanchi and Sarnath are elaborative and decorative expansions of two such original mounds. Great Indian Emperor, Ashoka of the Maurya Dynasty who reigned over almost the entire Indian subcontinent from c. 268 to 232 BCE endeavoured in building several Stupas consisting of relics of Lord Buddha and His disciples across India in his pursuit to spread Buddhism. In 249 BCE he commissioned to build the Dhamek Stupa in Sarnath which was later reconstructed in 500 CE along with construction of various other structures in Sarnath. Chinese Buddhist monk, scholar, translator and traveller Xuanzang visited Sarnath in 640 CE during which time he recorded the height of the Stupa to be around 91 m and mentioned presence of 1500 priests in the colony.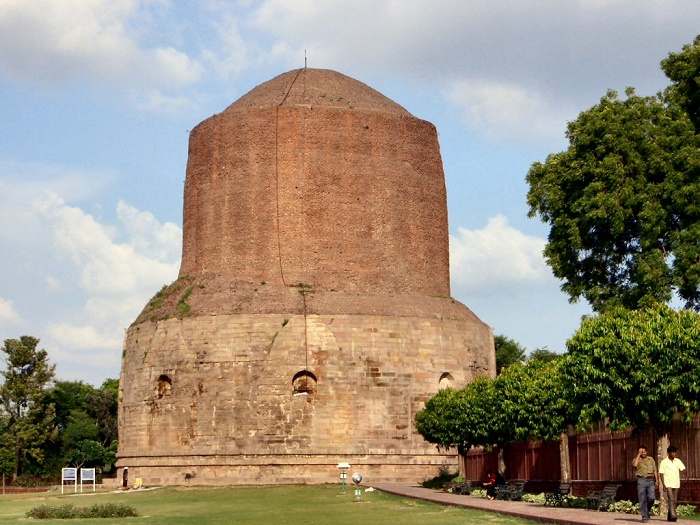 Image Credit:
http://www.holidaytravel.co/userfiles/images/Dhamekh%20Stupa.jpg
Architecture
This massive Stupa is cylindrical in shape and built with red bricks and stone with the lower part being entirely covered with aesthetically pleasing carved stones. Presumably the base of the Stupa dates back to the Ashokan period. Veneering sandstone encase the structure till the height of 11.2 m and niches facing 8 directions that possibly held images earlier are present. The stone facing under the niches are ornamented with fine floral carvings that manifest high level of craftsmanship on stone during the period of Gupta Dynasty. Br?hm? script is etched on the wall of the Stupa along with magnificently sculpted floral and geometrical designs and figurines of birds and humans.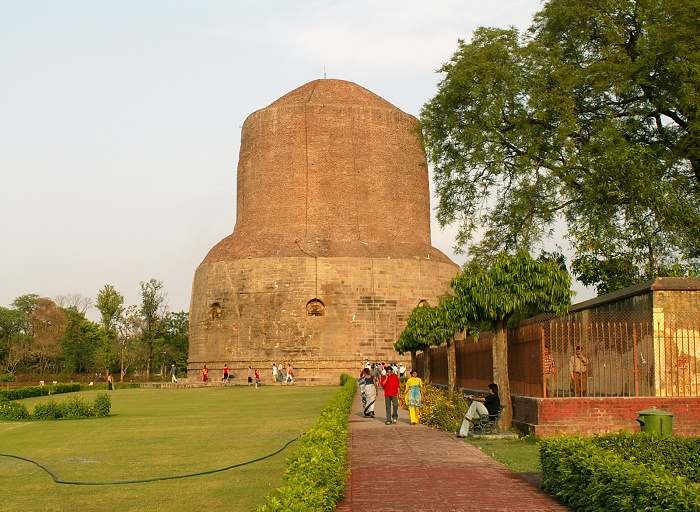 Image Credit: marsnjak.com
Significance of the Place
History says after Lord Buddha attained enlightenment in Bodh Gaya, He gave His first sermon to five disciples at this spot which throughout its long history has been variously known as Rishipattana, Isipatana, Mrigadava and Migad?ya apart from the most popular name, Sarnath. This famous event in the life of Lord Buddha is called the 'Dharma Chakra Pravartana' or setting the 'Wheel of Law' in motion. According to sources, Lord Buddha visited Sarnath and while staying here he performed meditation. Thus for Buddhists, this place marks as one of the four most sacred places associated with Lord Buddha with the other three being Lumbini, the site of birth; Bodhgaya, the site of enlightenment; and Kushinagar, the site of nirvana of Lord Buddha. This place also marks the foundation of the first 'Sangh' that included Lord Buddha and around 60 monks among others. The place became significant archeologically when in 1798 Mr. J. Duncan reported about a stone box that contained a casket of green marble, which was exposed while the Dharmarajika Stupa was being dismantled by the workers of the Dewan of King Chet Singh of Benaras, Jagat Singh. Over time, several other excavation works were carried out in and around this structure. One such initial excavation work unearthed a stone tablet which revealed that this Stupa is known as Dhamek which historians generally believe to be a distorted form of Dharma Chakra meaning turning the Wheel of Dharma.
Buddhist pilgrims from around the world including many national and international dignitaries visit the Stupa to circumambulate it and offer prayer to Lord Buddha.
A Visit to the Sacred Stupa
Located 13 km northeast of Varanasi in Uttar Pradesh, India, this amazing and aesthetically designed world famous Stupa and other structures in Sarnath depicting great craftsmanship of Buddhist art and sculpture draw attention of thousands of visitors round the year including national and international pilgrims, tourists, dignitaries, archaeologists and historians. 
Visit Timing & Entrance Fee
The site remains open from sunrise to sunset and can be visited anytime of the year. Entry fees per person for Indian citizens and visitors of SAARC and BIMSTEC nations is Rs. 5/- and for others is Rs. 100/-. Entry is free for children up to 15 years of age.
Trivia
Indian author Satyarth Nayak's mystery thriller debut novel 'The Emperor's Riddles', which was first released at the New Delhi World Book Fair in February 2014, featured the Dhamek Stupa. The book where Buddhism played an instrumental role turned out to be a bestselling thriller.