Born:
20 August 1944
Passed Away:
21 May 1991
Contribution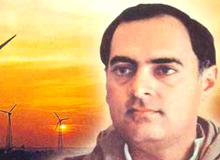 Rajiv Gandhi was one of the popular Prime Ministers of India. The developmental projects launched by him include the national education policy and expansion of telecom sector. Besides his achievement and subsequent popularity, Rajiv Gandhi also emerged as one of India's controversial Prime Ministers. He was allegedly involved in the "Bofors scandal" worth Rs 640 million.
Early Life
Rajiv Gandhi was born on 20 August 1944, into the country's eminent political dynasty - the Nehru-Gandhi family. His mother Indira Gandhi was the first and the only woman Prime Minister of India. Feroze, a key member of the Indian National Congress became the editor of The National Herald newspaper founded by Motilal Nehru in Allahabad.
Rajiv Gandhi initially attended the Welham Boys' School and subsequently sent to the elite Doon School in Dehradun. Later, he went to the United Kingdom to study at the Cambridge University. It was here in Cambridge University, young Rajiv met Sonia Maino (later Sonia Gandhi) from Italy. After his return from the United Kingdom, Rajiv Gandhi exhibited least interest in the politics and focused onto becoming a professional pilot. He, later, worked for Indian Airlines, as a pilot.
His Brother
Unlike Rajiv, his younger brother had developed an interest and knowledge in the subjects of public administration and political developments. Although he had not been elected, Sanjay began exercising his influence with police officers, high-level government officers and even the Cabinet Ministers. Many senior ministers, as a protest against Sanjay Gandhi, resigned from office. Sanjay, gradually promoted as a close political advisor to Indira Gandhi. On June 23, 1980, Sanjay Gandhi died in an air crash in Delhi.
Entry into politics
After the death of his brother Sanjay, the senior members of the Indian National Congress party approached Rajiv Gandhi, in order to persuade him joining politics. But, Rajiv was reluctant about joining and said "no" to them. His wife, Sonia Gandhi, also stood by Rajiv's stand of not entering into politics. But after constant request from his mother Indira Gandhi, he decided to contest. His entry was criticized by many in the press, public and opposition political parties. They saw the entry of Nehru-Gandhi scion into politics as a forced-hereditary-participation. Within a few months of his election as a Member of Parliament, Rajiv Gandhi acquired significant party influence and became an important political advisor to his mother. He was also elected as the general secretary of the All-India Congress Committee and subsequently became the president of the Youth Congress.
Assassination
Following the assassination of his mother, on 31 October 1984, the Congress leaders and partisans favored Rajiv as the immediate successor to the coveted throne. The decision was also supported by Zail Singh, the then President of India.
Achievements
As Prime Minister, Rajiv Gandhi endeavored to eliminate the corrupt and criminal faces within the Indian National Congress party. To deal with the anti-Sikh agitation, that followed the death of his mother, Rajiv Gandhi signed an accord with Akali Dal president Sant Harchand Singh Longowal, on 24 July, 1985. The key points of the pact were: