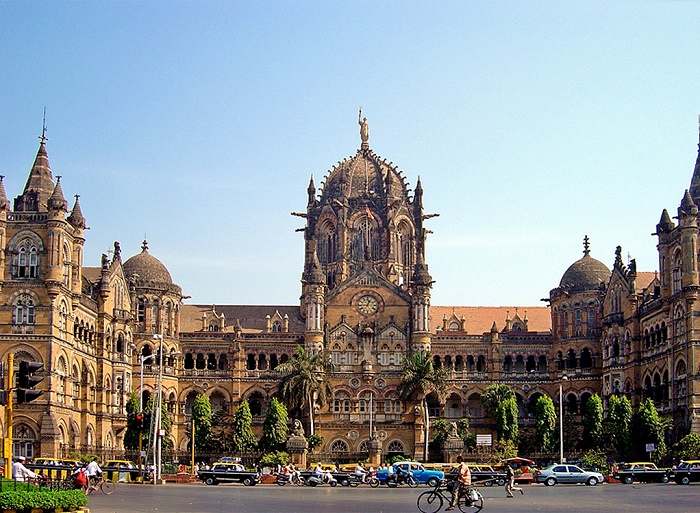 Image Credit: wondermondo.com
Like all other aspects of society, the colonization of India also had a great impact on architecture. Colonization marked a new chapter in Indian architecture. Though the Dutch, the Portuguese and the French made their presence felt through their buildings but it was the English who had a lasting impact on architecture of India. In the beginning of the colonial rule there were attempts at creating authority through classical prototypes. In its later phase the colonial architecture culminated into what is called the Indo-Saracenic architecture. The Indo-Saracenic architecture combined the features of Hindu, Islamic and western elements. The colonial architecture exhibited itself through institutional, civic and utilitarian buildings such as post offices, railway stations, rest houses and government buildings. Such buildings began to be built in large numbers over the whole empire. Colonial architecture in India followed developments not only from metropolis but also took inspiration from existing architecture in India.
From the mid nineteenth century it became a norm for the Anglo-Indian church builders to follow the model set by the revivers of the many combinations of Gothic art in England. In many buildings imperialism was the sole guiding force rather than practicality. On many occasions heavier styles than Gothic were employed. This can be seen in the Mutiny Memorial Church at Kanpur and the last garrison church in New Delhi. 
The Italian Gothic was seen to be well adapted to conditions in India. The architecture style recommended by Sir Gilbert Scott for Bombay University proved crucial in making the colonial architecture look more 'Indian'. Perhaps this was the beginning of a truly imperial style that reached its apex at New Delhi.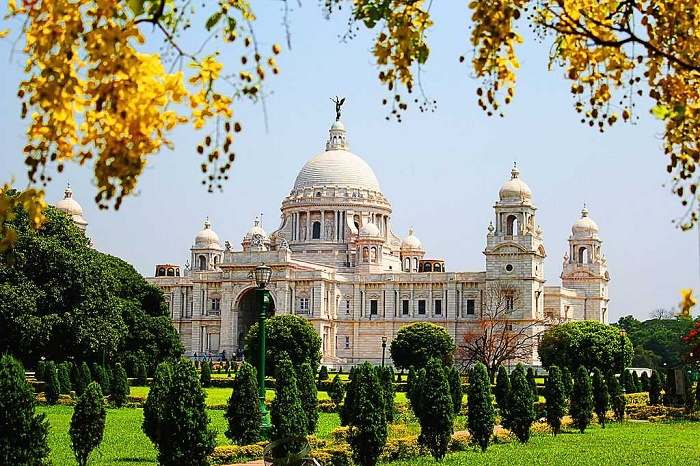 Image Credit:
holidify.com
British
The British Colonial era lasted in India for over three centuries starting from 1615 to 1947. The British not only left an imprint of legacy and culture but also of their unique architectural styles manifested from the colossal and magnificent buildings and infrastructures that are palpable from their erstwhile colonies. The cities that bear the imprint of the British were Agra, Bankipore, Bhopal, Bombay, Calcutta, Delhi, Hyderabad, Karachi, Madras and Nagpur. Starting with the classical prototypes of British architecture the British colonial rule eventually saw evolvement of a new architectural style, the Indo-Saracen is Revival architecture also referred as Indo-Gothic, Neo-Mughal, Mughal-Gothic and Hindu-Gothic. It was a combination of the Gothic revival style with that of the Neo-Classical, Indo-Islamic and Indian architectural style that was initiated by the British architects in British India during late 19th century and soon became a favoured style. With time, large number of buildings and infrastructures started coming up in this style including institutions, government buildings, railway stations, post offices and rest houses among others. Since mid-nineteenth century the Anglo-Indian church builders started following the layouts of different combination of architectural styles suggested by the revivers which also included application of even heavier styles.
'Chepauk Palace' situated in Chennai (erstwhile Madras) was the first Indo-Saracenic building. Many other buildings of Chennai portraying this architecture that are now categorised as Heritage buildings include the 'Madras High Court', 'Chennai Central Station' and the 'Victoria Public Hall' among others. Other prominent buildings and structures across India showcasing this unique style includes the 'Taj Mahal Palace Hotel' in Mumbai, the 'Mysore Palace', the 'Victoria Memorial' in Calcutta, the 'Khalsa College' in Amritsar and the 'Mumbai GPO' to mention a few.
The second half of 19th century saw significant advancement of colonial architecture including development of infrastructures like the 'Rajabai Clock Tower' (modelled on 'Big Ben' in London),  the 'University Senate Hall' and the 'University Library' within the premises of 'Bombay University' by prominent Gothic revival architect Sir Gilbert Scott; 'Victoria Terminus' by English architectural engineer Frederick William Stevens; 'Bombay High Court' by British engineer Col. James A. Fuller; and 'Crawford Market' by British architect William Emerson among others. Among these the 'Victoria Terminus' (VT) presently known as 'Chhatrapati Shivaji Maharaj Terminus' (CSMT) located in Bori Bunder, Mumbai (erstwhile Bombay), stands as a remarkable masterpiece showcasing a fine blend of  Victorian Italianate Gothic Revival architecture with that of conventional Mughal style. The historic station that once remained headquarters of the 'Great Indian Peninsular Railway' and was rebuilt to commemorate the Golden Jubilee of Queen Victoria today stands as a UNESCO World Heritage Site and the busiest railway station in India. This royal and elegant structure was developed applying first-class engineering technique and is regarded as an excellent blend of the former with that of Gothic Revival style of architecture.
One of the most revered and famous chef d'oeuvres of British colonial era remains the grand and exquisite 'Victoria Memorial' located in Kolkata (erstwhile Calcutta) that was dedicated to the memory of Queen Victoria. This monument made of white marble epitomising beauty and elegance was designed by William Emerson and showcases Saracenic revivalist style of architecture comprising of a fine blend of British architectural style with that of Deccani, Egyptian, Venetian, Mughal and other Islamic styles.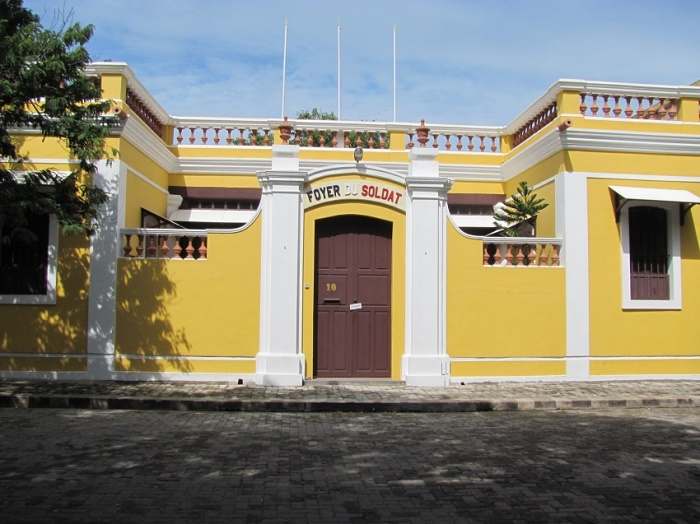 Image Credit:
cityseeker.com
French
The French occupations in different enclaves in Indian subcontinent occurred with the arrival of the 'French East India Company' which was founded as a commercial enterprise in 1664 and saw its successful establishment by 1719.  The de facto incorporation of these enclaves into the Union of India later took place in 1950 and 1954. 'Établissements français dans l'Inde' or 'French establishments in India' located in the Indian peninsula are Pondichéry and its territory including districts of Pondichéry, Bahour and Villenour, and Karikal with its dependent districts on the Coramandel coast; the 'Calicut Lodge' and Mahé and its territory on the Malabar coast; Surat factory in Gujarat; Yanaon and its territory including dependent villages and the 'Masulipatam Lodge' on the Orissa coast; and Chandernagore on the bank of river Hoogly including its territory and five lodges in Patna, Balasore, Dacca, Jugdia and Cassimbazar in Bengal. French India also comprised of lodges in various other towns which post 1816 held little commercial significance while the towns associated with such lodges came under control of British governance.
Reminiscence of French India and its heritage including French style, culture and architecture are clearly discernable even today in these French colonies, especially in Pondicherry that has become somewhat synonymous with the rich French legacy in India. It was originally a fishing village in Tamil Nadu that the French colonised and converted into a blooming port town that remained under their control till 1954. French grid patterns, clear sectors and perpendicular streets are the three distinct features that comprise the plan of the town. The two clear sectors include French Quarter referred as 'Ville Blanche' or 'White Town' and the Indian quarter referred as 'Ville Noire' or 'Black Town'. The 'Ville Blanche' features traditional colonial style including stately walls and large compounds while in the 'Ville Noire' houses are lined with verandas and adorn large French doors and grills. These Villas, both French and Indian are preserved by a non-profit NGO called 'Indian National Trust for Art and Cultural Heritage' (INTACH) and authorization is required from the organization before demolishing any original infrastructure bearing French architecture.
Imprint of French style of architecture can be clearly distinguished in different infrastructures of the region including 'Pondicherry International Port', police stations and banks. French names are visible in many of the streets of Pondicherry and French language on the menus and signs. Some of the noted buildings and monuments bearing French style include statue of Joan of Arc at Dumas street; 'Le Café'; Mairie building that presently houses the Puducherry Municipality; the French consulate building; 'Le Foyer du Soldat', a legion hall for veteran soldiers who fought in French wars; and 'Lycée Français de Pondichéry', the oldest French international school situated on the Asian continent.  'Our Lady of Angels Church' also referred as Karaikal Church built in Neo-Gothic architecture in Karaikal; 'Sacred Heart Church of Chandannagar' (l'Eglise du Sacré Cœur); and the 'St. Ann's Catholic Church' in Yanaon are some of the other remarkable edifices that shaped up during the French colonial era.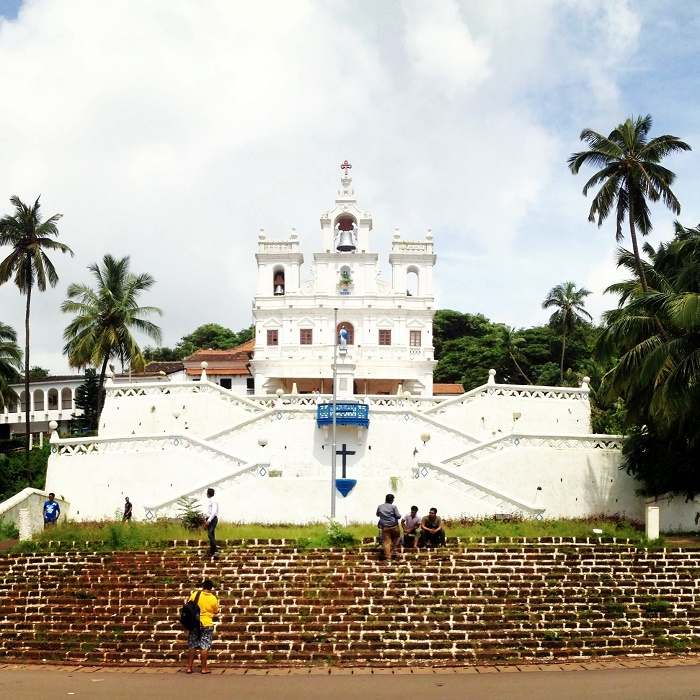 Portuguese
The Portuguese landed in India in 1498, predominantly as merchants and eventually gained control over Goa where they ruled for over four centuries. In 1961 the Portuguese reign in the enclaves of India came to an end after the Indian Armed Forces brought an end to around 450 years of Portuguese governance in Goa and resulting in annexation of Goa, Daman and Diu in the Indian Union. The cultural influences of Portuguese however, are still fresh and continue to exist in different parts of Goa, especially in the historic city of Margao. 
The missionary spirit of Portuguese colonizers saw construction of several churches, cathedrals, seminaries and basilicas in Goa that showcases a mix of Indian, Islamic and Portuguese styles of architecture. Notable architectural marvels of the Portuguese-era that eventually emerged as popular tourist attractions of Goa apart from holding religious and historical significance include two World Heritage Sites located in Old Goa namely 'churches and convents of Old Goa' and 'Basilica of Bom Jesus'; 'Sanctuary of Saint Joseph Vaz' in Sancoale; 'Convent of Santa Monica and 'The Chapel Of The Weeping Cross' in Velha Goa; 'Our Lady of the Immaculate Conception Church' in Panjim; 'Fort Aguada' over the Sinquerim beach; 'Reis Magos Fort' on the northern bank of the Mandovi River; and 'Church of St. Francis of Assisi' in Old Goa among several others.
Among the many sites of Goa the 'Basilica of Bom Jesus' or 'Borea Jezuchi Bajilika' holds a special significance not only as an architectural wonder displaying one of the finest examples of baroque style of architecture but also as a landmark in the history of Christianity. This Renaissance styled church constructed with plaster and laterite comprising of three storeys that was consecrated in May 1605 houses a decorated silver casket holding mortal remains of St. Francis Xavier, who founded the 'Society of Jesus' with St. Ignatius Loyola. The basilica is an architectural gem, the interior of which showcases Mosaic-Corinthian style comprising of white marble flooring with inlaid gem, highly embellished gilded alters and paintings depicting scenes from life of St. Francis Xavier. 
Many Goan houses, barring the Hindu houses, display remarkable Portuguese architecture. Distinct features of these Portuguese – Catholic houses included facing the street with vibrantly painted exterior so as to get recognised from the sea by the owning sailors, distinctly large and decorated windows that open to the verandas, covered verandas and porches, false wooden interior ceilings, vividly coloured interior walls compared to earthly coloured furniture and exquisitely carved compound walls and gateposts.